Emerald Star Cruise Photos
From: Emerald Waterways cruise review: Nuremberg-Trier
Day 4: Wertheim & Miltenberg (2)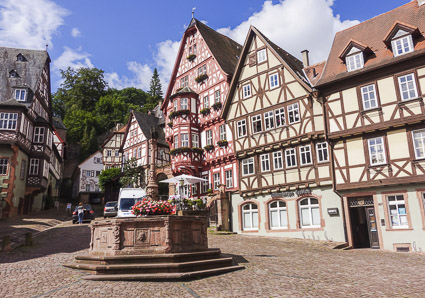 The Altstadt of Miltenberg, an historic town of 9,000 in Bavaria's Lower Franconia region, is built on a narrow strip of land between the River Main and steep hillside forests.
Miltenberg has a long history (the land has been settled since Roman times) and looks like a picture-postcard German village with its medieval Marktplatz (shown above) and other clusters of half-timbered buildings.
---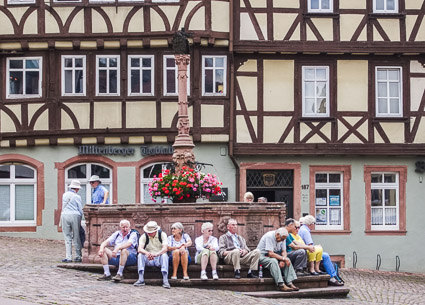 The fountain in the Marktplatz is a popular meeting place for tourists.
---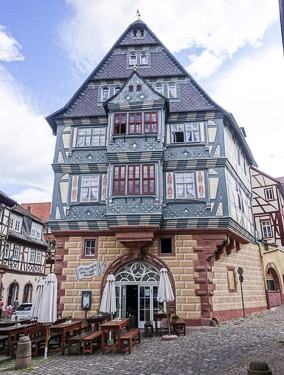 During our walking tour, we stopped to admire the Hotel zum Riesen, which was founded in 1158 or 1411 (depending on your choice of historian) and is one of Germany's oldest inns.
---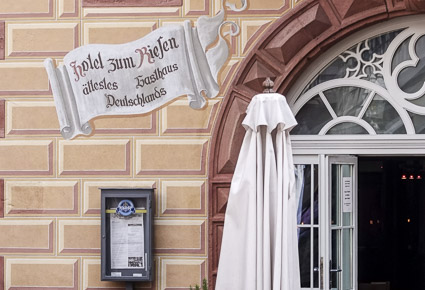 The hotel's trompe l'oleil façade was impeccably maintained, like most other buildings in Miltenberg's historic old town.
---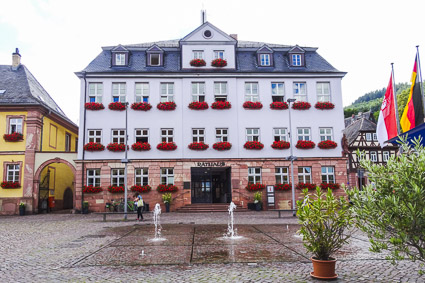 Nearby was the Rathaus, or Town Hall, with flower boxes, a fountain, and flags.
---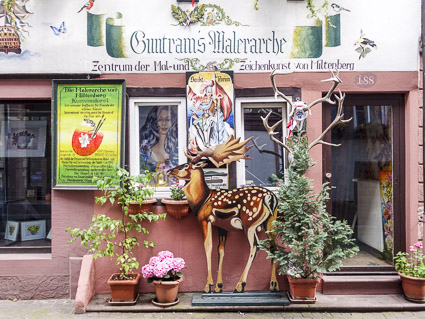 Another Miltenberg landmark was Guntram's Malerarche, a gallery and shop founded by a local artist with a taste for whimsy.
---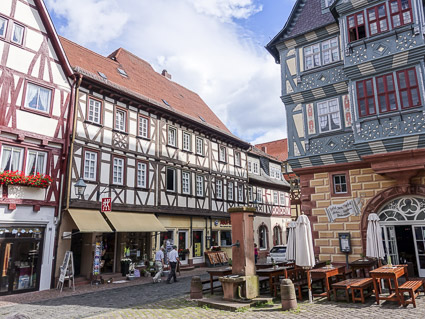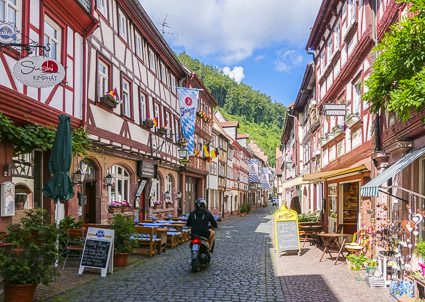 The main shopping street was attractive--and tempting. (Cheryl saw a linen dress in a shop window at an irresistible price.)
---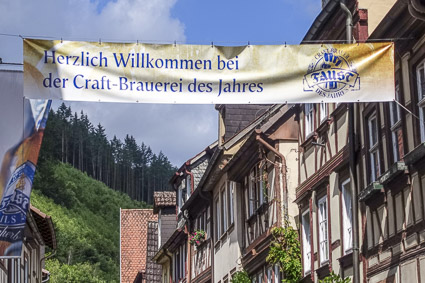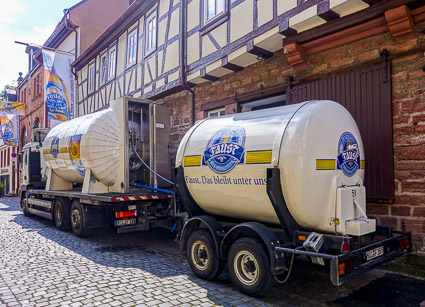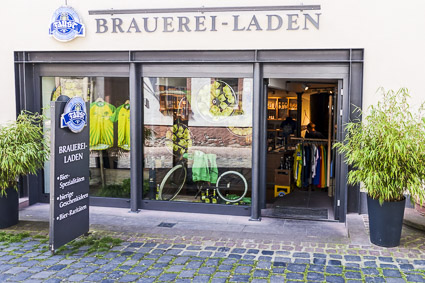 The Brauhaus Faust, an award-winning craft brewery, caught our attention with its street banner, tanker trucks, and brewery shop.
The brewery was founded in 1654, following the Thirty Years' War, when it was called the Löwenbrauerei. It acquired its current name in 1875 and is still owned by descendants of Johann Adalbert Faust.
---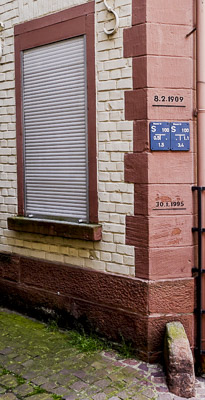 Not far from the brewery, markers on a building showed levels of floods that had plagued Miltenberg until recently.
---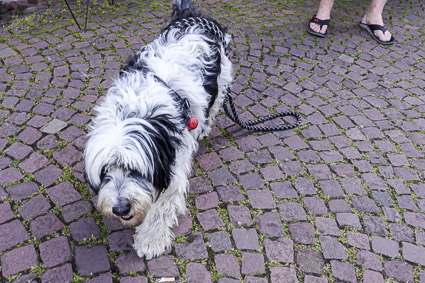 Back in the town center, we had time to get acquainted with Joy, a Polish Lowland Sheepdog who lived in Miltenberg. (Joy's owner told us that the dog's name was inspired by the song lyric "We had joy, we had fun, we had seasons in the sun.")
---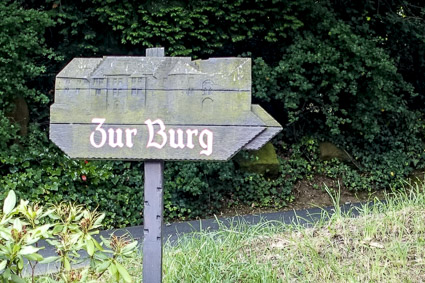 After our walking tour, we decided to visit the Burg (fortress) on the hill overlooking town. It seemed easy enough: Just follow the signs.
---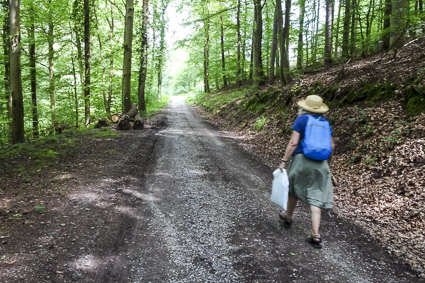 Somehow we missed a sign and became lost in the forest--like Hansel and Gretel, minus the evil stepmother and hungry witch.
---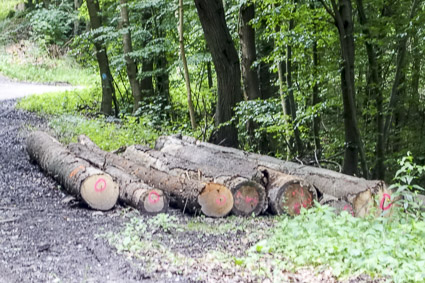 When we encountered logs by the side of the path, we knew we'd taken a wrong turn. With our ship due to arrive from Wertheim and sail for Koblenz in about an hour, we figured the best thing to do was to turn back and retrace our steps.
---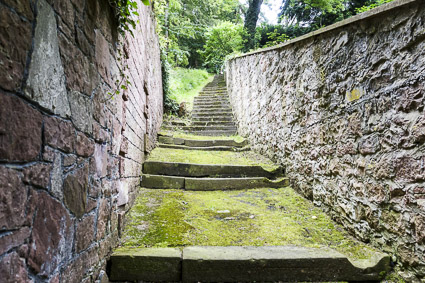 When we found a mossy staircase that led downhill, we headed for lower elevations.
---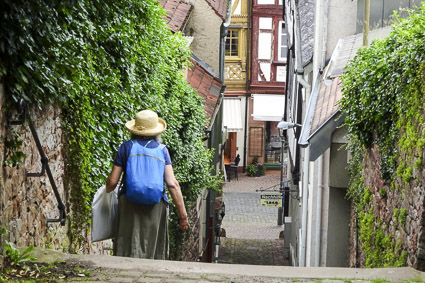 It was a relief to see the half-timbered houses of Miltenberg's Altstadt lying ahead of us, at the bottom of the stone steps.
---
---
---
---