Emerald Star Cruise Photos
From: Emerald Waterways cruise review: Nuremberg-Trier
Day 6: Moselle & Bernkastel (2)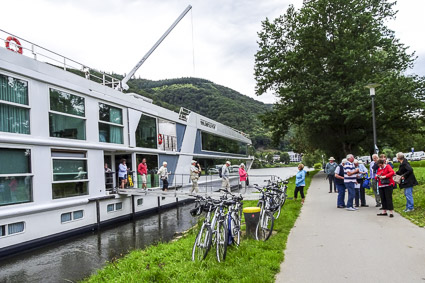 Our walking tour of Bernkastel began at 2 p.m., with local guides meeting us at the ship and leading us over the Moselle bridge to the town's historic center.
---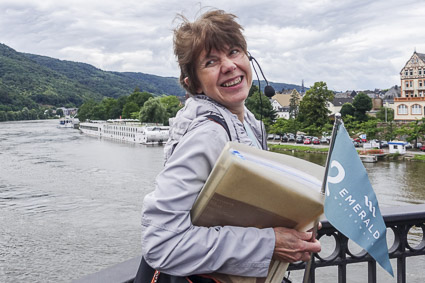 The guide for our group was a Frenchwoman from Paris who now lives in Bernkastel. Durant couldn't help thinking of the World War I song, "How Ya Gonna Keep 'em Down on the Farm (After They've Seen Paree?)"
---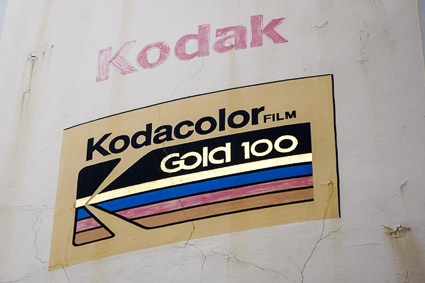 A vintage advertising sign on a building near the waterfront inspired a double-take.
---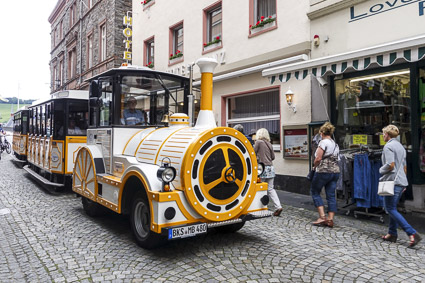 No tourist town is complete without a tourist train.
---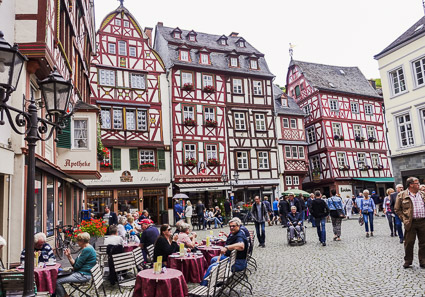 Our first stop in Bernkastel was at the Markt, a cobblestoned square with half-timbered buildings in the village center.
---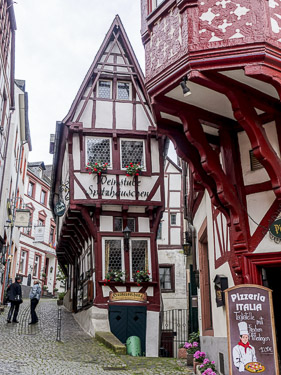 Most of the restored houses surrounding the Market Square date to the 17th Century, but one--the Spitzhäuschen or "Pointed House," with its upper stories wider than the ground floor--was built in 1416.
---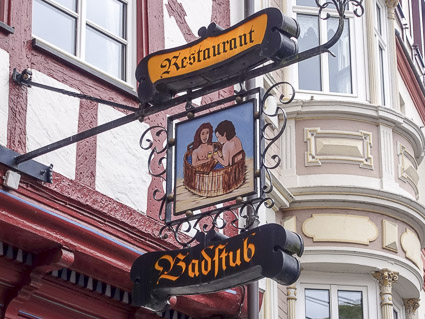 The building façades and signs in Bernkastel's village center may look like imports from a German Disneyland, but they're the real deal.
---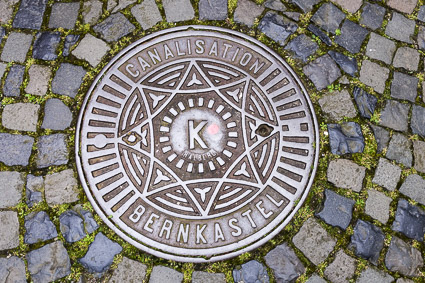 The manholes, however, are more modern.
---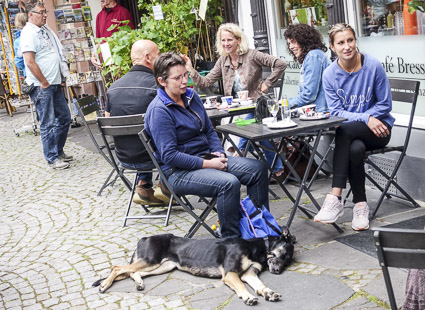 Bernkastel's romantic atmosphere brings in tourists of all ages and species.
---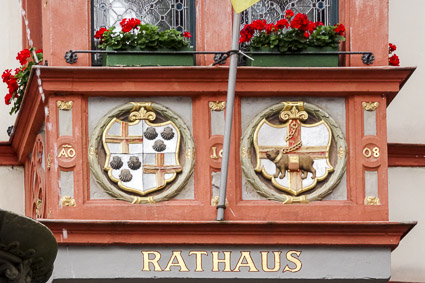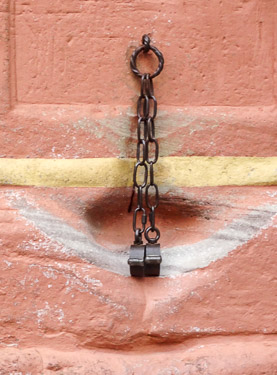 At the Rathaus, or Town Hall, iron shackles from the days of public pillories encourage visitors to behave themselves.
---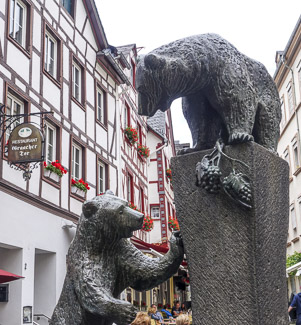 During the walking tour, our guide led us into the back streets of downtown Bernkastel. Here, a 1968 bronze statue by Hanns Scherl pays homage to bears, which are the town's heraldic symbol.
---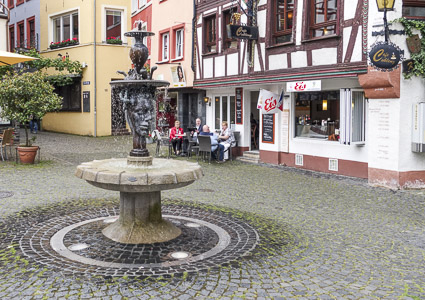 Another fountain, also modern, complemented the half-timbered houses and ice-cream shop behind it.
---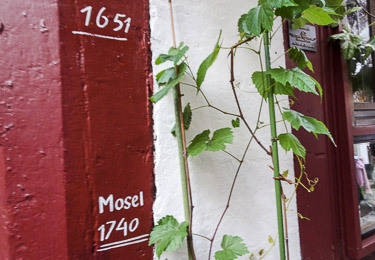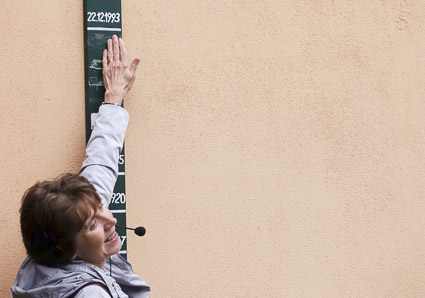 Our guide told us about the floods that have plagued Bernkastel and Kues over the centuries. (In the lower photo, she indicates the level that floodwaters from the Moselle reached three days before Christmas in 1993.)
---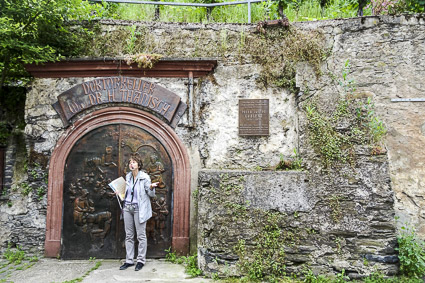 Next, our guide led us above town to the Doktorkeller of WWe. Dr. H . Thanisch, which was excavated from a slate hillside in the early 1600s.
According to legend, a local winegrower offered his wine as medicine to the Archbishop-Elector of Trier, Bohemund II, who was on his deathbed at Bernkastel's Landshut Castle. The archbishop recovered and rewarded the vintner with the appellation "Doctor" for his wine.
Bernkasteler Doctor wine is still being produced by the Thanish wine estate, although these days it's prized more for its flavor than for its medicinal qualities. (See: The Bernkasteler Doctor, the Greatest Vineyard in Germany by David Flaherty.)
---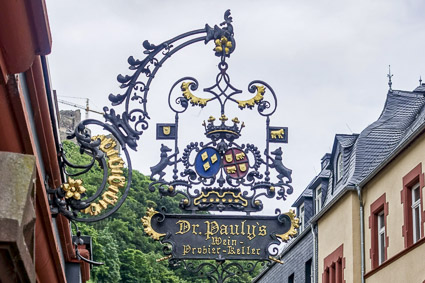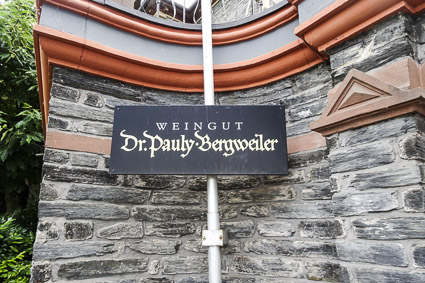 Talking about wine had given us a taste for wine, so it made sense that our tour wrapped up with a wine-tasting at the Probier- und Studierkeller of Weingut Dr. Pauly-Bergweiler.
---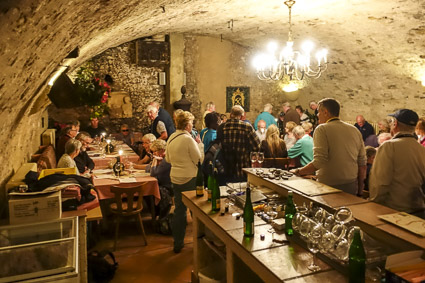 We sat at tables in a deep cellar while a wine expert from Dr. Pauly-Bergweiler described each of the wines that we were tasting.
---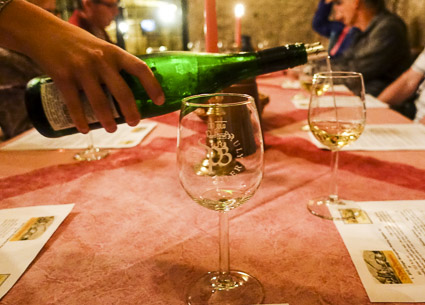 We sampled four wines. Here are descriptions, abridged from the winery's notes:
2010 Ürziger Würtgarden Riesling Spätlese Dry
(13% alcohol, spicy with strong character of the vineyard's red slate, recommended for drinking with grilled fish and steamed vegetables.)
2014 Dr. Pauly-Bergweiler Riesling Feinherb
(10.5% alcohol, almost dry, straightforward and uncomplicated with notes of gooseberry and white peach. Recommended for drinking with mixed green salad, with grilled chicken and parmesan cheese, and also with shrimp salad.)
2013 Bernkasteler Badstube Riesling Spätlese
(8.5% alcohol, with a "concentration of ripe fruit such as ripe apricot and ripe peach aromas." Ideal with very spicy foods such as Thai or Indian dishes.)
2004 Bernkasteler alte Badstube am Doctorberg Riesling Auslese
(9% alcohol, from 70- to 100-year-old Riesling vines. According to the vintner's notes, the 4.6-acre, south-facing vineyard is "the pride and joy of the Pauly family." Wine Spectator gives the wine 90 points and describes it as "a rich, ample white, featuring full ripe applesauce and peach notes. It's backed by a lively structure that should assert itself as this ages. Has fine overall harmony.")
---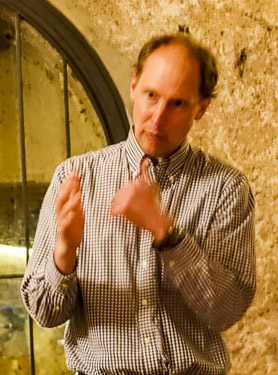 By the time we'd sampled (and enjoyed) all four wines, our host was starting to look blurry, but we managed to find our way out of the cellar without embarrassing ourselves.
---
---
---
---