Emerald Star Cruise Photos
From: Emerald Waterways cruise review: Nuremberg-Trier
Day 7: Trier (3)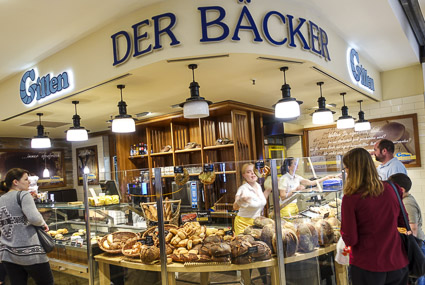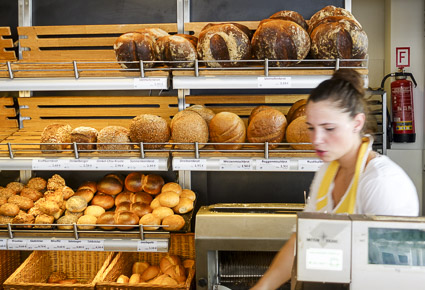 We wanted to bring some good German Vollkornbrot home with us the next day, so we stopped in two of downtown Trier's many bakeries to load up on loaves.
---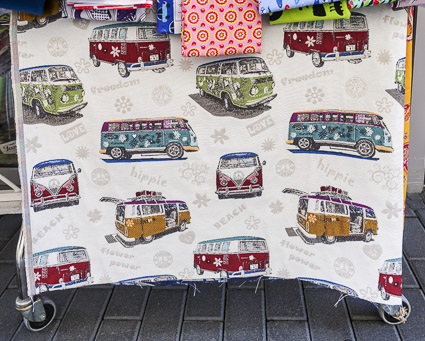 We resisted the temptation to buy the VW Microbus cloth that was on display outside a fabric store. (We liked the illustrations, and it was hard to resist the subtly-printed references to "hippie," "beach," and "flower power.")
---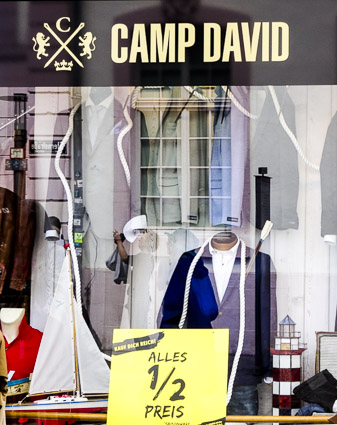 We discovered Barack Obama's favorite clothing store in Trier.
---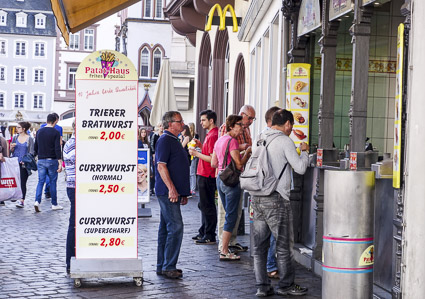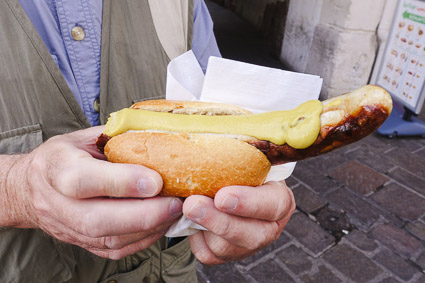 Durant couldn't pass up the chance to try a Trierer Bratwurst.
In Germany, styles of Bratwurst vary by region. In Nuremberg, for example, the sausages are small, filled with coarsely-ground pork, and chewy; in Trier, they're more like the Swiss Kalbsbratwurst, with a delicate flavor and texture.
---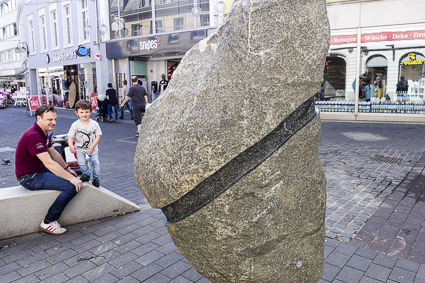 On our way back to the bus, we saw a small boy rotating what appeared to be a large rock that was mounted on the pavement. Cheryl gave it a try, and it turned out to be an artificial rock made of a lightweight material.
City planners, please note: This is a great idea for parks, plazas, and pedestrian zones.
---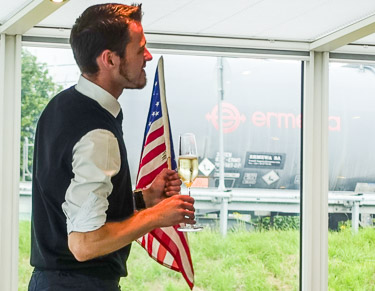 That evening, the Americans on board were invited to a Fourth of July party by the pool. Waiters served Champagne while Balázs Varga, our cruise director, greeted guests with an American flag.
(Canadians had enjoyed a Canada Day celebration three days earlier, on July 1.)
---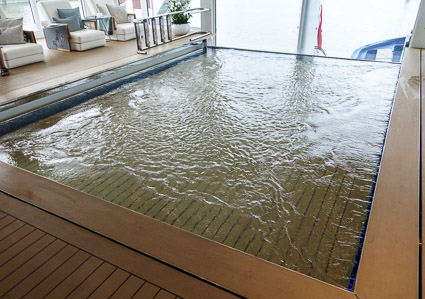 As a special treat, the crew showed the guests how the pool is converted into a cinema: The floor rises from the pool, the water drains beneath it, and a crew member dries the floor before chairs are set out for the movie.
---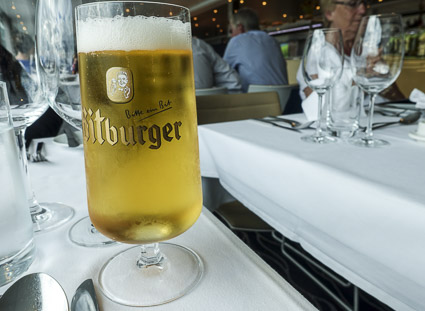 After the party, Durant enjoyed a Bitburger beer with dinner. (The company's slogan, "Bitte, ein Bit" was too tempting to resist. Also, Bitburger is made just up the road from Trier, so it seemed only polite to wrap up our cruise with a glass of Bitburger Premium Pils.)
---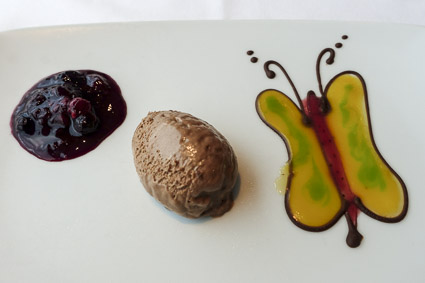 A butterfly accompanied our Dark Chocolate Chili Mousse with Spiced Berries, symbolizing our flight home to the U.S. the next day.
---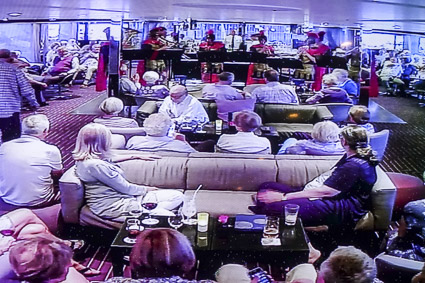 After dinner, we headed for the Horizon Lounge (shown here on the ship's Loungecam) for a concert by Die Pratzbänt, an outstanding brass band from Trier.
---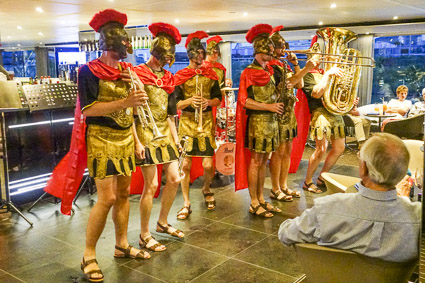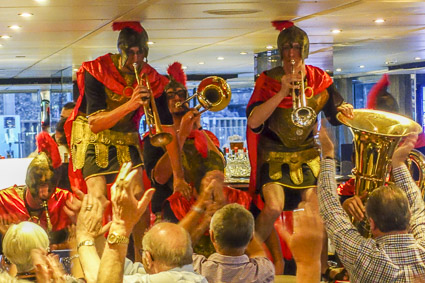 The group, which has been together since 2007, performed in Roman Centurion costumes. Numbers ranged from traditional German Blasmusik to modern compositions. It was a great show--probably the best night of entertainment that we've enjoyed on a river cruise.
---
---
---
---