Emerald Star Cruise Photos
From: Emerald Waterways cruise review: Nuremberg-Trier
Pre-cruise stay: Erlangen (2)
Note: This page may be more interesting to us personally than to the average reader, but we suspect that Americans who spent time at the old U.S. Army post of Ferris Barracks will find it enjoyable.
---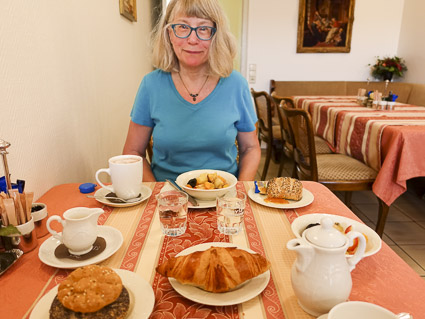 Our second day in Erlangen began with breakfast (included in the rates) at the Hotel Rokokohaus. It had the standard German hotel-breakfast choices, such as white and wholegrain breads, pastries, Muesli, fruit, yogurt, ham, and cheese.
---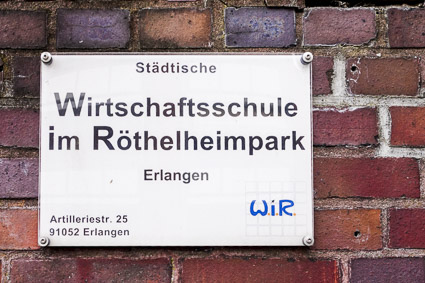 Our destination for the day was Röthelheimpark, a neighborhood that had been redeveloped after the departure of the U.S. Army from Ferris Barracks, where Cheryl lived for several years during her childhood.
Our first stop was at Cheryl's old U.S. military elementary school, which is now the Wirtschaftsscule im Röthelheimpark Erlangen.
---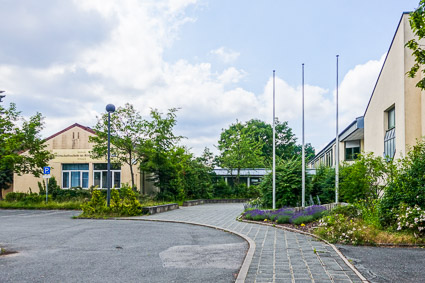 It was a Saturday, so the Wirtsschaftschule was closed, but a look through the gate made it obvious (at least to Cheryl) that the school looked much as it did when Cheryl was in third and fourth grade.
---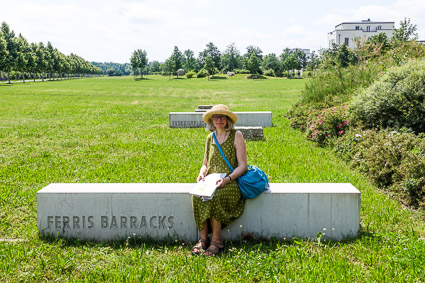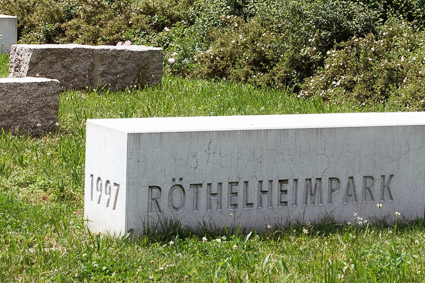 Not far away, a park was on the site of the former Army post, and a series of stone markers offered a timeline of the area from 1893 (when it was a German infantry Exerzierplatz or parade ground) to its rebirth as a park, nature reserve, and urban redevelopment in 1997.
---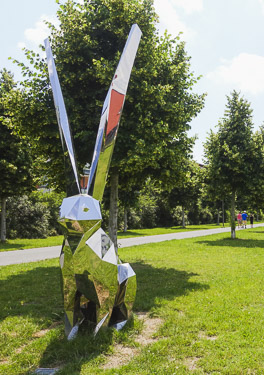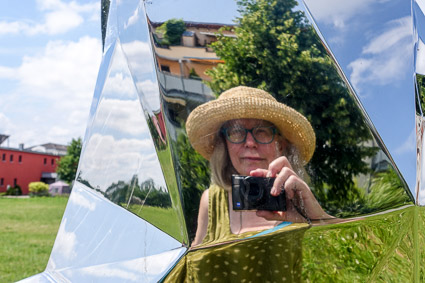 No selfie stick? No problem, when you're in a park with a mirrored statue of a rabbit.
---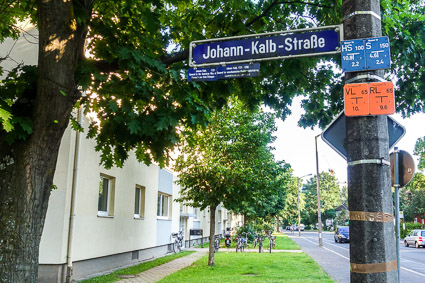 Cheryl's family had lived off-post, on Johann-Kalb-Strasse, and that neighborhood hadn't been disrupted by the replacement of Ferris Barracks by the Röthelheimpark.
---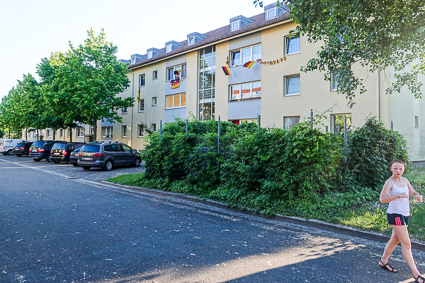 The apartment house where her family lived was still intact, although it was no longer military housing.
---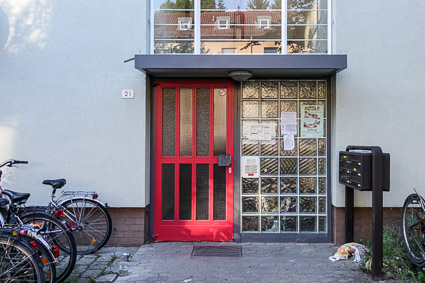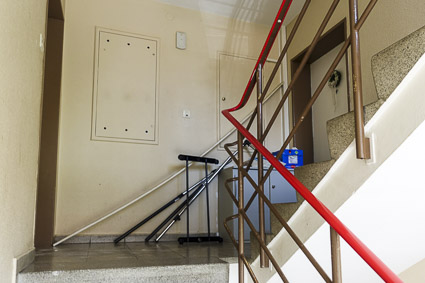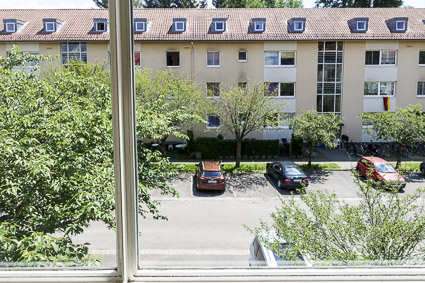 The front door was closed when we took the top photo, but when we walked past later, it was open--and Cheryl couldn't resist going in to check out the staircase and the view from the landing outside her old apartment
---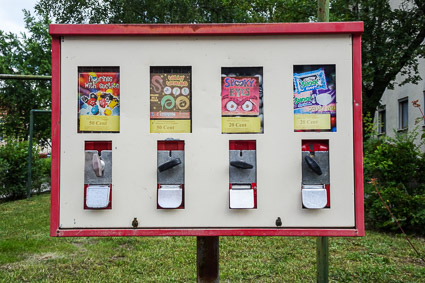 One amenity that she didn't recall from her childhood was a candy machine on the street near Johann-Kalb-Strasse 21.
---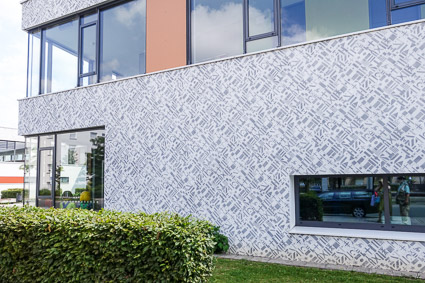 Another new addition was the Franconian International School (opened in 1998), which serves English-speaking pupils of 40 nationalities who live in Erlangen, Nuremberg, and other cities in the region.
---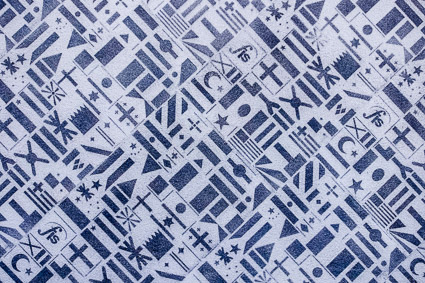 We were impressed by the flag stencilling on an FIS building, which added visual texture to the smooth stucco façade.
---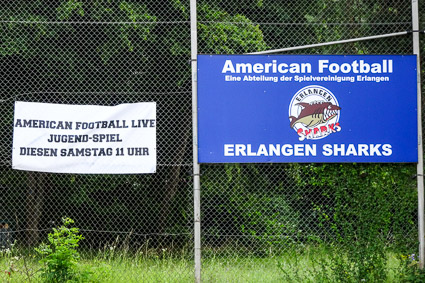 Signs at a nearby city sports field made it clear that American soldiers might be gone from Erlangen, but their cultural influence lived on.
---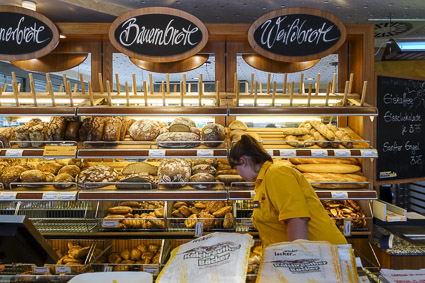 Wandering through the past had made us hungry, so we stopped for pastries and drinks at a bakery near the new Campus Röthelheimpark shopping area.
---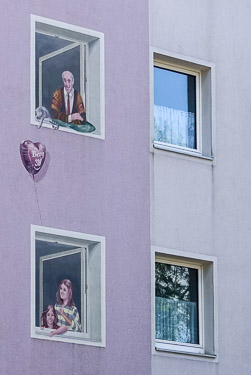 On our walk back to the city center, we passed an apartment building populated by trompe l'oeil tenants.
---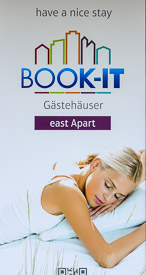 A sign for Book-It, a company that rents extended-stay apartments in Erlangen, featured a great tagline in English: "Have a nice stay."
---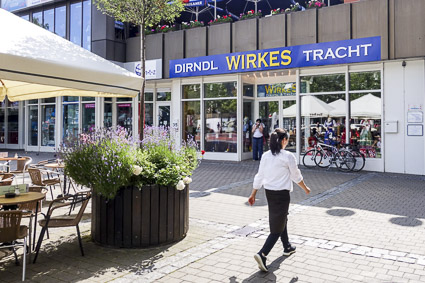 A Dirndl and Tracht shop beckoned as we passed through downtown, but we resisted the temptation to buy his-and-her Franconian outfits.
---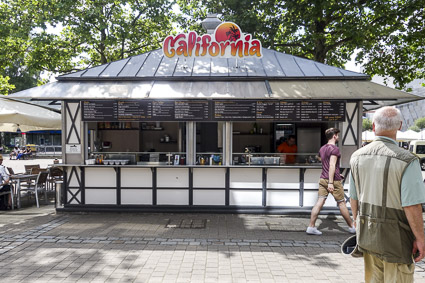 On a previous visit, we'd seen a Bratwurst stand in front of Erlangen's modern city hall. This time, it was gone, having been replaced by a California-themed snack bar with Mexican specialties just down the street.
---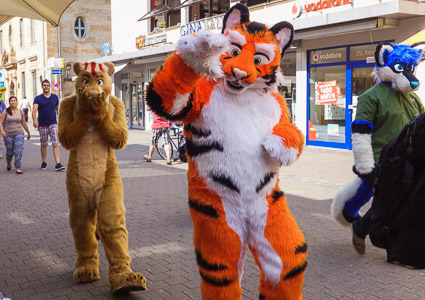 Our sausage nostalgia was replaced by surprise as we encountered a parade of animal characters on Erlangen's main street.
---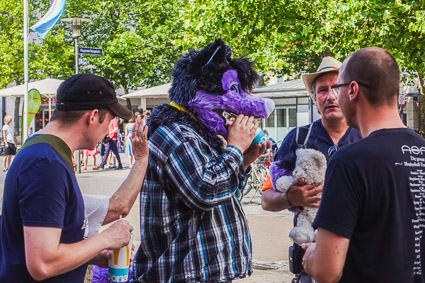 Even ersatz animals get thirsty on hot summer days.
---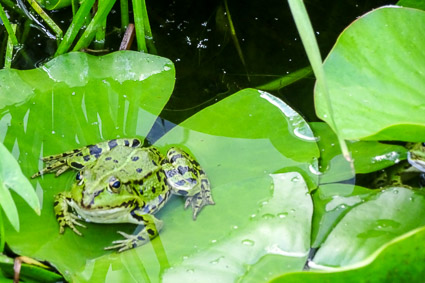 A few minutes later, we saw a real animal (a frog) in Erlangen's Botanical Garden, which we cut through on our way to the Hotel Rokokohaus.
---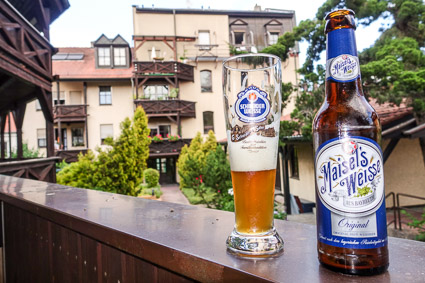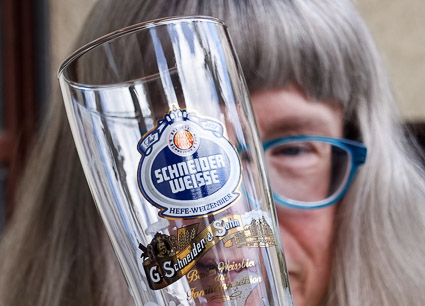 Back in the hotel, we raided the minibar and cooled off on our room's balcony. (The hotel's minibar charges were extremely reasonable, and the friendly proprietor ended up knocking them off the bill: "They're on the house," he said as we checked out the next morning.)
---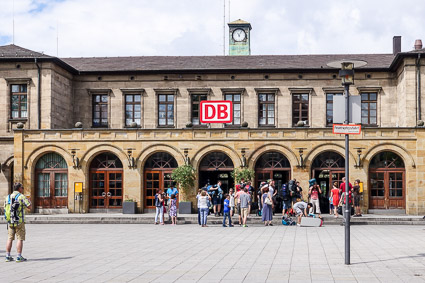 The next day, we walked to Erlangen's Hauptbahnhof, where trains to Nuremberg ran two or three times per hour (even on a Sunday morning).
---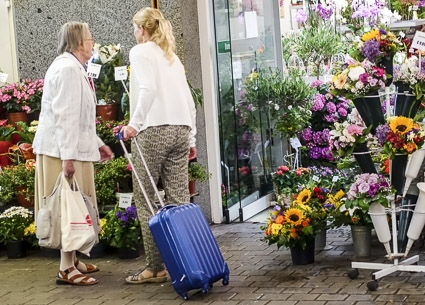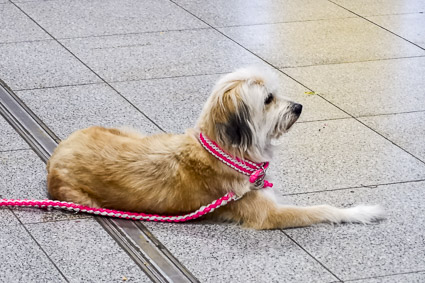 The station was busier than we'd expected, with people, flora, and fauna in abundance.
---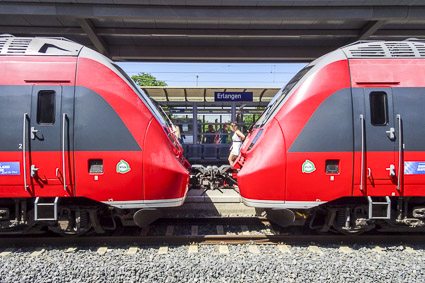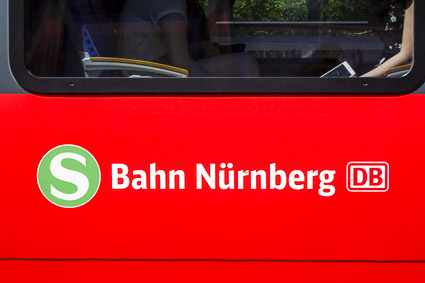 We bought our tickets at a vending machine, then headed for the S-Bahn platform,where a train arrived in due course.
---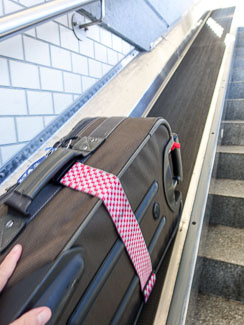 About half an hour later, we were at the main railroad station in Nuremberg, where a luggage conveyor did the heavy lifting while we walked up the stairs from the train platform.
---
---
---
---