Officers. The officers of MSC Poesia, like those on other MSC cruise ships, are mostly Italian. On cruise message boards, some people have complained that MSC's officers don't schmooze with the passengers as much as officers on some other lines do, but that's probably inevitable on a ship with 3,000 guests. Still, anyone who thinks MSC Poesia's officers are insufficiently social should watch the YouTube video of the ship's captain, Comandante Giuseppe Galano, singing "Volare" in one of the ship's lounges.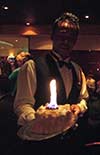 Service staff. Cabin stewards and dining-room staff are mostly Indonesian and Asian, with a sprinkling of Italian and Eastern European employees. (For example, our dining-room waiter was from Bali, and our cabin steward was from India.) This is good news for English-speaking passengers, since English is the second language of most MSC Poesia service workers.
We were delighted with our waiter, were satisfied with our cabin steward (who mostly stayed out of sight but kept the cabin spotlessly clean), and had good experiences with other waiters, bartenders, etc. around the ship.
Guest relations. MSC Poesia's reception desk has a multinational, multilingual staff to answer questions and deal with problems. We had a glitch with our wine package after switching from seating 2 in Ristorante Il Pallado to seating 1 in Ristorante Le Fontane, and the receptionists sorted things out with the mâitre d'. We were especially impressed by the young Dutch receptionist who helped us: She was friendly, unflappable, and fluent in Italian, English, and German.