MSC Poesia Cruise Photos
From: MSC Eastern Mediterranean Cruise Review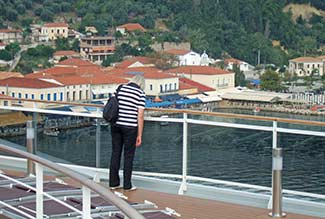 Katakolon, Greece
On Monday morning, MSC Poesia entered the harbor of Katakolon, Greece.
Katakolon (also called "Katakolo," the modern Romanized spelling) is a village that faces the Ionian Sea on the western coast of the Pelepponese peninsula in Southern Greece. It has only about 600 inhabitants but seems larger due to the shops and restaurants that have been developed in recent years to serve visiting cruise ships.
The port of Katakolon has deep water and two large piers for cruise ships, which use Katakolon as a staging point for tours to the ancient ruins of Olympia, site of the first Olympic games.
---