MSC Poesia Cruise Review
Page 10
Continued from page 9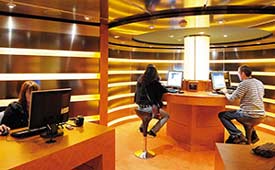 ABOVE: MSC Poesia passengers surf in the Cyber Café.
MSC Cruises Web links
MSCcruises.com
The official Web address of MSC Crociere has customized sites (many in local languages) for countries around the world.
Ship Parade: MSC Musica
Ship Parade: MSC Orchestra
Photographer and writer Bart de Boer of ShipParade.com has published illustrated reviews of two MSC Poesia sister ships.
Travel Weekly MSC Poesia Cruise Ship Tour
The British edition of Travel Weekly, a trade magazine, uploaded this short video to YouTube (which also has a list of more than 60 related videos).