Norwegian Jade cruise review
Page 3
Continued from page 2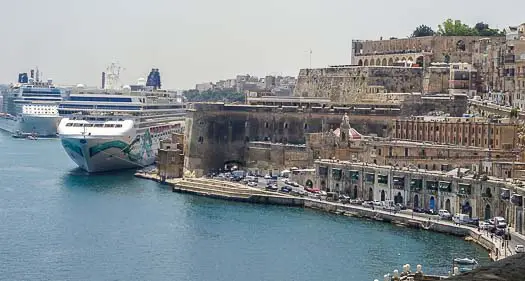 Cruise itinerary
For most of its European cruise season, Norwegian Jade alternates between two roundtrip itineraries from Venice: a seven-night Adriatic cruise with port calls in Croatia, Greece, and Turkey; and a seven-night Greek Isles itinerary with visits to Corfu, Santorini, Mykonos, and Katakolon. (These itineraries can be booked back-to-back as a two-week cruise.)
Our cruise was a deviation from Norwegian Jade's usual schedule: a 14-night "Ultimate Mediterranean" cruise that began and ended in Venice, with eight ports of call and five sea days:
Day 1:

Embarkation and departure from terminal 123 of

Venice

's Marittima cruise basin. The ship left around 5 p.m. and spent an hour cruising slowly up the Giudecca Canal, through St. Mark's Basin, and past the Lido di Venezia on its way to the Adriatic Sea.

Day 2:

A sea day, with Norwegian Jade sailing south through the Adriatic along the Italian coast. During our cruise, day 2 included an unscheduled pause near Bari, Italy for a medical evacuation by the Italian Coast Guard.

Day 3:

Another sea day as Norwegian Jade continued through the Eastern Mediterranean to Greece. The day was packed with free activities, but many passengers just sunned themselves or splashed in the pools.

Day 4:

A port call in

Santorini, Greece

. The ship anchored offshore, beneath the cliffs of Santorini, and local tenders took passengers ashore. To reach the top of the cliffs, passengers could ride a cable car, hire donkeys, or walk a steep staircase.

Day 5:

A port call in

Kuşadasi, Turkey

, where many passengers took shore excursions to the ancient ruins of Ephesus and the House of the Virgin Mary, a Catholic pilgrimage site. (We stayed in Kuşadasi, which has a pleasant waterfront and a lively bazaar.)

Day 6:

A port call in P

iraeus, Greece

--the port for Athens, and a city with plenty of monuments and museums of its own. One of our own favorite features of Piraeus is the canine-friendly cruise terminal, where several dogs are permanent residents.

Day 7:

A sea day as Norwegian Jade sailed from Greek waters to the Tyrrhenian Sea and the western coast of Italy. During the afternoon, we passed north through the Strait of Messina, a narrow strip of water between Sicily and mainland Italy.

Day 8:

A port call in Civitavecchia, Italy, which has been the deepwater port for Rome since the 2nd Century AD. Civitavecchia is also a pleasant resort town, and the Etruscan tombs of Tarquinia and Cerveteri are nearby.

Day 9:

A port call in

Livorno

, the port for Tuscany and the jumping-off point for day trips to Pisa and Florence. We skipped the shore excursions and spent our day in Livorno, where marinas and canals co-exist with ruined fortresses.

Day 10:

A port call in

Cannes, France

, where Norwegian Jade was anchored offshore while tenders shuttled back and forth between the ship and a pier next to the French resort's old town. From there, it was a short walk to the the central waterfront, the shopping district, and La Croisette with its luxury hotels and beach clubs.

Day 11:

A sea day as Norwegian Jade sailed south toward the small island nation of Malta. A highlight of the afternoon (at least for sports fans) was a pool volleyball match between officers and guests.

Day 12:

A port call in

Valletta

, the historic capital of Malta. Norwegian Jade was moored on Valletta's waterfront, directly beneath the cliffs and walls of the old city. (The traditional "Noon Salute" was fired from a cannon on a fortified terrace overlooking the ship.)

Day 13:

A port call in

Messina, Sicily

, where some passengers took shore excursions to the hillside resort of Taormina, Mount Etna (Europe's largest active volcano), and other attractions. At 6 p.m., Norwegian Jade left port and headed south through the busy Strait of Messina.

Day 14:

A sea day as Norwegian Jade sailed around the boot of Italy and up the Adriatic. For us, the day's highlight was a public Q&A session in the Spinnaker Lounge with the ship's senior officers (including Captain Mikael Hilden of Finland, who has been at sea for more than 35 years).

Day 15:

Arrival in

Venice

and disembarkation. Durant woke early and took photos from our balcony during the hour that it took to reach the pier at Marittima from the Adriatic Sea.

Disembarkation was easy and painless. We weren't even required to leave our cabin at a specific hour--we had breakfast, then returned to the cabin at our leisure to collect our carry-ons.
Next page: Cabins and suites
---
---
---
---