Norwegian Jade cruise review
Page 5
Continued from page 4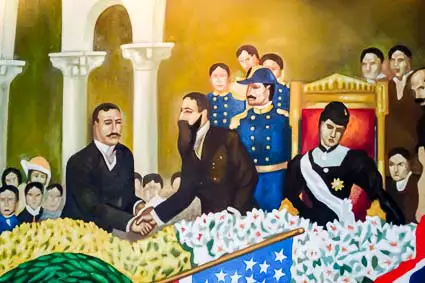 Dining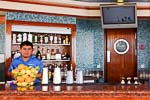 Norwegian Cruise line's "Freestyle Cruising" theme emphasizes choices--above all, in the dining options available to passengers. On Norwegian Jade, you can choose from more than a dozen places to eat.
Eight restaurants are "complimentary"--i.e., included in your cruise fare--while the others are "specialty dining" venues with cover charges or a la carte menus. (At specialty restaurants, you'll also pay an 18-percent service charge.)
Complimentary dining
Our favorite restaurant on Norwegian Jade is the Grand Pacific dining room, which NCL bills--without exaggeration--as "a first-class dining experience in the grand tradition of the luxury liners of yesteryear."
The Grand Pacific has high ceilings, tall windows, works of art that pay homage to Hawaii (where Norwegian Jade sailed in its Pride of Hawaii days), and excellent food.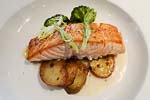 A typical dinner menu in the Grand Pacific dining room includes a choice of daily specials, along with "classic dishes" such as steaks, chicken, fish, spaghetti, and lasagna. Appetizers, salads, and soups are also on the menu. (Menus are available in at least half a dozen languages, and kids under 12 can order from a children's menu.)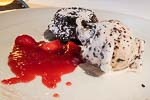 The dessert selection changes daily, but NCL's justifiably popular "Warm Chocolate Volcano" was always available during our cruise.
Note: We were pleased--and more than a little amazed--when requests such as "rare" or "medium rare" were honored by the galley staff. The Grand Pacific may have 480 seats, but unlike the main dining rooms on some ships, it doesn't serve up standardized banquet fare.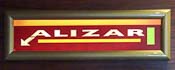 Alizar, Norwegian Jade's other main dining room, is smaller than Grand Pacific (with only 258 seats) and it feels more like a New York eatery with its side-by-side tables and banquettes. Menus in both dining rooms are identical.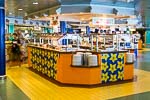 The Garden Cafe is Norwegian Jade's buffet-style restaurant. It's open for all three meals, and separate serving stations for hot dishes, grill items, Asian foods, desserts, etc. minimize queuing. A Kid's Cafe area near the entrance has child-sized tables and chairs.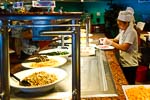 To maintain food quality, the Garden Cafe's cooks make dishes in small batches that are replenished often. Not every item was perfect (we weren't impressed by the hamburgers, for example), but on the whole, Norwegian Jade's Garden Cafe struck us as being a notch up the quality scale compared to buffets on other mainstream cruise ships.
Tip: When the Garden Cafe is crowded at breakfast or lunch, head aft and make a right turn into La Cucina, Jade's Italian specialty restaurant, which is used as an annex for the Garden Cafe at breakfast and lunch. It was uncrowded--indeed, mostly undiscovered--throughout our two-week cruise.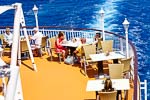 The Great Outdoors, an alfresco extension of the Garden Cafe, has outdoor tables and a more limited buffet menu. It's a great place for breakfast and lunch if you can score a table under the canopy.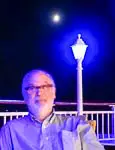 We also recommend visiting The Great Outdoors late at night, when you can sit by the stern railing and enjoy a glass of ice water, iced tea, or lemonade under the stars.
Other complimentary dining options include Blue Lagoon (a 24-hour "comfort food" restaurant overlooking the Atrium), Jasmine Garden ("Asian Fusion" cuisine), Bali Hai Bar & Grill (burgers and other light meals in Deck 13's suntan zone), and Topsiders Bar & Grill near the pool.
You can also order room service in your room or on deck 24 hours a day. The food is free, but a delivery charge may apply.
Specialty dining
We had dinner in Cagney's Steakhouse and were favorably impressed--especially with our steaks, which were grilled to a perfect degree of doneness. (Cagney's is also used as a private breakfast and lunch restaurant for suite guests from The Haven.)
On another night, we dined in Moderno, a Brazilian-style "churrascaria" steakhouse overlooking the atrium, across from Blue Lagoon. During the meal, passadores or "meat waiters" took turns visiting our table to serve sausages, beef, lamb, and other meats until it was time for dessert.
Other specialty restaurants on Norwegian Jade include Le Bistro (French cuisine), La Cucina (pastas and pizza), Teppanyaki (similar to Benihana of Tokyo), and the a la carte Sushi Bar in Jasmine Garden.
Drinks
Ice water, ice tea, lemonade, coffee, and tea are free, and you'll never be treated as a cheapskate if you prefer teetotaling to tippling.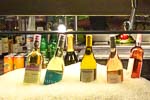 You'll pay bar prices for soda and alcoholic beverages, unless you buy wine by the bottle. (You can bring your own wine on board, but you'll be charged a corkage fee.)
Thirsty passengers can buy a variety of soda, beer and wine, and all-inclusive beverage packages at prices that range from less than USD 5 to more than USD 50 per day. These packages cover drinks in all restaurants and bars on Norwegian Jade.
Vegetarian, vegan, and other special diets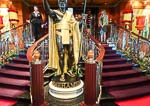 The restaurants offer meat-free options. For example, in the Grand Pacific and Alizar dining rooms (where we dined most nights), the menu featured dishes such as ""Red 'Dal' Lentil Curry with Tamarind Rice and Poppadum" or "Spinach Beignets with Okra Ratatouille and Tomato Concassé." The Garden Cafe always had a good selection of salads, Asian stir-fries, and other dishes for herbivores.
If you have special dietary needs or food allergies, let the cruise line know at the time of booking, and preferably at least 30 days in advance. Later, after you're on board, you can sit down with the culinary staff and discuss menu options during your cruise.
Dinner reservations
NCL recommends booking tables online before you leave home. Once you're on the ship, you can reserve tables at specialty restaurants, but it's "first come, first serve" in the main dining rooms if you don't have a reservation. (We booked our dining times in the Grand Pacific and Alizar restaurants before the cruise, so we never had to wait more than a minute or two at the mâitre d's desk.)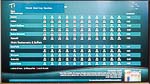 To help you find a table onboard, Norwegian Jade has real-time monitors throughout the ship that use red, yellow, and green symbols to show which restaurants are most or least busy.
Next page: Lounges and bars
---
---
---
---