Norwegian Jade cruise review
Page 12
Continued from page 11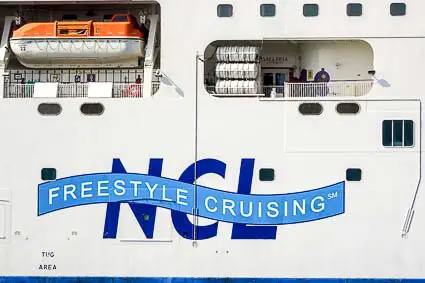 Is NCL right for you?
A European cruise on Norwegian Jade may be right for you if:
A European cruise on

Norwegian Jade

may

not

be right for you if:

You think a cruise ship should be a floating resort.
You think a cruise ship should be a upsized private yacht.
You like cruising with people of different nationalities.
You agree with the WWI British expression, "The wogs begin at Calais."
You enjoy sunning yourself by the pool.
You don't think ships should have pools.
You believe that variety is the spice of life.
You don't want any spices in your life.
You dislike formal dress codes.
You run a tab at Gowns R Us.
You have respect for the common man.
You think the common man should be your servant.
You aren't offended by a "Mr. Biceps" competition.
You're intolerant of biceptuals.
You enjoy Broadway musicals.
You prefer Baroque recitals.
You like traveling with children.
You think children belong in boarding school.
But seriously...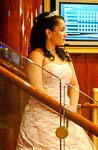 No cruise line is ideal for everyone, and a European voyage with NCL is best suited to travelers who enjoy a lively, unpretentious, international, and multigenerational "large ship" cruise experience.
During our two-week summer cruise on Norwegian Jade, we saw older couples, honeymooners, parents with young children, family reunions, and even a quinceañera celebration with a teenage girl in a formal gown.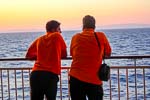 Some guests were squeezed into three- or four-person cabins; others enjoyed spacious villa or penthouse suites in The Haven. According to the hospitality staff, our cruise's passengers came from more than 55 countries. (We often heard Italian, French, Spanish, and German; other guests spoke Russian, Chinese, Japanese, or languages that we didn't recognize.) The 2,854 passengers represented a cross-section of leisure travelers in Europe, and everyone seemed to be having a good time.
Our advice: If you're looking for a seagoing vacation at competitive fares, or even if you simply prefer the amenities of a large ship that emphasizes "Freestyle Cruising," a European cruise with NCL is worth considering.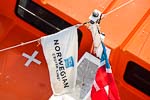 For more information, see our 42-page Norwegian Jade day-by-day cruise photo gallery and visit the cruise line's Web site:
Norwegian Cruise Line
NCL.com has geotargeted Web sites for the U.S., the UK and Ireland, Germany, Italy, Norway, Spain, other countries in continental Europe, Australia, Brazil, and the Spanish-speaking countries of Latin America.
Next page: Norwegian Jade day-by-day cruise photo diary
---
---
---
---