Norwegian Jade cruise review
Page 10
Continued from page 10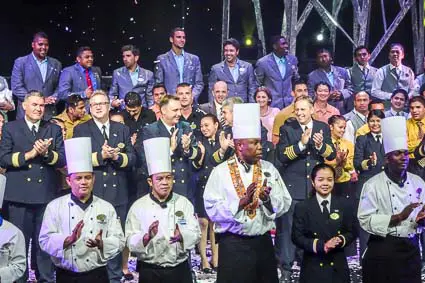 Officers and crew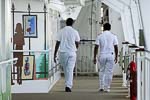 Like most cruise ships, Norwegian Jade has an international crew. Officers are mostly European and American, while sailors and hospitality staff tend to come from developing countries. During our cruise, 63 nationalities were represented in the ship's crew of approximately 1,000.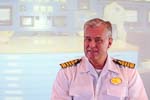 The captain on our voyage was Mikael Hilden of Finland, who has been an officer with NCL since 2002. (We thought he looked perfectly cast for the role of a ship's master, and during a Q&A session with passengers, he showed a droll sense of humor.)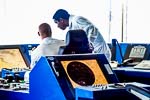 On a ship with several thousand passengers, you won't have much opportunity to chat with the officers, but you can watch them working from the Bridge Viewing Room directly behind the Bridge on Deck 11. In addition to large windows facing forward, the viewing room has electronic charts and instruments for backseat helmsmen.
You will have a chance to interact with the hundreds of men and women who clean cabins, serve food, and perform other hospitality functions around the ship. They're a hardworking bunch: for example, a typical cabin steward (such as Manuel Caldito of the Philippines, our steward in cabin 9614) cleans 16 staterooms twice a day.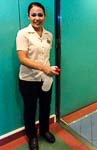 You'll be cleaned, too--or at least disinfected. Cheerful employees are stationed at the entrances to the Garden Café, where they spray the guests' hands in keeping with NCL's hygiene theme of "washy washy, happy happy."
Tipping
Ever since the days of ocean liners, service workers on passenger ships have relied on tips for at least part of their income.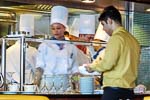 To simplify tipping and encourage a team attitude among crew members, Norwegian Cruise Line automatically adds a fixed service charge to each passenger's account. (Effective August 1, 2015, the rate is USD 13.50 per person, or USD 15.50 for guests in suites or The Haven.) In addition, NCL adds an 18-percent service charge to bar and specialty-restaurant transactions.
If you aren't happy with the service charge (or with the service you received), you can can obtain a refund-request form from Guest Relations and e-mail it to NCL after you get home. But please remember that every dollar deducted from the service charge is one less dollar for crew members from developing countries to send home to their families.
Next page: Is NCL right for you?
---
---
---
---