Norwegian Jade Cruise Photos
From: Norwegian Jade Cruise Review
Day 1: Departure from Venice (2)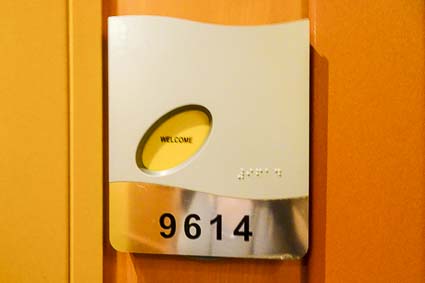 We boarded Norwegian Jade before 1 p.m., but our cabin was already prepared for us.
Note the yellow "Welcome" sign. We soon learned that we could turn a thumbwheel to change the message to "Do not disturb," "Make up cabin," or "Turn down cabin":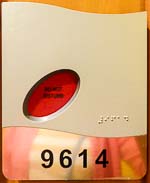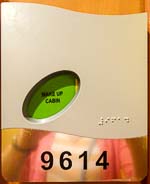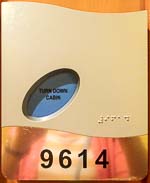 ---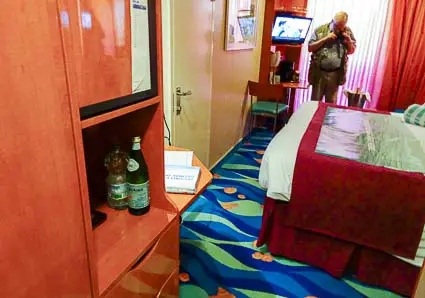 We were in a Midship Balcony Cabin on the port side of Norwegian Jade. The layout was efficient, with the bathroom, closets, and storage drawers near the doorway to the corridor. (The door in the center of the photo led to an adjoining cabin.)
---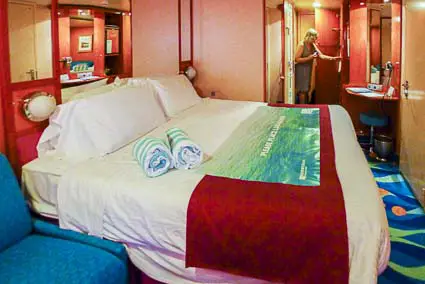 Our bed was configured as a queen, but it could have been made up as twin beds if we'd been friends traveling together or characters from a 1950s movie.
---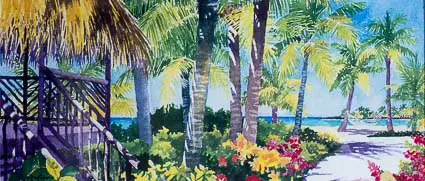 Until 2008, Norwegian Jade was known as the Pride of Hawaii. (The ship originally cruised in the Hawaiian Islands with NCL America.) If we hadn't known that, we might have been mystified by the print of a tropical scene on the wall of our cabin.
---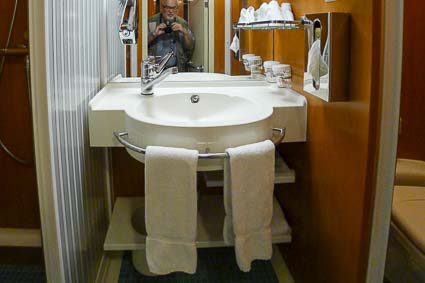 The bathroom was better-designed than most standard bathrooms on cruise ships: The sink was in the middle, with a large walk-in shower on the left and a toilet compartment with a sliding partition on the right. Wood-veneer paneling added a touch of luxury.
(NCL had thoughtfully provided a retracting clothesline in the shower, which--along with a wire basket for toiletries--made it easy to drip-dry clothes. This was probably just as well, since the ship didn't have self-service laundry facilities.)
---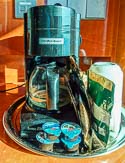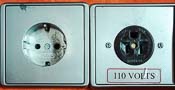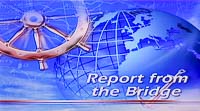 Other amenities in the cabin included a coffeemaker (with coffee and teabags), 220- and 100-volt electrical outlets, and a flat-screen TV that was angled toward the bed.
---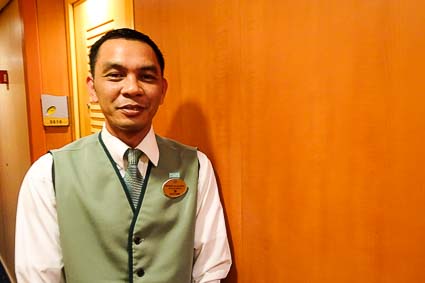 We met our cabin steward, Miguel Caldito of the Philippines, who kept the stateroom spick and span for the next 14 days.

---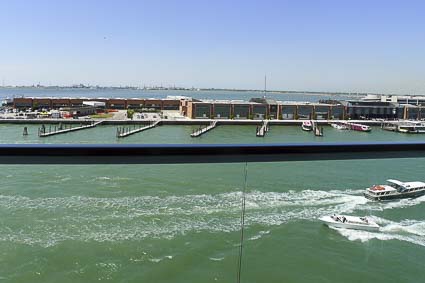 Our balcony faced the channel between pier 117 and the artificial island of Tronchetto, which is used for a large parking garage and car ferries to the Lido.
---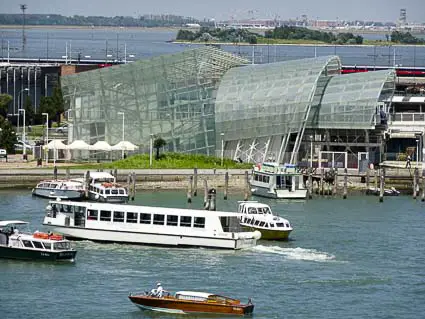 This telephoto picture shows water taxis, tour boats, and the Venice People Mover station on Tronchetto.
---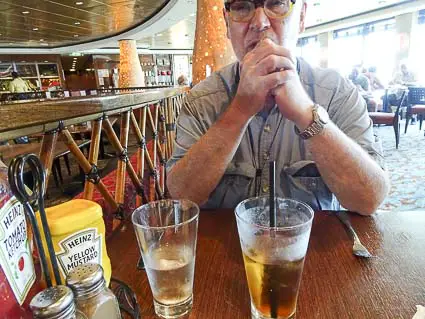 We left our backpacks in the cabin and went to Deck 8 for lunch in the Blue Lagoon, a "comfort food" restaurant overlooking the atrium that's open 24 hours a day.
(Tip: On embarkation day, most passengers head for the Garden Café on Deck 12, so try the Blue Lagoon if you prefer seclusion to confusion.)
---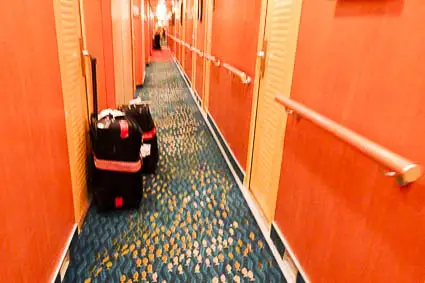 When we returned to stateroom 9614 after lunch, our bags were waiting for us in the corridor.
Tip: If you can't remember which way is forward and which way is aft on Norwegian Jade, just follow the dolphins on the carpeting in the hallway. (The dolphins are swimming forward, and their tails point aft.)
---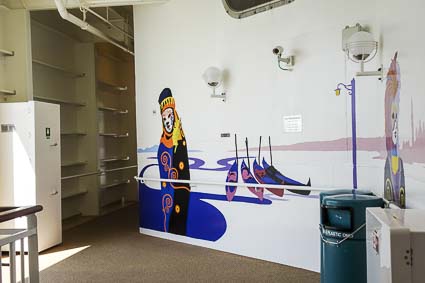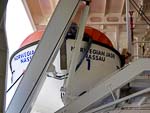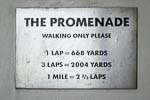 After unpacking, we spent the afternoon exploring Norwegian Jade. (These snapshots were taken on the Promenade Deck or Boat Deck, which offers a 360-degree walking path around the ship.)
---