Norwegian Jade Cruise Photos
From: Norwegian Jade Cruise Review
Day 1: Departure from Venice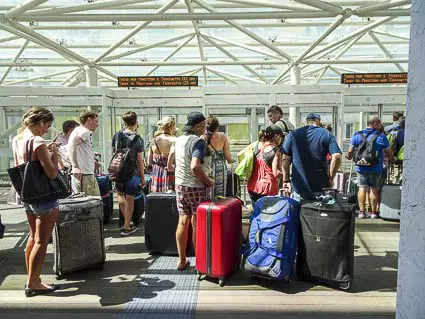 In late morning on Saturday, July 11, we left our cruise hotel and caught the People Mover automated tram from Venice's Piazzale Roma to the Marittima cruise basin.
---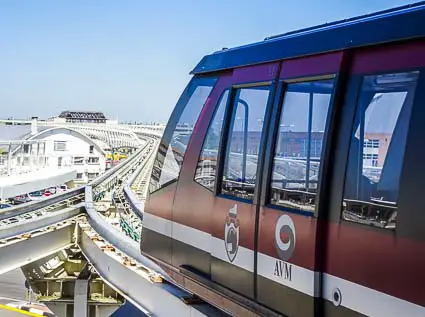 The People Mover is a great way to reach the port: It's cheap, wheelchair- and stroller-accessible, and quick. (The journey from Piazzale Roma to Marittima takes just over a minute.)
---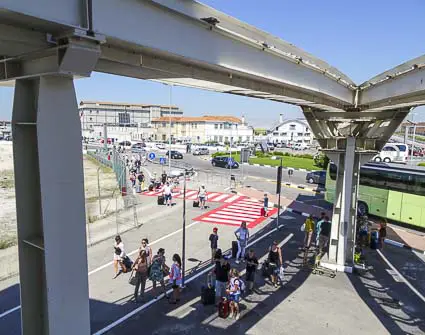 At the Marittima station (the People Mover's first stop), we took the escalator to ground level and followed the crowd to the port entrance.

---

At the cruise basin, a large photo mural of Venice and the Venetian Lagoon caught our eye.
---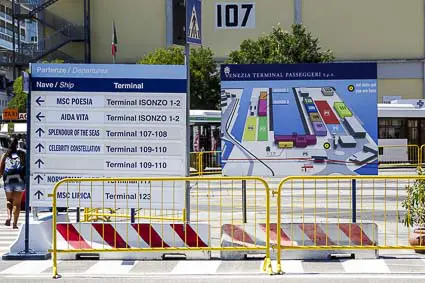 Signs and a map made it easy to find Norwegian Jade. (Our ship was at Terminal 117, ahead and off to our right as we passed the port entrance.)
---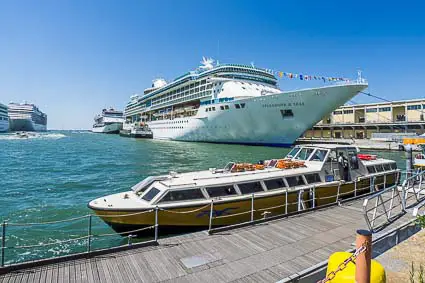 The Marittima cruise basin was filled with ships, as it usually is on a Saturday during the cruising season.
In the foreground, you can see an Alilaguna airport boat. Water buses of Alilaguna's Blue Line bring passengers from Venice Marco Polo Airport to Marittima with intermediate stops on the Lido (Venice's beach resort) and in central Venice.
For advice on getting to or from your ship, see Venice for Cruisers at Veniceforvisitors.com.
---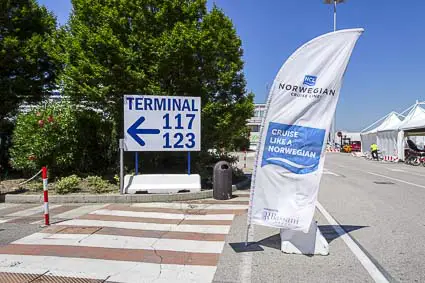 The route from the port entrance to Norwegian Jade's pier at Terminal 117 was convoluted but well-marked.
---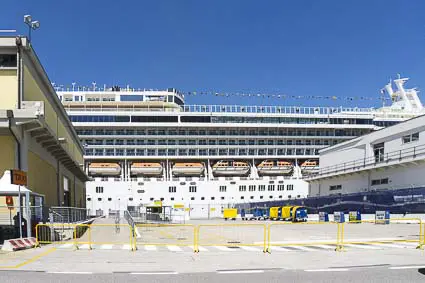 Soon, we saw Norwegian Jade waiting at the pier.
---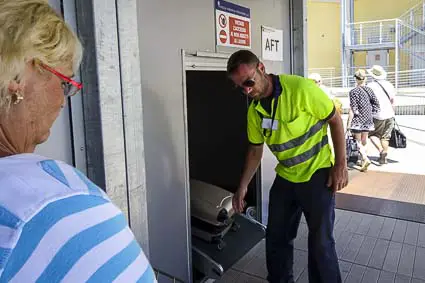 When we arrived at the terminal, we had to wait in line for about half an hour to drop off our luggage. Uniformed port employees passed through the crowd, stapling luggage tags to suitcase handles. Upon reaching the head of the line, we handed our bags to a dockworker at a conveyor marked "Aft" (the location on our luggage tags).
---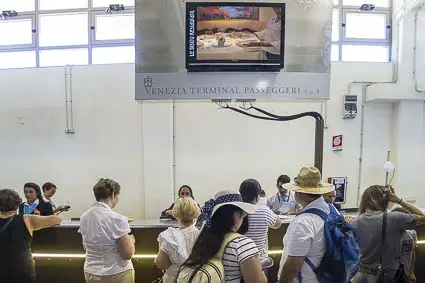 Next, we went inside the terminal and waited to check in. After we'd handed in our tickets and had our ID phtos taken, we were given keycards and sent to a waiting area where we could sit until our boarding group's number was called.
---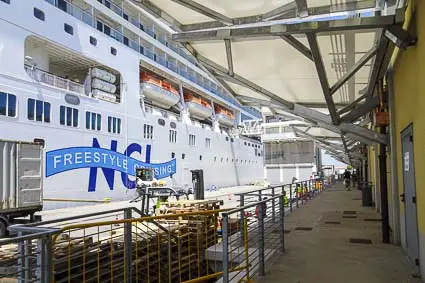 Fifteen or 20 minutes later, we were outside the terminal and walking toward the elevators to the boarding bridge.
The entire embarkation process, from arrival at the baggage drop-off line to boarding the ship, took about an hour and a half.
---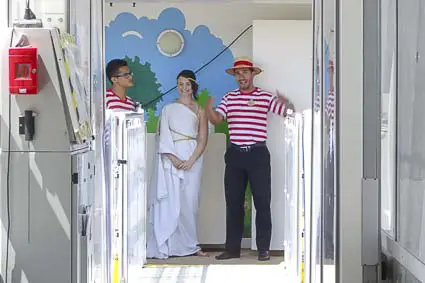 Costumed members of Norwegian Jade's photography staff were waiting at the entrance to the ship. We politely declined the invitation to pose and continued into the ship.
---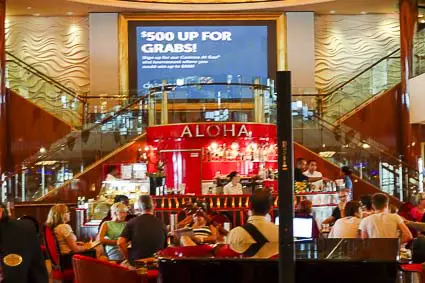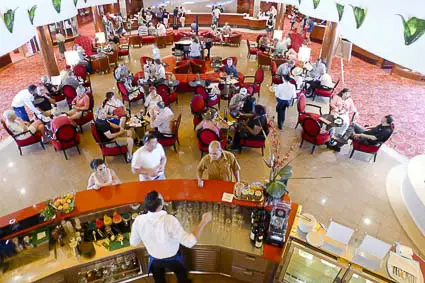 We entered via the Atrium on Deck 7, where other passengers were already enjoying Day 1 of their "14-day Ultimate Mediterranean" cruise.
---