Norwegian Jade Cruise Photos
From: Norwegian Jade Cruise Review
Day 3: Messina (3)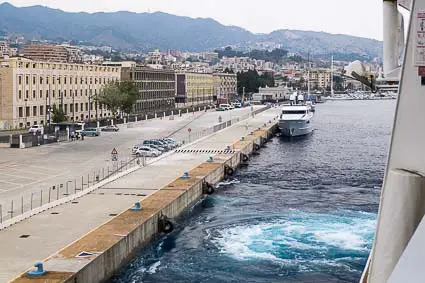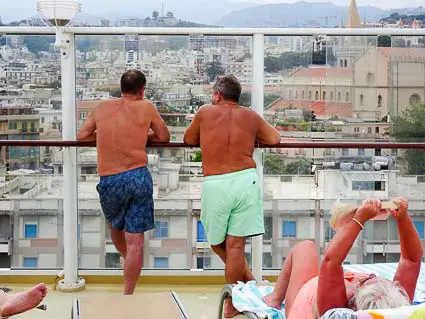 Around 6 p.m., Norwegian Jade fired up its bow thrusters and moved away from the pier as passengers watched from the open decks and balconies.
---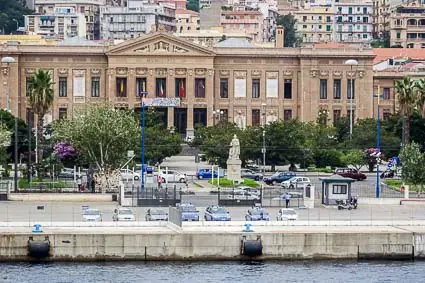 We enjoyed a final view of the Santuario di Montalto church and the Municipio as our ship cruised away from the wharf.
---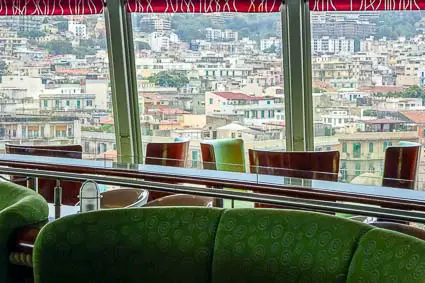 The views were even more dramatic from the Spinnaker Lounge above the Bridge on Deck 13.
---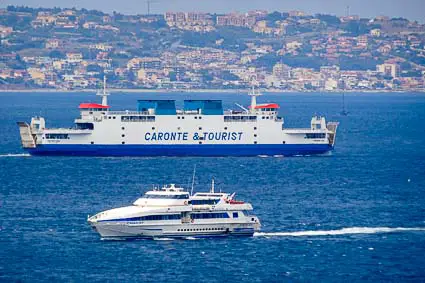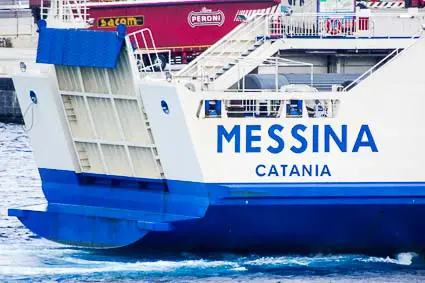 Messina's harbor was busy with ferry traffic, as it had been all day.
---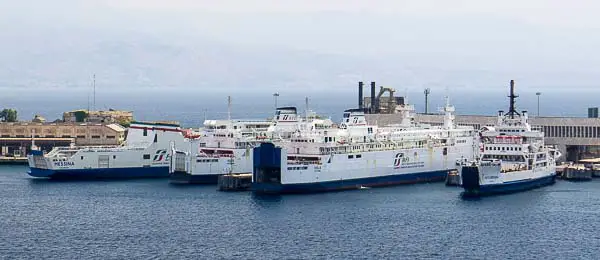 Other car ferries and high-speed passenger boats were moored between trips to Calabria in mainland Italy.
---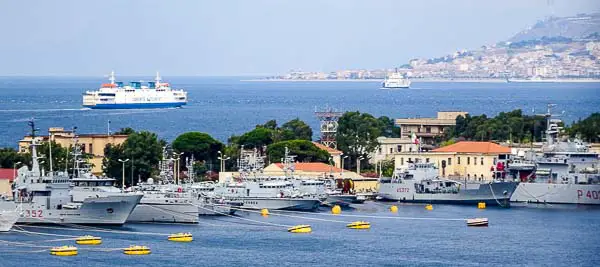 A row of Italian Navy ships were lined up inside the breakwater, with a ferry and the Strait of Messina behind them.
---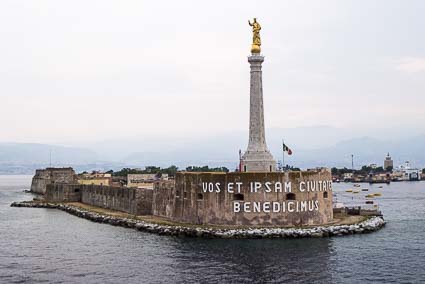 Within minutes, we were passing the statue of La Madonna della Lettera (Our Lady of the Letter) at the end of Messina's fortified breakwater.
The Latin text below the statue means "We bless you and your city."
---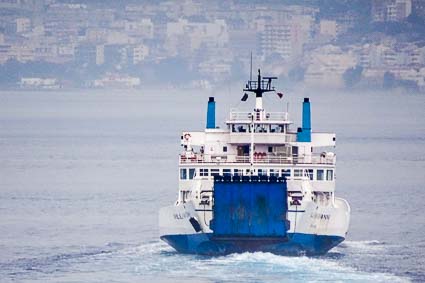 Out in the strait, we turned to the starboard while a ferry continued toward its landing in Calabria.

---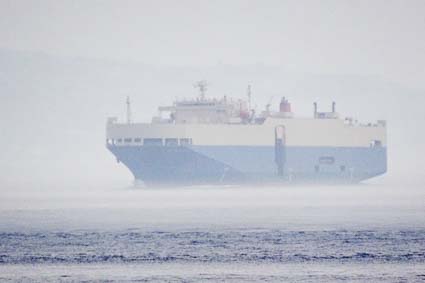 In the distance, a cargo ship was barely visible in the late-afternoon haze.
---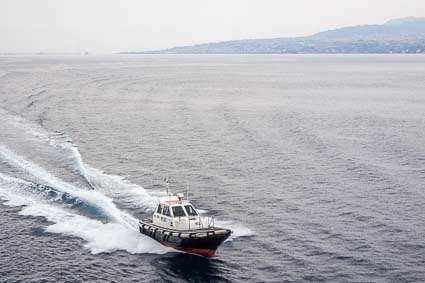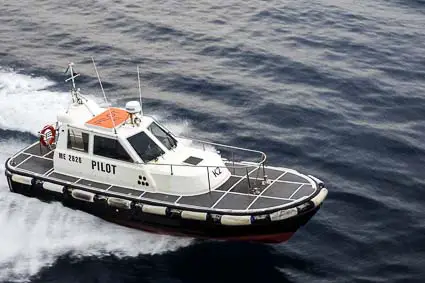 After we'd sailed south through the narrow section of the strait, a pilot boat approached and sped alongside the ship until the pilot was ready to leave Norwegian Jade.
---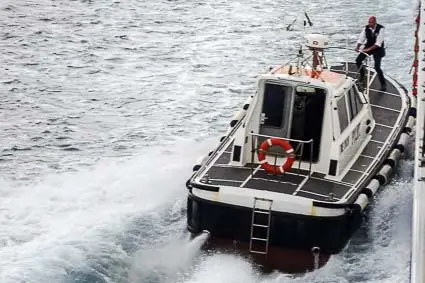 The pilot stepped off the rope ladder and onto the boat, grabbing the safety rail to keep from being thrown off the heaving deck.
---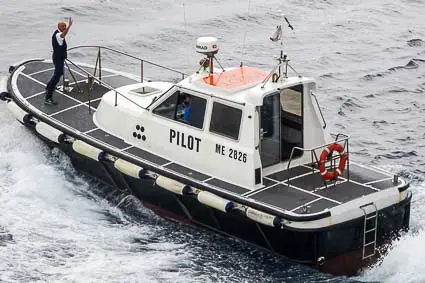 After a farewell wave, the pilot and boat sped away from Norwegian Jade.
---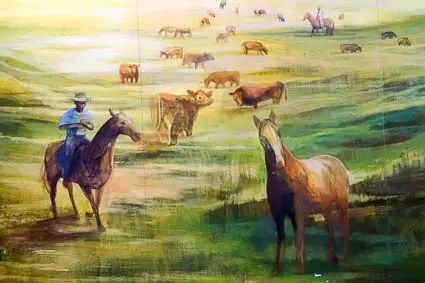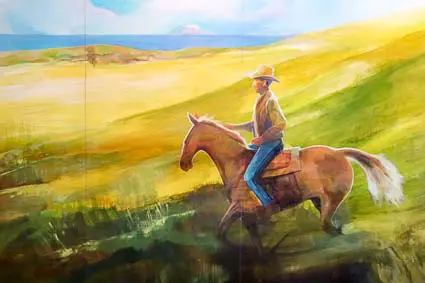 We had dinner that evening in Moderno, the ship's churrascaria-style Brazilian steakhouse, which was decorated with South American cowboy art.
---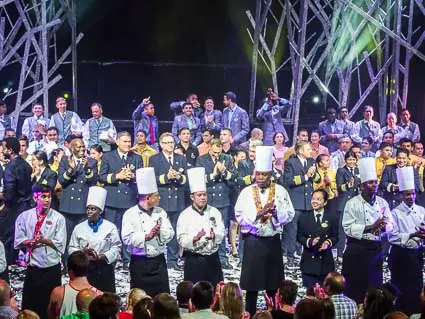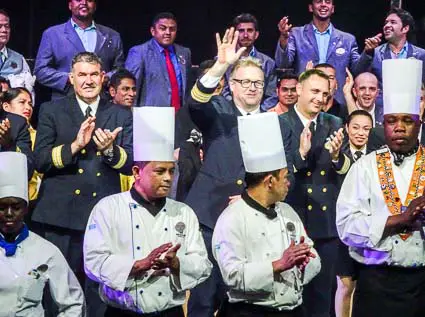 Later in the evening, representatives of Norwegian Jade's crew were presented to the passengers in the Stardust Theater.
---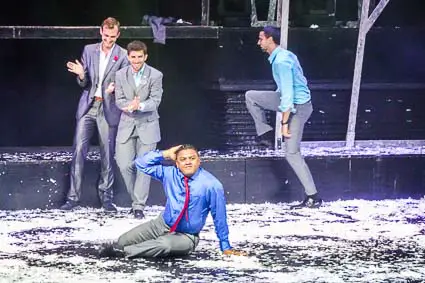 One member of the cruise director's staff couldn't resist an impromptu breakdance. (Another showed off his double-jointed party tricks.)
---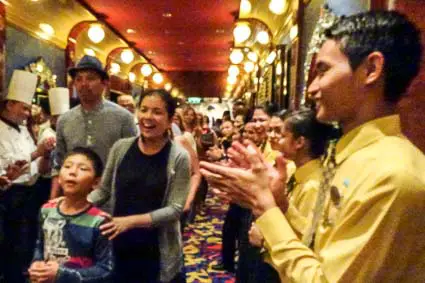 After the presentation, officers and crew stood along the bulkheads outside the theatre as passengers left the theater.
---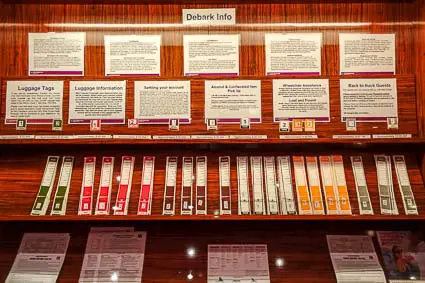 With only one full day left in our cruise, the Guest Relations staff had placed luggage tags and disembarkation instructions on shelves in the Atrium that usually had information about shore excursions.
---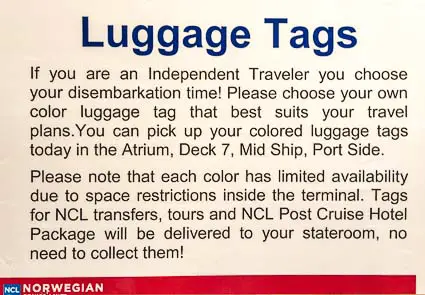 Norwegian Jade's disembarkation procedure was more convenient than most: As independent cruisers, we could disembark at our leisure after the earlier groups had departed. We didn't even have to clear our cabin by a certain time, as passengers on many ships do.
---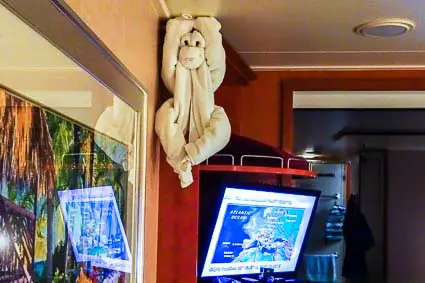 Our evening ended with our cabin steward's towel-animal tour de force: a monkey hanging from the stateroom's ceiling.

---