Norwegian Jade Cruise Photos
From: Norwegian Jade Cruise Review
Day 14: At Sea (2)

Our afternoon began with another ship sighting in the Adriatic. This time it was a containership headed toward the boot of Italy.
---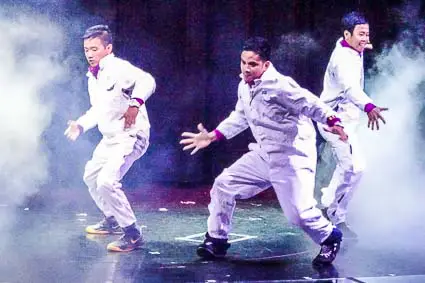 The afternoon's big event was the Crew Talent Show, which began with a group from the Philippines performing a dance act in boiler suits.
---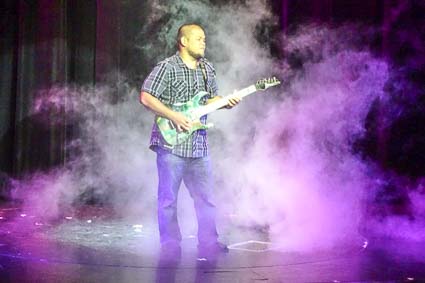 This guitarist could have named his act "Purple Fog."
---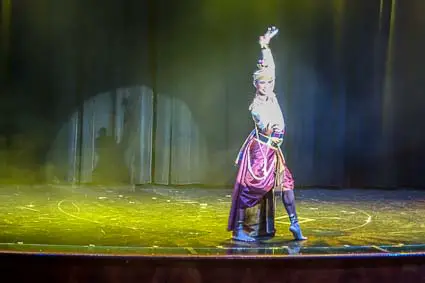 One of the more popular numbers was a traditional Thai dance performed by the "coffee coffee" waiter from the Garden Café.
---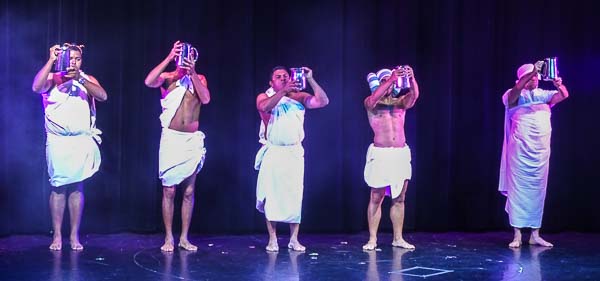 The Crew Talent Show ended with a deadpan send-up of NCL's own "Elements" show. Members of the cruise director's staff came onstage in togas fashioned from bedsheets and towels, then lifted tankards in honor of unseen gods.
---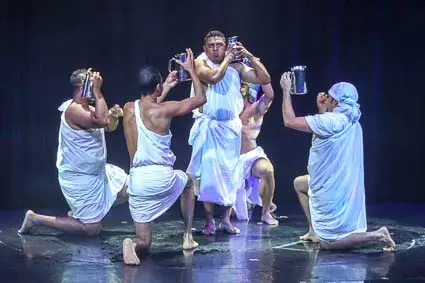 The number began solemnly (one could even say "pretentiously" or "portentously," depending on one's point of view). It quickly descended into brilliantly straight-faced slapstick.
We won't show photos of the act's slapstick portion, since we don't want to give anything away.
---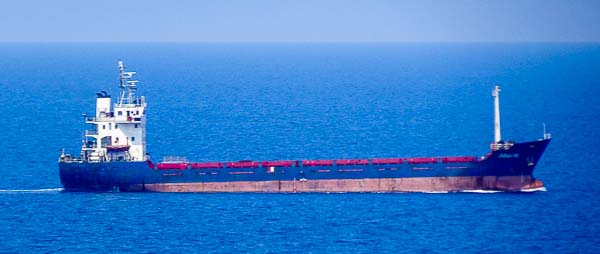 After the crew show, we went on deck and saw another small ship--this one headed north, as we were.
---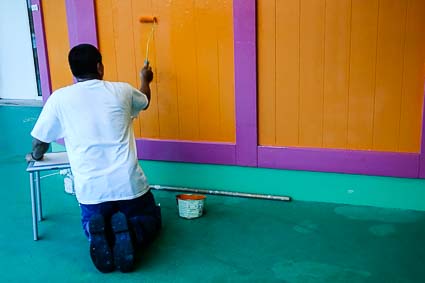 A crew member was already painting the woodwork at the Freestyle Towel Exchange in preparation for the next cruise.
---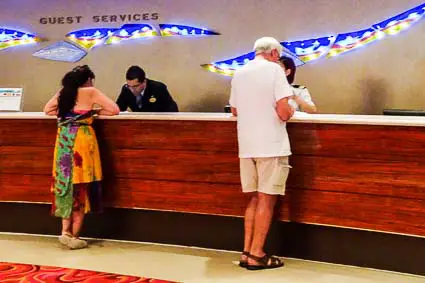 With disembarkation less than 24 hours away, some passengers were making special departure arrangements or paying bills at Guest Services in the Atrium.
---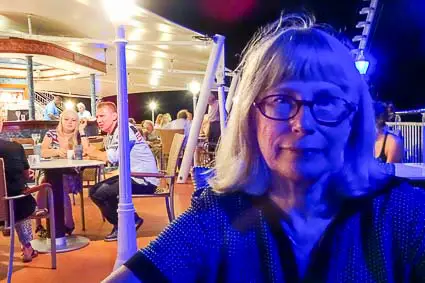 That evening, after dinner, we drank ice water by the stern railing in the Great Outdoors Restaurant.
(No, Cheryl wasn't auditioning for the Blue Woman Group--she was reflecting light from the blue-tinted lamps around the stern.)
---
The moon shone over the water. (The smaller lights are from villages on shore.)
---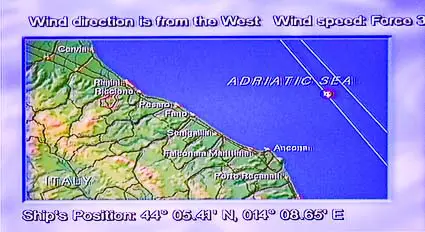 When we checked the position display on the TV after retiring to our cabin, we could see that Norwegian Jade was slightly northeast of Ancona, about two-thirds of the way up the Adriatic toward Venice. Our 14-night cruise was nearly over.
---