Norwegian Jade Cruise Photos
From: Norwegian Jade Cruise Review
Day 5: Kuşadasi (2)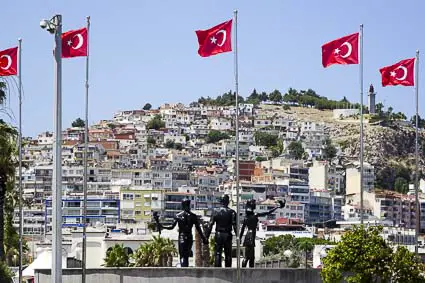 After leaving the Grand Bazaar, we went for a walk along Kuşadasi's waterfront promenade.
The sculpture above is called the Kuşadasi Monument of Atatürk and Youth in English. (Mustafa Kemal Atatürk led the fight for Turkish independence and was the first president of Turkey from 1923 to 1938.)
---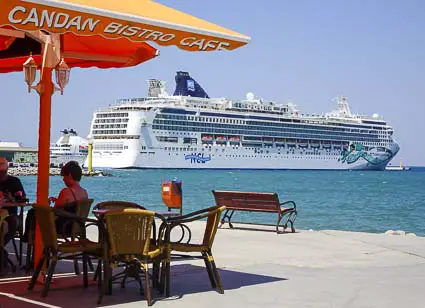 Looking back, we could see Norwegian Jade moored in the Liman or Main Harbor.
---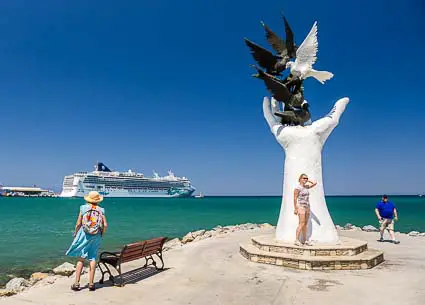 At the Engelli Odun park along the waterfront, visitors took turns posing for snapshots with the Hand of Peace Monument.
---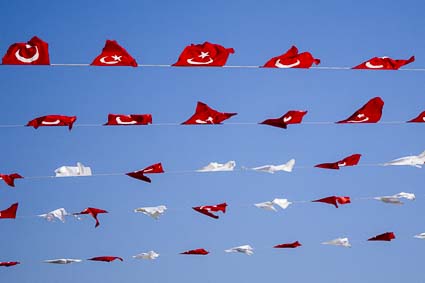 Turkish flags flew from overhead wires near the monument, with the blue sky of the Aegean as a backdrop.
---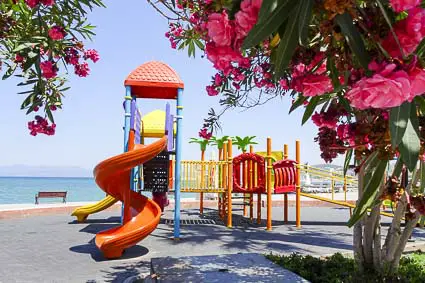 A modern playground faced the sea.
---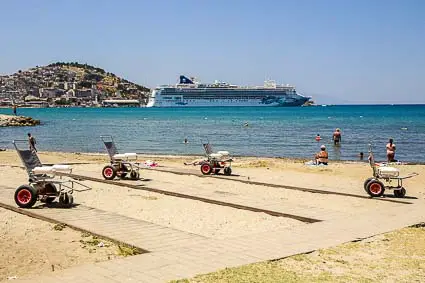 As we approached the Downtown Beach, we saw a row of beach-friendly wheelchairs for disabled citizens and visitors.
---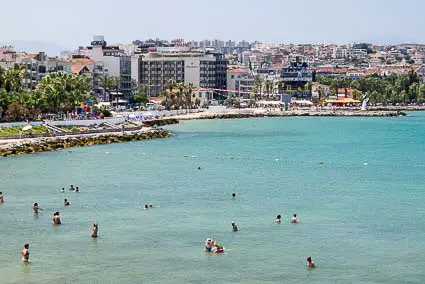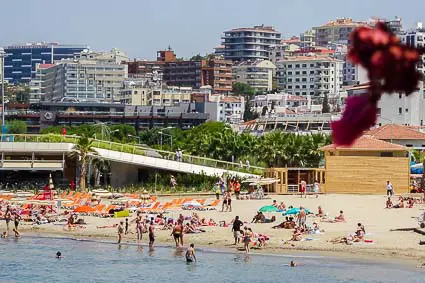 The main beach area was busy, since the Downtown Beach is close to many apartment buildings and hotels. (Kusasadi has a number of beaches, such as the Ladies Beach (no longer just for ladies), Love Beach, and Long Beach.)
---
Next to Downtown Beach, a path led up to a mini-park on top of a modern beachside building. (The building was on a narrow strip of land that separated the beach from Kuşadasi Marina).
---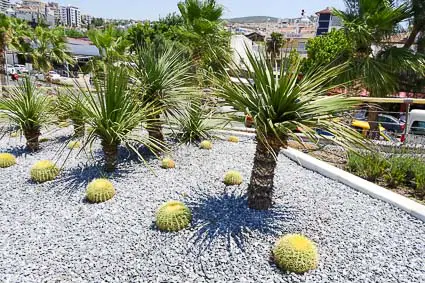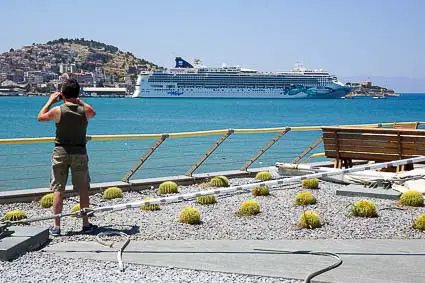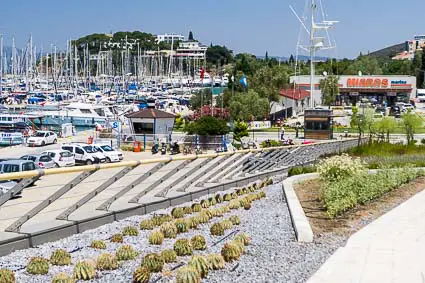 The park had palm trees, cacti, and other plantings, along with excellent views of the harbor and the marina with its Migros supermarket.
---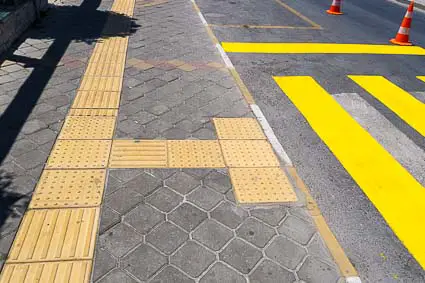 We left the beach and crossed a large street to the downtown side of the waterfront promenade. Here, we noticed that the sidewalks had tactile paving for blind people with canes. (The pavement tiles were embossed with lines for "Go straight" and tiny domes or dots at street crossings.)
---
This crenellated fortress looked like a national monument, but it turned out to be a hotel.
---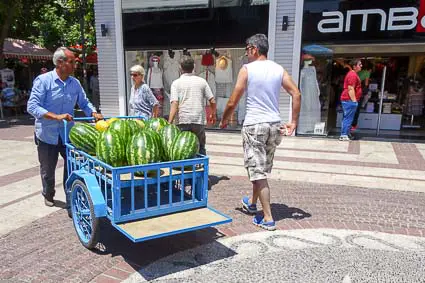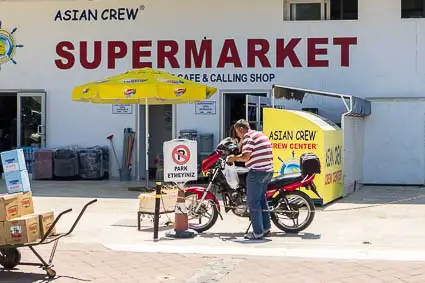 A man was delivering watermelons by hand cart. Not far away, we encountered the Asian Crew Crew Center with a supermarket, a cafe, long-distance phone service, delivery of "slop chest" items, and other services for crew members from visiting cruise and cargo ships.

---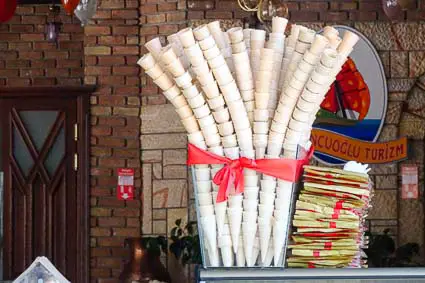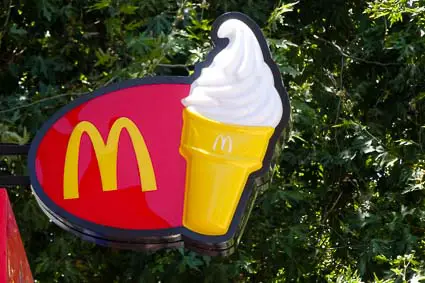 If we'd been hungry for fast food, we could have bought an ice-cream cone from a local vendor or McDonald's.
---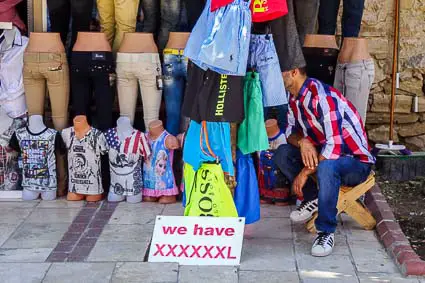 And if we'd become addicted to ice-cream cones, we could have bought clothing to fit our new figures.
---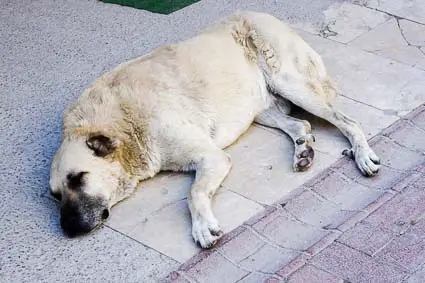 We were tempted to ask the clothing-shop owner how many XXXXXXL items he sold to visiting cruise passengers, but we decided it was best to let sleeping dogs lie.
---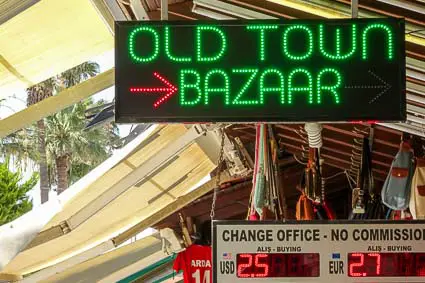 Our next stop was the Old Town Bazaar in downtown Kuşadasi.
---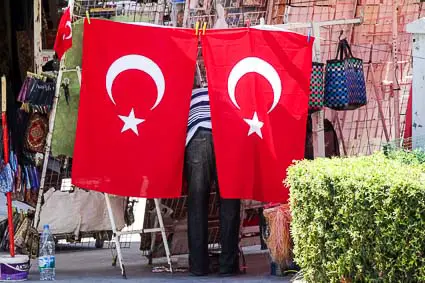 At this vendor's stall, you could buy a Turkish flag and a shopping tote to carry it home in.
---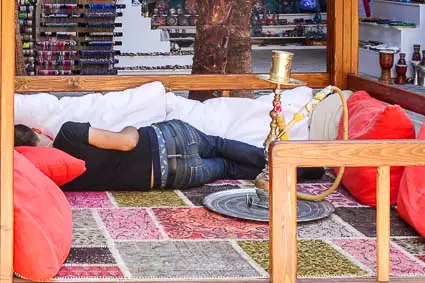 An another stall, the salesperson was enjoying a midday siesta.
---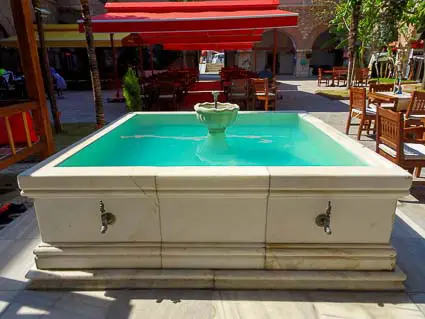 Nearby, a café's fountain looked refreshingly cool.
---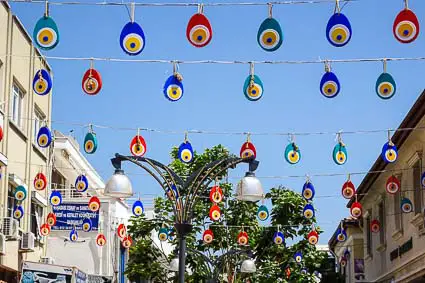 Have you heard the expression "eyes on the street?" In downtown Kuşadasi, they take that phrase literally.
---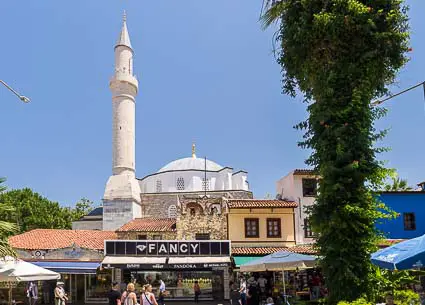 God and Mammon appear to mingle in this photo, where a row of jewelry stores are snuggled up against a mosque.

---