Norwegian Jade Cruise Photos
From: Norwegian Jade Cruise Review
Day 6: Piraeus, Greece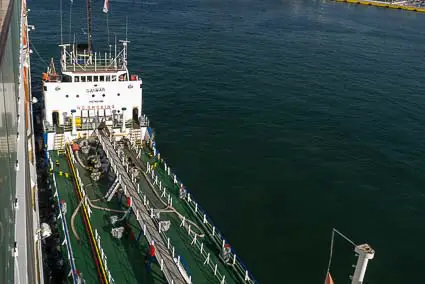 When we crawled out of bed in Piraeus, Greece, a fuel barge was already alongside Norwegian Jade and our balcony.
---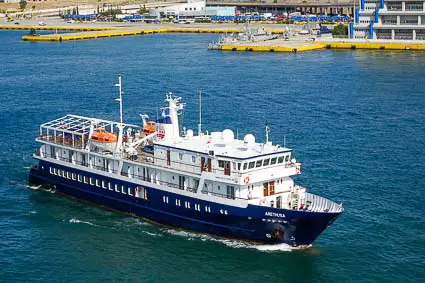 The small cruise ship Arethusa (which we'd seen the day before in Kusadasi) was arriving in the busy port.
---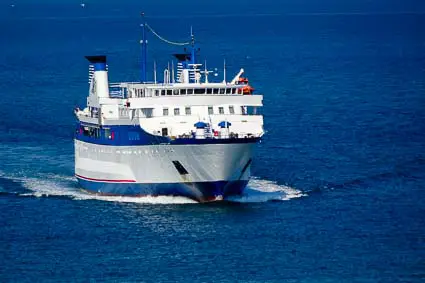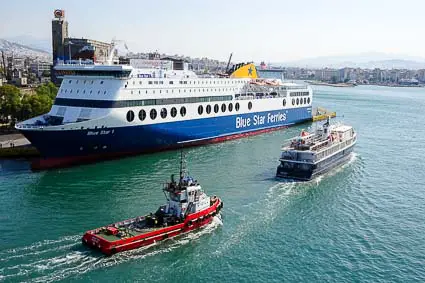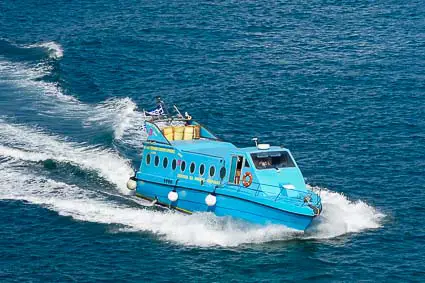 Ships--especially ferries--arrived and departed constantly, in the morning and throughout the day. (Not surprising, in a country with 227 inhabited islands.)
---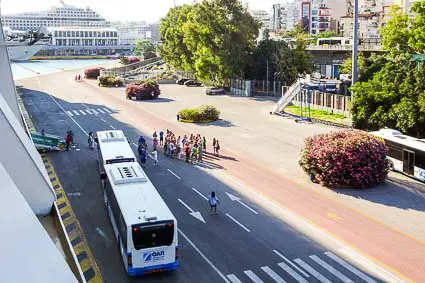 When we went up to breakfast, we could see shuttle buses picking up passengers at the foot of Norwegian Jade's gangway on the starboard side of the ship.
---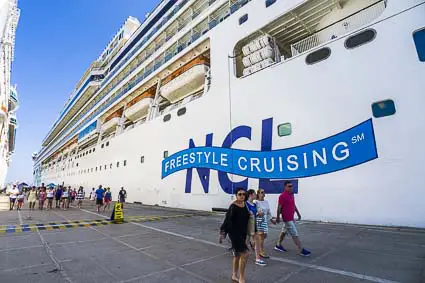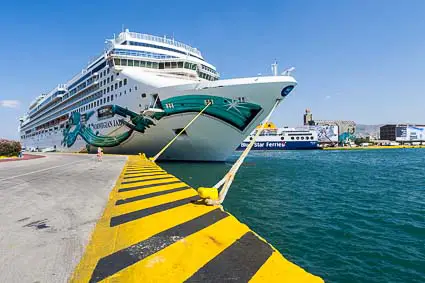 After eating, we went ashore and walked the short distance to the port entrance.
---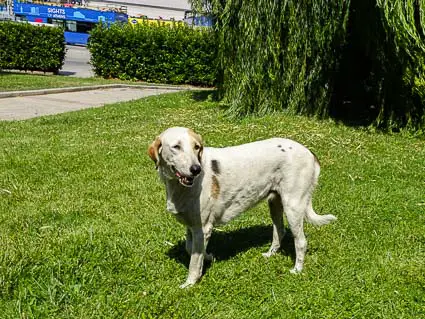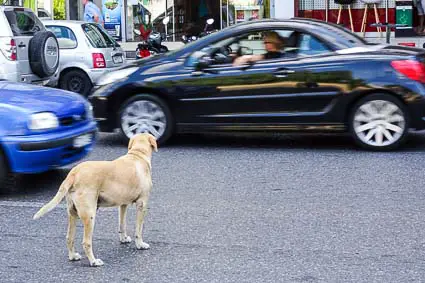 Freely wandering dogs (not all of them strays) are commonplace in Greece and Turkey. This dog was standing just beyond the port entrance, waiting to cross the street.
---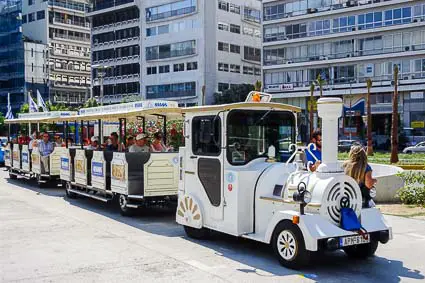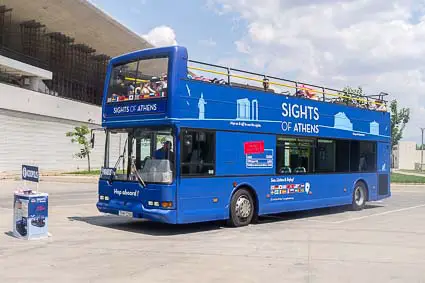 A tourist train and the inevitable "hop on, hop off" sightseeing buses were waiting outside the cruise terminal. The buses made more sense than they do in most ports, since they offered direct service to the main sights in Athens (about 20 minutes away if the roads weren't jammed).
---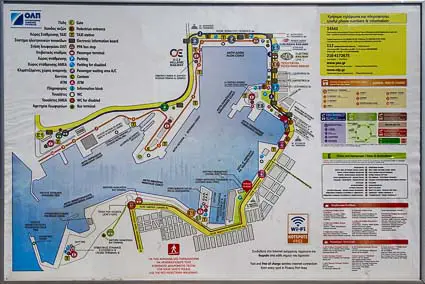 We'd decided to stay in Piraeus for the day, so we consulted a nearby port map and a free city map that we'd picked up in the cruise terminal. (Click here for a larger version of the map, which may take a few seconds to download.)
---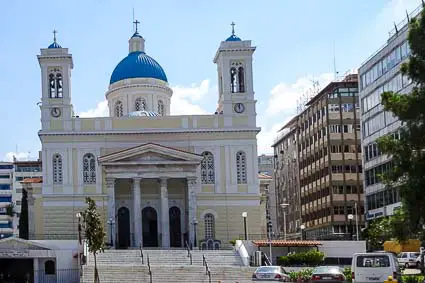 We walked along the waterfront, passing the Church of Agios Nikolaos or St. Nicholas Church on our way to downtown. (The church was built in the late 1800s.)
---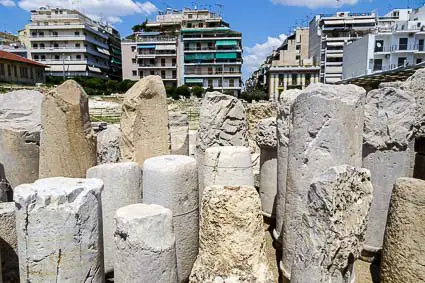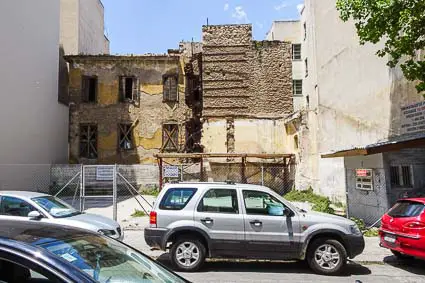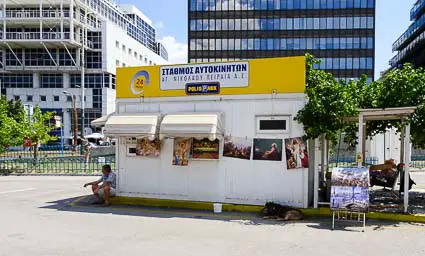 Piraeus is mostly a modern city, but as we walked around the center, we did see a few interesting juxtapositions between old and new.
---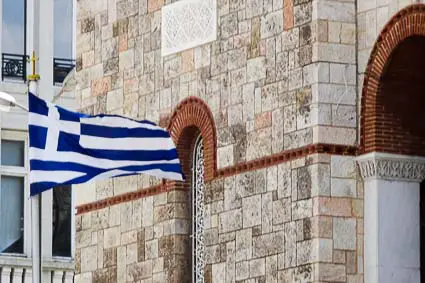 This Greek flag was flying outside the Holy Cathedral of Agia Triada, a.k.a. the Holy Trinity Church, a Neo-Byzantine structure that was built in the 1950s and 1960s to replace an earlier church that was destroyed by Allied bombing during World War II.
---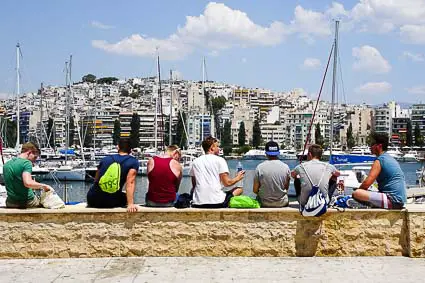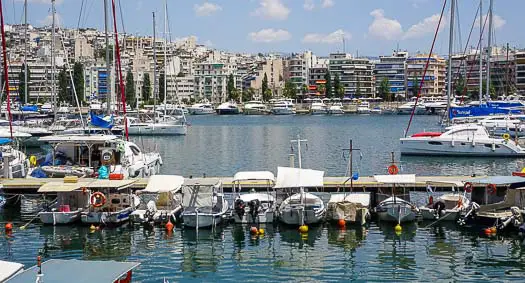 One of the more attractive locations in Piraeus is the Marina, where we saw a group of men having lunch along the water.
---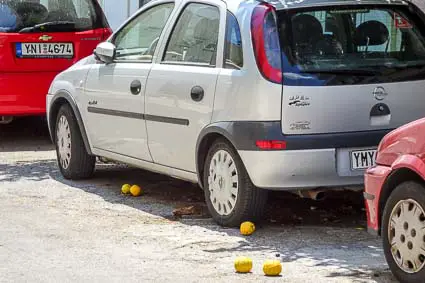 If the men had been in the mood for oranges, they could have collected free fruit from the streets nearby. (Oranges appear to be the Greek urban forest's answer to acorns.)
---