Norwegian Jade Cruise Photos
From: Norwegian Jade Cruise Review
Day 9: Livorno, Italy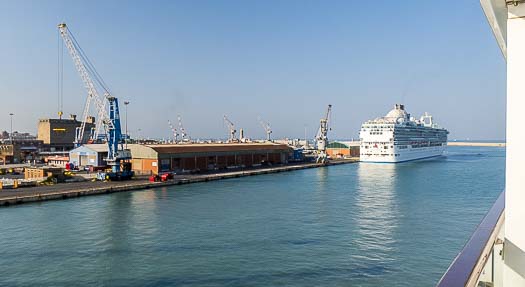 Norwegian Jade arrived in Livorno, Italy early on a Sunday morning. The port was quiet, with only a few cruise ships and ferries at the otherwise empty piers.
---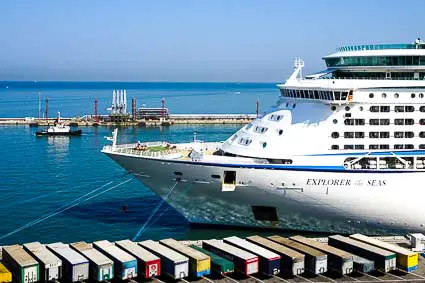 If we hadn't known that Livorno was primarily an industrial port, the parked truck trailers along the quay would have given us a hint.
---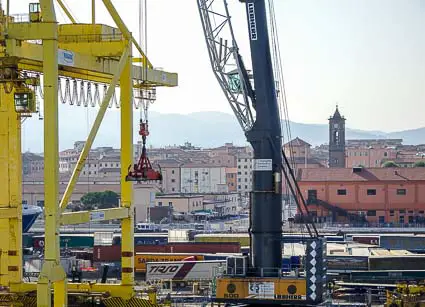 We could see the city of Livorno just beyond the port's cranes and cargo-handling systems.
---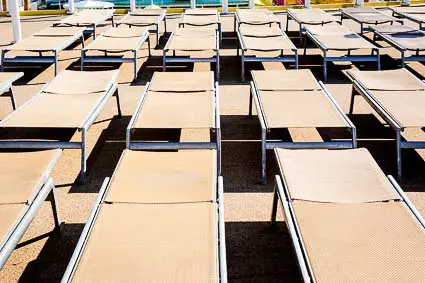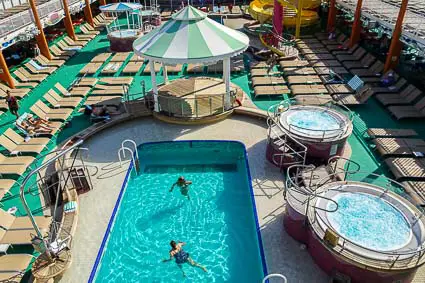 Norwegian Jade's sunbeds were uncharacteristically empty, and only two swimmers were in the pools. It seemed obvious that most of the ship's passengers were headed for Florence or Pisa.
---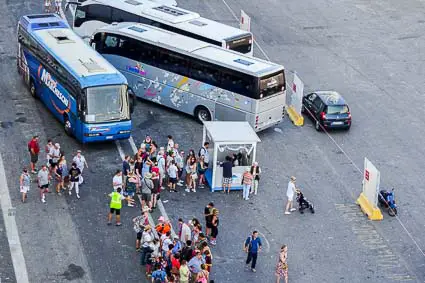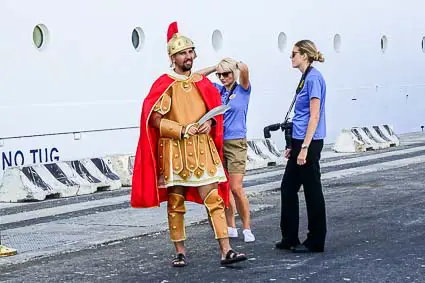 Down on the pier, early-rising Norwegian Jade shore excursionists were already boarding tour buses, and the ship's photographers were inviting passengers to pose with a Roman centurion.
---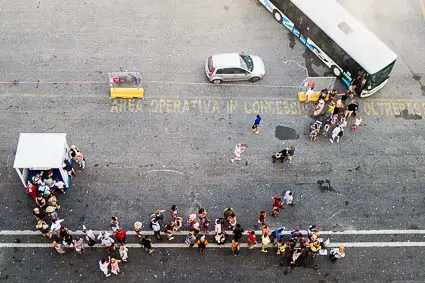 The port ran a shuttle bus every 15 minutes to downtown Livorno at a reasonable price: five euros for a day pass.
In addition, a private company offered bus service to the Livorno railroad station, where passengers who hadn't booked shore excursions could catch trains to Pisa, Florence, and other cities or towns in Tuscany. (The price for the station shuttle was 15 euros roundtrip.)

---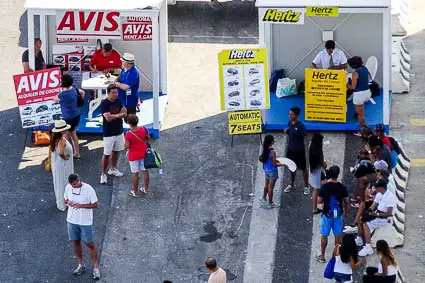 By the time we'd had breakfast, the lines were minimal at the shuttle-bus ticket stall and the car-rental booths on the pier.
---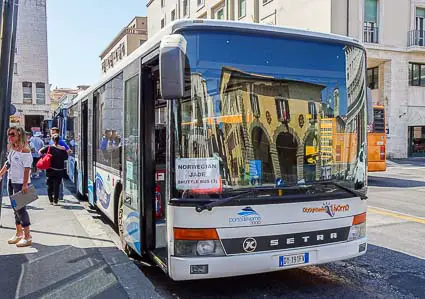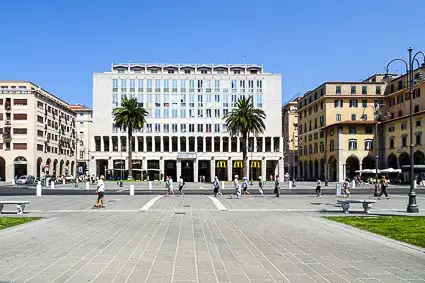 We paid our five euros for a shuttle day pass, and after a quick bus ride from the port, we were dropped off at the Piazza Municipio in downtown Livorno.
---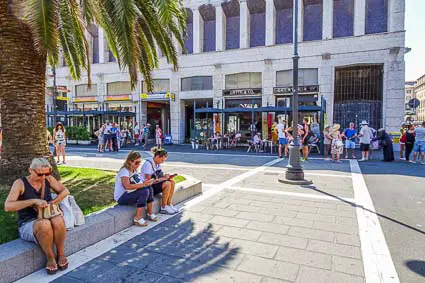 The city center was surprisingly lively for a Sunday morning--and not just because of foreign tourists. Many locals were taking strolls, sitting in cafés, or otherwise demonstrating that only 31 percent of Italians attend church once a week.
---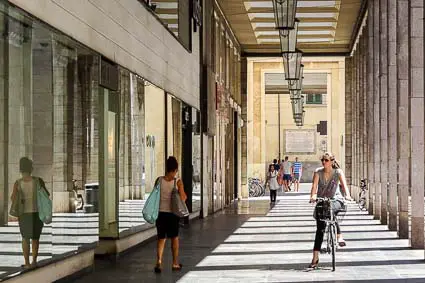 The main shopping street was arcaded, and the storefronts included both local businesses and outposts of international chains such as Desigual and H&M.
---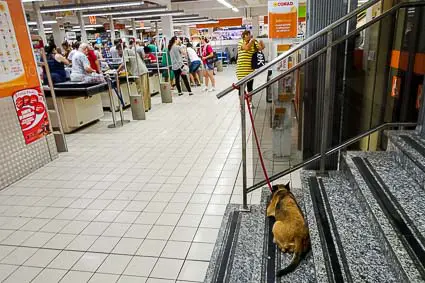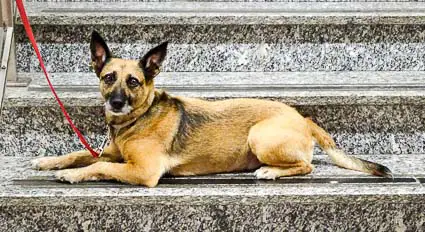 Many of the downtown stores were open--including a large supermarket, where a dog waited as its owners shopped.
---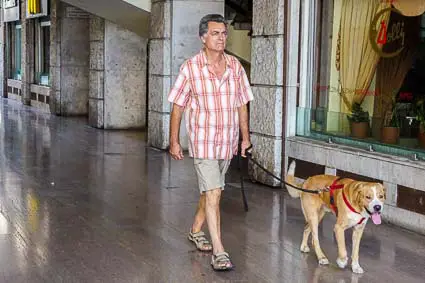 Another dog window-shopped under the downtown arcades.
---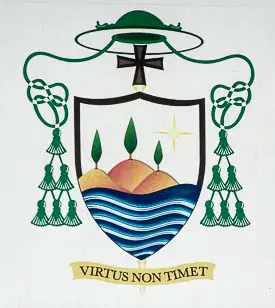 A coat of arms on a wall told us that "Virtue is not afraid."
---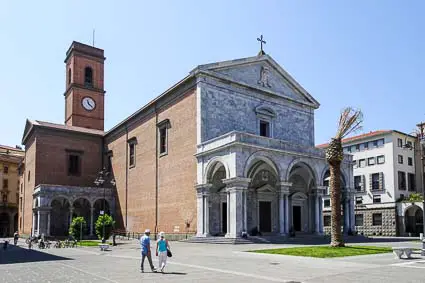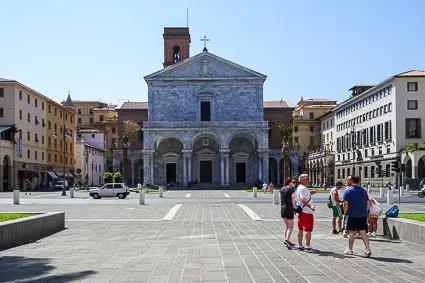 Nearby, the Duomo (Cathedral) loomed over Livorno's Piazza Grande.
---