Norwegian Jade cruise review
Page 2
Continued from page 1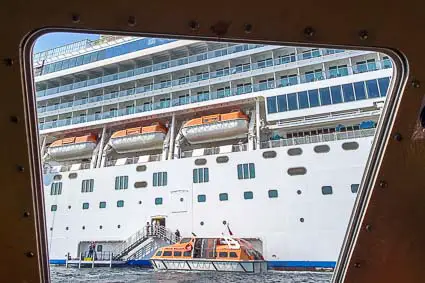 Norwegian Jade: the ship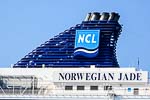 NCL's Norwegian Jade was the second of four Jewel-class ships when it entered service as the Pride of Hawaii with NCL America, a subsidiary of Norwegian Cruise Line that operated in the Hawaiian Islands from 2006 to 2008.
At the time, the Jade and its sister ships were the largest vessels in Norwegian's fleet, but today they're merely an "M" compared to the "L," "XL," and "XXL" of Norwegian's newer and future ships.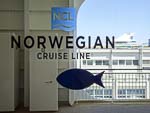 Norwegian Jade has a gross register tonnage of 93,558, with a nominal double-occupancy capacity of 2,402 and a maximum crew of 1,078. (Because some cabins have three or four berths, the total number of passengers during school vacations can exceed 3,000.)
Although the ship is big, it doesn't feel huge, and it seldom felt crowded during our voyage except on the pool and sun decks (which attracted crowds of mostly European sun-seekers) and occasionally in the buffet at breakfast or lunch.
Norwegian Jade by the numbers
The official Norwegian Jade Fact Sheet is loaded with fascinating trivia. For example:
The ship took two years to build at a cost of US $510 million. (It was completed on April 19, 2006 at the Meyer Werft Shipyard in Papenberg, Germany.)

Norwegian Jade has a total engine output of 72,000 Kw or 97,920 horsepower, delivered through two ABB Azipod fixed propellers and two bow thrusters. (The Azipods rotate 360 degrees for steering, and the ship has no rudders.)

All charts are electronic, and all planning, route calculation, ploting, and updates are done electronically.

The ship has its own garbage incinerators (for dry garbage), balers (for recyclables), water-purification system (with a capacity of 739,762 gallons or 2.8 million liters daily), and sewage-treatment plant.
Safety features include 22 life boats, 22 life rafts, and two "man overboard" boats, for a total capacity of 5,670 persons. Norwegian Jade carries 8,098 life jackets, plus another 200 special life jackets for infants.

The ship also has 417 fire hydrants (including 40 in the engine room) and four trained fire-fighting teams, plus medical teams for health emergencies and evacuations.

Other numbers for Quiz Night enthusiasts: Norwegian Jade has 810 miles (1,303 km) of electric cable, 65 miles (105 km) of pipes, 835 exterior windows, and 1,834 interior doors, and more than 25,000 light bulbs.
Next page: Cruise itinerary
---
---
---
---