Norwegian Jade cruise review
Page 10
Continued from page 9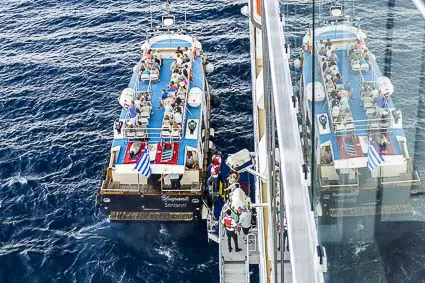 Shore excursions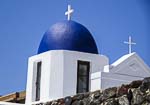 When you're touring Europe by ship, you have several tour options in ports of call:
Organized shore excursions (offered by the ship or arranged privately).

DIY outings (such as renting a car, hiring a taxi, or taking a train).

Exploring the local port, instead of going farther afield (we did this in each of the eight ports that Norwegian Jade visited during our 14-night cruise).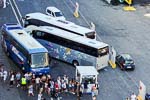 Ship-sponsored shore excursions can be more expensive than touring on your own, but they do offer one advantage:
If you're late in returning to the pier, the ship won't sail without you. This may not sound like a big deal, but when you're lost on a back road in Sardinia or the trains aren't running on time between Florence and Livorno, you may wish that you'd chosen the "peace of mind" option.
Minimizing the masses
Before our cruise, we were leery of shore excursions from a big ship, since we figured the tour groups would be overwhelmingly large. As it turned out, NCL had that issue covered: In a typical port, the ship offered a diverse menu of excursions to keep group sizes manageable.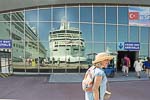 For example, the list of excursions from Kuşadasi, Turkey included 11 different tours ranging in length from four to 6½ hours at prices of USD 54 to USD 129 (with discounts for children).
In Rome's port of Civitavecchia, there were 11 tours of 4½ to 10 hours, and in Livorno, passengers could choose from 18 tours of three to 10 hours to Florence, Pisa, the Cinque Terre, and the Tuscan countryside.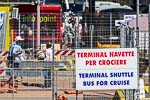 Shuttle buses are provided in some ports (free or at a modest cost, depending on the city). In Livorno, for example, the port shuttle cost €5 roundtrip, with buses coming and going every half-hour throughout the day. A more expensive shuttle took passengers to the railroad station, where it was easy to catch trains to Pisa, Florence, and other cities.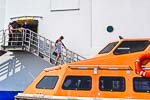 In a few smaller ports, such as Santorini and Cannes, ships must anchor offshore and ferry passengers to shore on local boats or the ships' own tenders.
We were impressed by Norwegian Jade's efficiency in "tender ports." Passengers can pick up tender tickets at a desk on Deck 7 and go back to their cabins or wander around the ship while waiting for their groups to be announced. (On some ships, passengers are required to wait in theaters or lounges.) To minimize passenger queuing, Norwegian Jade's tender dock can handle two boats at a time.
Tip: Passengers on organized shore excursions get priority when going ashore by boat. If you're touring on your own, we suggest having a leisurely breakfast and leaving the ship after the early rush. That's what we did, and we never had to wait more than a minute or two for a tender.
Next page: Officers and crew
---
---
---
---