Oceania Cruises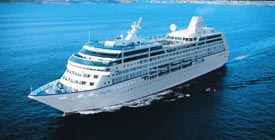 ABOVE: The Regatta and Insignia of Oceania Cruises are midsize ships of 30,277 tons with a capacity of 680 passengers.
---
Archived article (2003)
A new cruise line sets sail in Europe
By Durant and Cheryl Imboden
Oceania Cruises is a new cruise line with a special niche: "upper-premium" cruising on midsize ships that bridge the gap between small, high-priced luxury vessels and the growing number of mass-market "megaships."
The Miami-based line, which will have its inaugural cruise on July 5, 2003, was founded by two industry veterans: Frank Del Rio, ex-CEO of Renaissance Cruises, and Joe Watters, former president of Crystal Cruises.
Oceania will cruise in the Western Hemisphere during the winter, but the real news is its schedule of European cruises. From spring through fall, the line will offer cruises of up to 16 nights in the Mediterranean, the Baltic, and points in between. Its French-built vessels, the Regatta and the Insignia, were designed specifically for the kind of "port-intensive" European cruising that I describe in my article, Tour Europe by Ship.
---
---
---
Photo: Copyright © Oceania Cruises. Used by permission.