Oceania Regatta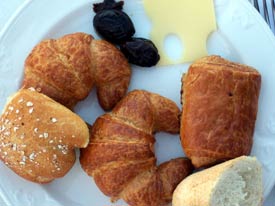 ABOVE: .Regatta's croissants are the best that I've had aboard a ship since I crossed the Atlantic on the S.S. France. (And its pains au chocolat are better than the one I bought in Bordeaux.)
Regatta dining
Continued from: Regatta staterooms
Food is an area where a new cruise line can quickly distinguish itself, and Oceania has made dining a top priority. The line boasts of spending more on food than its competitors do, and the claim seems believable. Caviar, lobster, and foie gras might not be served as freely as on Seabourn or Silversea, but they do turn up on the menus--and not a dinner goes by when you can't dine on USDA Prime Black Angus Beef or top-quality Australian Lamb. Overall, the food is every bit as good as meals I've had on six-star cruises or in five-star hotel dining rooms.
Oceania's Executive Culinary Director is Jacques Pépin, an internationally renowned master chef and cookbook author who has served as personal chef to three French heads of state.
In the galleys, the numbers tell the story: Executive Chef Eric Borole supervises a kitchen crew of 87, including 61 cooks, and that number will have grown by the time you read this. Meats, fish, and vegetables are cooked à la minute in the three main restaurants, and M. Borole claims that the only prepared foods on board are "the ketchup and the mustard." (I'll forgive him for not mentioning the jams and the peanut butter.) More than 1,000 recipes are prepared during a typical 14-day cruise.
Dessert fans will be overjoyed by the pastries, which are as good as any that I've encountered on land or at sea. The Regatta has six bakers working under the command of a French pastry chef, and the croissants alone (see photo above) are reason enough to book a voyage.
The Regatta's dining options include:
Grand Dining Room, an attractive though sometimes noisy breakfast, lunch, and dinner restaurant with open seating and Continental cuisine. You can request a table for two, dine with friends, or let the maitre d' seat you with fellow passengers at a table for four or more guests. The six-course dinner menu changes daily, and you can always choose from low-fat/low-calorie dishes or alternative items such as steak, chicken, salmon, and pasta.
Toscana, a 90-seat restaurant with gourmet Italian dishes. You can choose from the standard menu or daily specials. Every table is next to a floor-to-ceiling window. (Reservations are required, and it's a good idea to book a day or two ahead.)
Polo Grill, which offers grilled steaks, chops, and seafood with American-style side dishes at window tables for 96 guests. Dine here at least twice: once for the filet mignon, and again for the Australian lamb chops. For dessert, I recommend the pecan pie, which is nutty instead of gooey. (Like Toscana, the Polo Grill requires advance booking.)
Terrace Café, a buffet restaurant that offers breakfast, lunch, and dinner. At night, the Terrace Café becomes Tapas, a Mediterranean-themed restaurant with Spanish tapas, paellas, and other entrées such as roast beef or chicken. For dessert, try the flan (caramel custard) and the churros or hot Spanish doughnuts. I suggest choosing an outdoor table in good weather: During one meal at a table by the aft rail, I saw dozens of tuna leaping from the water as the Regatta cruised in the Bay of Biscay.
Waves, a sheltered outdoor grill by the pool where you can order lunchtime hamburgers, hot dogs, pizza, salads, and ice cream in good weather.
Regatta also has a fairly extensive 24-hour Room Service menu. During meal hours, guests in Penthouse, Vista, and Owner's Suites can order from the Grand Dining Room's menu, with butlers serving items course by course.
Afternoon Tea (misnamed "High Tea") is served daily from 4 to 5 p.m. by the floor-to-ceiling windows of the Horizons lounge. This is a great place to relax after a day of sightseeing, especially if you're in a busy port where you can watch ships come and go as you enjoy your tea or coffee, sandwiches, scones, and pastries.
Finally, the Regatta has a good assortment of bars, including two that deserve special mention: the Polo Grill's bar, which specializes in single-malt Scotch whiskies, and Martinis on Deck 5, where one of the more intriguing choices is the "Apple Martini" (a green concoction with applejack and a slice of fresh apple for health-conscious drinkers).
Next page: Regatta entertainment
---
---
---