Oceania Regatta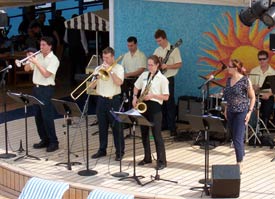 ABOVE: The Glenn Jacobi Orchestra entertains guests during a noontime concert by the pool.
Entertainment
Continued from: Regatta dining
Regatta's style of entertainment leans toward the personal and intimate, with a complete absence of the Las Vegas-style production shows that have become standard fare on megaship lines. This is partly because of Oceania's destination focus: When guests have been sightseeing all day or need to get up for a 9 a.m. tour, a musical extravaganza may sound tiring instead of fun.
During my September, 2003 cruise, the Regatta offered a variety of entertainment:
The Glenn Jacobi Orchestra often performed on a stage by the pool on sea days (see photo above), in the Horizons lounge at cocktail hour, and at 11 p.m after the nightly show. During the once-per-cruise "Polyester Party," the Australian band members dressed up in '70s and '80s clothing--including an afro wig or two--and played hits from the disco era while middle-aged passengers relived their salad days on what was merely one of Regatta's three dance floors.
The Johan Strauss String Quartet entertained guests at afternoon tea, in the Grand Dining Room, and in concert. During the captain's cocktail receptions, they played dance music with the Glenn Jacobi Orchestra.
Will Ham, Jacki Cooper, and Dmitri Landrain provided piano and vocal entertainment in the Martinis Bar, and occasionally at afternoon tea.
The ship's cruise director-vocalist, Leslie Jon, and hostess-cabaret singer Shani Reay performed solo shows for packed houses in the Regatta Lounge.
Magicians Gregory and Kristi Gleason did three shows, each with a separate theme. The Gleasons have been a headline act at the Venetian Hotel in Las Vegas and have appeared on the Masters of Illusion TV show.
Other guest entertainers included Tibor Szabó, a Hungarian circus performer, and Waldemar Malicki, a classical pianist with a comedic touch who has recorded 30 CDs and appeared in concerts around the world.
Occasionally, local performers are brought on board. In Bordeaux, Rondeau Bordelais presented a folklore show during the ship's overnight visit.
Regatta also offers a program of enrichment lectures. On my cruise, Ariel Wente of California's Wente vineyards gave three lectures about wine.
One of my favorite shows was a daytime cooking demonstration by the Regatta's Executive Chef, Eric Borole, and chef Franck Garanger of Garangers Restaurant in London. The two were a bit like the Odd Couple as they collaborated on recipes, with Borole's droll, poker-faced wit counterbalanced by Garanger's more energetic and jocular style. (Borole already has his own cooking program on one of the ship's TV channels; he and Garanger would make a perfect duo for a show on The Food Network or a European equivalent.)
Finally, the Regatta occasionally shows movies on the Pool Deck and offers closed-circuit films, news, and other programs on cabin TVs. A new SeaLynx pay-per-view movie system was being tested during my cruise; it will offer a choice of drama, comedy, action, and adult movies on demand to supplement the free TV programming.
Next page: Other amenities
---
---
---