Oceania Regatta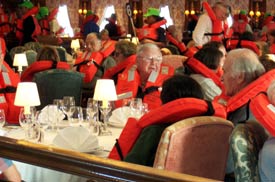 ABOVE: Passengers await instructions in the Regatta Lounge during boat drill on embarkation day.
Overall value
Continued from: Regatta service
In measuring Oceania and Regatta's overall value, you need to look at two things: the cruise experience, and what you pay.
The cruise experience
Regatta's "hardware" is a notch below the level of $700-a-day luxury ships, mainly because the cabins (though comfortable) are smaller and less deluxe. The public rooms, on the other hand, are outstanding--especially if your tastes run to Titanic or Ritz-Carlton decor. And the ship had only three years of active service before Oceania acquired it, so it feels brand-new--as it should after $10 million in maintenance and improvements.
"Software" is where Oceania competes with the luxury lines. The galley is on a par with five-star hotel kitchens, the bedding and toiletries are first-rate, the service personnel are striving to match their counterparts at the "six-star" luxury lines, and the entertainment is better than you'd find at most resorts.
In terms of ambience, Regatta feels slightly upscale without being exclusive. The largely American and Canadian guests are more likely to drive Volvos, Baby Benzes, or SUVs than Bentleys, and the "country club casual" dress code discourages ostentation.
The ship's size of 30,277 tons provides an intimacy that you won't find on the new generation of 100,000-ton megaships.
On the downside, art auctions, bingo, and other forms of "upsell" are compromises that can't be avoided without raising base fares.
What you pay
When calculating or comparing cruise fares, it's important to know what those fares include. The top-end luxury lines may bundle soft drinks, alcoholic beverages, and tips into their rates, while most cruise lines--including Oceania--charge extra.
On Oceania, the suggested rate for tipping is $10.50 per person per day, and drinks range from $2.50 for a bottle of Pellegrino to $8 or $9 for a large glass of wine. At the industry average of $30 a day for drinks, you'll pay an extra $567 for tips and tippling on a 14-day Regatta cruise.
When computing your total cruise expense, don't forget to include air transportation, shore excursions, spa treatments, Internet access, casino gambling, fitness classes, and pay-per-view movies in your total estimate if you plan to use those services. (This is true with most cruise lines, not just Oceania.)
Example: The peak-season brochure fare of a 14-day Barcelona to Venice cruise on the Regatta might be $6,598 per person in a Category "B" stateroom, and the price drops to only $3,799 with an early-booking discount. When you add in airfare, tips, and drinks, the effective discount fare becomes $5,665. With a shore excursion in each port, 10 minutes a day of Internet access, and one or two spa treatments, your actual cost (exclusive of incidentals) might be $6,300 or $6,400. In other words, if you're able to get the early booking discount, think of the brochure rate as your total, real-world cruise cost.
Regatta: The bottom line
Is a cruise on Oceania's Regatta worth taking, assuming that you have enough time and money to book one? I'd answer with a definite "Yes." The ship is modern and comfortable, the cuisine is up to five-star hotel standards, the crew are friendly, and the European itineraries are fascinating--whether you're interested in Northern Europe, the Mediterranean, or routes in between.
Next page: Web links, cruise reviews
---
---
---