Oceania Regatta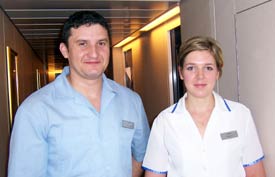 ABOVE: My French stewardess, Isabelle, and her Croatian assistant, Daniel, kept cabin 6072 spic and span throughout my 14-day voyage.
Regatta service
Continued from: Regatta shore excursions
Can an "upper-premium" cruise line deliver the quality of service that you'd find on a luxury cruise line such as Crystal, Seabourn, or Silversea? Oceania's management thinks it can, and the Regatta is certainly headed in the right direction. For starters, many of the senior operations staff and crew were hired away from Silversea, Radisson Seven Seas, Celebrity, and other luxury or premium cruise lines.
I was delighted with the service of the housekeeping staff--more specifically, from my stewardess Isabelle and her colleague Daniel (see photo above). They were friendly, hard-working, and unobtrusive. They ware also well-trained, with an attention to detail. (I never had to ask for anything, and every visit brought a fresh supply of towels and ice.)
Service in the Grand Dining Room, the Polo Grill, and Toscana was excellent. Each dish was served fresh from the kitchen, and I never had to practice origami with my napkin while waiting for the next course.
Things were iffier in the Terrace Café, at afternoon tea in the Regatta Lounge, and in the Waves grill on the Pool Deck. Table service was sometimes disorganized, partly because the ship's original owner had designed those venues for self-service or (in the case of the Regatta Lounge) for bar service only. Oceania has already hired an architect to build aditional waiter stations in the Terrace Café, and procedures are being fined-tuned in all the restaurants to avoid service bottlenecks.
Elsewhere in the ship, service seemed professional if not quite as polished as on my recent Silversea cruise. As the younger crew members settle in and acquire more experience, Oceania's service could easily give more expensive lines a run for their money.
Next page: Overall value
---
---
---