Oceania Regatta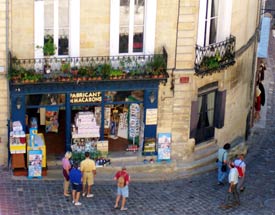 ABOVE: In Bordeaux, the Regatta offered an optional shore excursion to a vineyard and St-Emilion.
Regatta shore excursions
Continued from: Other amenities
Sightseeing is a major focus of any port-intensive cruise, and Oceania makes it easy to see the sights with local tours and day trips.
The cruise documents for my Dover-to-Barcelona voyage included a 44-page Destinations booklet with descriptions of the sights and tours in all ports except Dover (where the only tour was an optional add-on visit to Hever Castle and Gardens for guests who had purchased airport transfers). Prices were typically US $59 to 69 for half-day tours or $99 to $129 for full-day tours. A "half-day" tour was usually 4 to 5 hours (although one was only 2½ hours), while a "full day" was 8 or 9 hours. Passengers could save $53 with a $469 "Discovery Collection" of eight tours, and a $899 "Explorer Collection" of 11 tours (including dinner at a French wine chateau) offered savings of $120 over the cost of the individual tours.
I sampled two tours that were arranged by the Regatta's Destination Services staff: an all-day trip from Càdiz to Seville, and a half-day excursion to a vineyard near Bordeaux and the village of St-Emilion. The guides on both tours were excellent, and the buses were comfortable.
Of course, any tour represents a compromise between the needs of the group and those of the individual. If you prefer the freedom of individual sightseeing, you can do as I did most of the time (go into town and walk around on your own), hire a local taxi driver, or arrange a private tour through the Destination Services staff.
Tip: You're likely to save money by hiring a taxi or guide on your own, but letting Destination Services book your tour may be worth the peace of mind. (If you make your own arrangements and the driver doesn't get you back to the ship on time, the ship won't be held for you--and you'll need to reach the next port at your own expense.)
Maps and port information
Although the main business of Destination Services is selling tours, the tour staff does provide materials for do-it-yourself sightseeing. On my cruise, the tour counter had racks of two-sided information sheets on each port (usually the current port and the next day's port). In addition, free color maps from the local tourist office were available at the tour counter, on a nearby desk in the reception lobby, or at the foot of the gangway after arrival in each port.
Local transportation
Unlike the top-end luxury lines, Oceania doesn't provide free shuttle buses (although the Lisbon tourist office did provide a free shuttle from the port to the city center). Passengers must walk from the port, hire a taxi or horse and buggy on the pier, or figure out the local public-transit system on their own. This wasn't a hardship in ports where the Regatta moored downtown, but information was sorely lacking in ports such as Oporto and Palma de Mallorca (where, in one case, he information sheet merely said that "taxis are sporadically available" without suggesting any alternatives).
If you're visiting any of the ports that were on my cruise itineraries, click the port names below for advice on getting to and from the city.
Next page: Regatta service
---
---
---