Oceania Regatta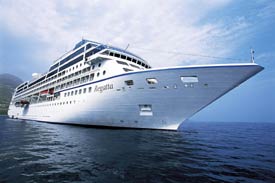 ABOVE: Regatta takes on a Pinocchio profile in this wide-angle view.
Web links and cruise reviews
Continued from: Overall value
Web links
Oceania Cruises
View the Regatta and Insignia, browse itineraries, request a brochure, or find a travel agent who represents Oceania Cruises at the company's official Web site..
The Royal Treatment on Regatta
Bart de Boer's 9-page cruise review at ShipParade.com is accompanied by photos from ship and shore.
OceanaCruiser Board
This message board at Yahoo! Groups is a great place to get up-to-the-minute information on Oceania Cruises. You can also download files and photos. (Note: The Oceana board is named after the original name for Oceania Cruises, which was changed to avoid confusion with a new P&O ship named the Oceana.)
Next page: Port of Dover
---
---
---