Pont du Gard
From: Viking River Cruises: Southern France cruise review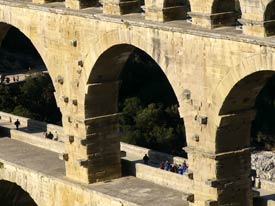 ABOVE: The Pont du Gard was the centerpiece of a 50-km (30-mile) waterworks built by the Romans in 14 to 15 B.C.
The Roman aqueduct of Pont du Gard was one of the high points of our cruise on the MS Maribelle.
The drive from Arles took about an hour, culminating at a modern visitor center with a handful of shops. Then, after a walk along a gravel path, we reached the aqueduct itself--and the monument was far more impressive up close than we'd ever imagined from photographs.
For one thing, the aqueduct was--and is--huge. The bridgelike structure has three rows of arches, one atop the other, and stands 49 meters or 160 feet high (about the height of a 16-story building). The arches are built with massive stones that were hauled to the aqueduct's river crossing and fixed in place without mortar. The projections used to hold scaffolding have survived nearly two millennia, along with Roman numerals and other identifying marks on the custom-shaped stones.
The Pont du Gard was merely one part of a 50-km or 30-mile system of covered stone canals that transported water from the Eure river to the city of Nîmes. If you cross the 18th Century stone bridge that parallels the aqueduct's lower level and climb the stairs on the other side, you can see the water channel in the top course of arches and a tunnel that once carried water through the stone mountainside.
Following our trip to Pont du Gard, we returned to Arles, where we had about an hour to explore the compact city center before the MS Maribelle returned to Avignon at 6:30 p.m.
The ship arrived back in Avignon in late evening, with bundled-up passengers braving cold weather to join hands and sing "Sur le Pont d'Avignon" on the Sun Deck as MS Maribelle sailed past Avignon's floodlit medieval bridge of Pont Saint Benezet.
For more information on the Pont du Gard, see:
Cruise Photos: Pont du Gard europeforvisitors.com
Next section: MS Maribelle photos (169 captioned cruise pictures)
---
---
---
---