By Durant Imboden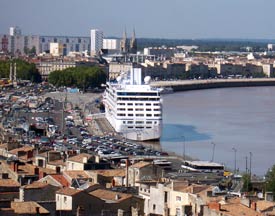 ABOVE: The Regatta is moored at the Quai de la Douane in Bordeaux, right next to the city's historic center.
Port of Bordeaux
Continued from: Guernsey excursions
Thirty to 40 cruise ships a year call at Bordeaux, a city of 213,000 inhabitants that lies more than 60 miles or 90 km inland from the Bay of Biscay. The journey up the Gironde Estuary and the Garonne River takes at least six hours. Much of the estuary is so wide that it feels like an inland sea, but the river narrows during the final hour or two, when green countryside gives way to industrial docks. The city appears after the ship passes under a high suspension bridge and rounds a bend that leads to a retired French naval ship (the cruiser Colbert) and the pier along the downtown riverfront.
The word "pier" may be a misnomer, because cruise ships simply tie up along the riverfront promenade next to a pedestrian and bike path. As the Regatta tied up between Hapag-Lloyd's Hanseatic and the Pont de Pierre, bicycle commuters detoured around the truck crane that was waiting to lift a gangway into place. The 18th Century palaces of the Place de la Bourse and the busy pedestrian zone of the city's old town were literally across the street from the ship.
One oddity of Bordeaux is the extreme variation between high and low tide. The differences are so great that the main gangway leading to deck 5 varied from almost flat to perilously steep, depending on the time of day, forcing the Regatta to use a secondary gangway on deck 3 when the tide was near its maximum. Powerful tides are also the reason why the river is so muddy: Thanks to the twice-daily churning by the tide, sediment in the river's bottom is held permanently in suspension like puréed beans in a soup.
For more information about the port in English, see:
Next page: Bordeaux shore excursions
---
---
---