By Durant Imboden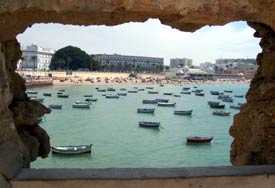 ABOVE: Cádiz is a popular summer resort with Spaniards, and you can walk to beaches and boats from the city center. (This photo was taken from the Castillo de Santa Catalina.)
Cádiz shore excursions
Continued from: Port of Cádiz
If you're in Cádiz for one day, forget about shore excursions: Just walk into the Old Town, visit the cathedral, climb up the bell tower if you don't mind walking up a series of gently sloping ramps, and enjoy the many shops and cafés. The city also has several museums, including an archaeological museum, a clock museum, and a flamenco museum.
Allow time for a walk along the seafront promenades, starting near the cathedral and continuing past the beaches next to the Castillo de Santa Catalina and the parks beyond. This is an especially good way to spend a Sunday afternoon in warm weather, when the locals and Spanish tourists are swimming, fishing, and socializing in outdoor cafés. If you get tired of walking, you can bail out by heading inland until you reach the Old Town. (The historic section of Cádiz is on a small peninsula, so you can't get too lost.)
The Regatta spent two days in Cádiz, with shore excursions that included independent or guided bus trips to Seville (90 minutes away), a tour to the sherry-making town of Jerez de la Frontera, and a flamenco evening at a Cádiz nightclub. If you're visiting Cádiz on your own or don't like group excursions, you can easily reach Seville or Jerez de la Frontera by train from the brand-new (and architecturally stunning) railroad station near the port.
For more tourist information on Cádiz and nearby cities, see:
Cádiz Tourism (City and Province)
Next page: Port of Málaga
---
---
---