By Durant Imboden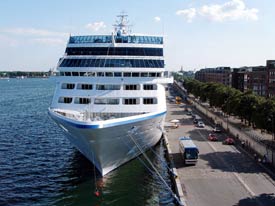 ABOVE: Oceania's Regatta is moored at Langelinie as Silversea's Silver Whisper departs for Edinburgh. Shops occupy the old stone warehouses that face the wharf.
Port of Copenhagen - Langelinie
Copenhagen's popularity as a cruise port has grown enormously in the last few years, with more than 500 cruises and half a million passengers visiting the city in 2008.
Most ships that visit Copenhagen during a cruise are berthed at Langelinie, a pier just north of the Little Mermaid and about 4 km or 2.5 miles from Tivoli and the main railroad station. (Large ships that are beginning or ending a cruise in Copenhagen are likely to use the newer Freeport Cruise Terminal, which is in an industrial harbor area well to the North of Langelinie and the city center.)
Although Langelinie is sometimes referred to as the "Copenhagen Cruise Terminal," it's less a terminal than a long quay with shops and an information center operated by the Copenhagen Tourist Office. Still, it's more convenient than piers in most large cities, and you can easily walk to the major tourist sights along Copenhagen's attractive waterfront. (Alternatively, you can use your cruise ship's shuttle bus, public transportation, or a taxi. The local No. 26 bus will take you from the pier to the City Hall Square, which is right next to Tivoli Gardens, in about 20 minutes.)
If you've got an hour or two to kill before departure, or if you'd rather not haul purchases from the city center to the ship, allow time for a visit to the Langelinie Quay Shopping Arcade. Beneath the stone arches of Langelinie's old warehouses, you'll find shops that sell porcelain, amber, Danish clogs, jewelry, clothing, and other products.
Tip: The Illum department store has a small cruise lounge in its main building on the Strøget in central Copenhagen. You can rest your feet, get help from the on-duty hostess, and enjoy a free cup of coffee or tea before you resume your shopping and sightseeing. (The new lounge, which opened in 2009, is available during store hours whenever cruise ships are in port. It replaces earlier cruise lounges at the Royal Copenhagen and the Magasin du Nord stores that you may have read about in out-of-date guidebooks.)
For more information on cruise terminals in Copenhagen, see:
Cruise Copenhagen
This English-language Web site has useful information for cruise passengers, including a FAQ. See the Cruise Terminals page for advice on how to reach the piers from Copenhagen's airport and central railroad station.
Next page: Copenhagen arrival and shore excursions
---
---
---
---
---