By Durant Imboden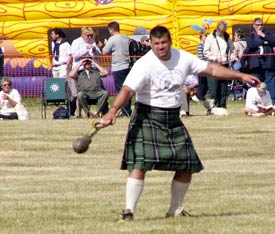 ABOVE: A competitor flings a weight at the Tain Highland Gathering, which is the place to go if you need bouncers for your nightclub.
Invergordon (Inverness) shore excursions
Continued from: Port of Invergordon
During the Silver Whisper's port call in Invergordon, we took the free Silversea shuttle bus to Inverness, capital of the Highlands and gateway to Loch Ness. (The Loch Ness Exhibition Centre is 14 miles away.)
Inverness is a lively trading center with a good selection of department stores and shops that cater mostly to local people. It does have shops of interest to tourists, such as James Pringle Weavers (where you can watch tartans being made). We saw a number of kilt shops, but Durant resisted the temptation to dress up as Sean Connery on Formal Night.
After the half-hour ride back to the ship, we joined the ship's excursion to the Tain Highland Gathering in a field by the sea within 15 minutes of the port. We spent the afternoon watching pipe bands, kilted throwers of cabers and stones, young Scottish dancers, and other competitors from as far away as Australia. The Glenmorangie distillery sponsored the event, and the admission ticket included a coupon good for a "wee dram" of Glenmorangie's single Highland malt whisky. (Note to whisky drinkers: "Glenmorangie" rhymes with "orangey." Now we've cleared that up, you can feel comfortable ordering it at Scottish bars.)
Other Silversea excursions from Invergordon included a visit to Foulis Castle, seat of the Clan Munro, and the salmon leap at the Falls of Shin.
Next page: Port of Stornoway (Outer Hebrides)
---
---
---
---
---