By Durant Imboden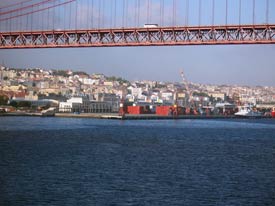 ABOVE: Lisbon's main cruise port and yacht harbor are between the city center and the Rio Tejo suspension bridge.
Port of Lisbon
Continued from: Oporto shore excursions
Lisbon is a few miles inland from the mouth of the Rio Tejo, or Tagus River. The main Alcántara cruise port is just beyond the high suspension bridge that crosses the estuary, and it consists of two piers on the same finger of land: The Cais de Alcántara, which is just inside the bridge, and the Cais da Rocha Conde de óbidos, a five- or 10-minute walk to the east. Both piers have terminal buildings with shops, taxi ranks, and other facilities. Several floating restaurants are to the east of the port entrance, on the land side of the boat basin that lies between the shipping piers and the main road to Lisbon.
A third and newer terminal, Santa Apolónia, is close to the Santa Apolónia railroad station and the historic district of Alfalma in central Lisbon.
During the Regatta's stay at the Cais da Rocha, Turismo de Lisboa provided a free shuttle to the Praça do Comércio in the city center. Passengers were required to get back to the port on their own, although there was another circulating shuttle bus between the port entrance and the ship in the afternoon. The tourist office also gave out full-color shuttle maps that showed public bus routes to the port.
Besides the bus, there are several ways to reach the Alcántara port when you're ready to come back from the city:
Taxis are plentiful in Lisbon. Tell the driver the name of your ship's terminal, or--better yet--indicate it by pointing to the appropriate terminal on the free shuttle map. Make sure that the cab meter is on; from Lisbon's Baixa shopping district, the trip shouldn't cost much more than half a dozen euros.
Antique tram or bus. These run frequently along the waterfront from central Lisbon. Get off at Alcántara Mar and look for a free shuttle bus or walk into the port by following the "On foo" directions below.
Commuter train. From the Cais do Sodre railroad station along the riverfront west of downtown, you can catch a suburban train of the Cascais line to the Alcántara Mar station next to the port. (This is the first or second stop, depending on the train.) Trains run often, and the journey takes only four or five minutes.
On foot. It's a long hike from central Lisbon to the cruise terminals, but you can easily do it if you have an hour to spare. Once you reach the port, the Cais de Alcántara terminal is a straight walk in from the entrance. To reach the Cais da Rocha terminal, follow the road that goes left from Cais de Alcántara. Cais da Rocha is just beyond the container terminal.
For more information on Lisbon's cruise facilities, see:
Port of Lisbon: Cruise Terminals
Next page: Lisbon shore excursions
---
---
---