By Durant Imboden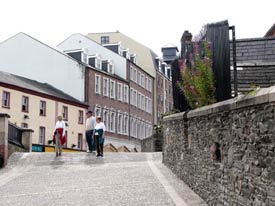 ABOVE: Walking the medieval walls of Derry in Northern Ireland.
Londonderry shore excursions
Continued from: Port of Londonderry
Derry, as the locals call their city, has the best-preserved town walls in the United Kingdom. The unbroken walls and gates are 18 feet high and 20 feet thick, with a circumference of about 1 mile or 1.5 km. You can climb up to the ramparts via stone stairways, and several points allow access by visitors in wheelchairs. (Pick up a Walking Tours map at the Derry Visitor and Convention Bureau on Foyle Street for details.)
The Silver Whisper offered two excursions in Derry: A four-hour Tower Museum and Derry Craft Village tour, and a full-day excursion to the Giant's Causeway in Antrim. We chose to visit Londonderry on our own, using Silversea's free shuttle bus.
During our day in Londonderry, we spent most of our time walking the the walls and exploring the Tower Museum.
The Tower Museum, located just inside the walls near the Guildhall Square, is a small but first-rate museum that traces Londonderry's history from the prehistoric era through the present day. We were especially interested in the displays and films about Irish emigration to North America and, more recently, "The Troubles" (when both the IRA and the British Army committed their share of local atrocities). Don't visit Londonderry without seeing the Tower Museum, which has been a British, Irish, and European Museum of the Year.
During our walk around the walls, we detoured to the Catholic neighborhood of Bogside, a.k.a. "Free Derry." A friendly middle-aged gent saw our camera, took us by the arm, and showed us several monuments to children and IRA members who were killed during The Troubles.
Later, another local cornered us on a busy downtown shopping street for a lively but friendly rant about George W. Bush's mental shortcomings.
Shopping tips: Londonderry has several downtown malls and department stores, plus many shops of the sort that you might expect to find in Northern Ireland's second-largest city. You should be able to find shops that sell linens, woolens, and crystal in the town center. Take a few minutes to visit the Derry Craft Village, a cluster of traditional-looking shops and cafés across from the Richmond Centre entrance on Shipquay Street.
Next page: St. Peter Port (Guernsey)
---
---
---
---
---