By Durant Imboden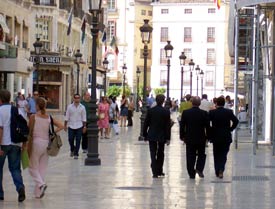 ABOVE: Shoppers and a trio of businessmen enjoy a late afternoon in Málaga's pedestrian zone.
Málaga shore excursions
Continued from: Port of Málaga
Málaga is best known as the holiday capital of the Costa del Sol, but it's much more than a resort: It's a city of 530,000 and the capital of a province that's home to 1.25 million Spaniards and foreign residents.
For cruise visitors, Málaga is also a sea gateway to Granada and the Alhambra, the Moorish palace and garden complex that was celebrated in Washington Irving's Tales of the Alhambra. The standard all-day shore excursion from Málaga to the Alhambra requires four to five hours of sitting in a bus, so the trip appeals mostly to visitors who figure they'll die before they have a chance to tour Spain on their own.
On my Regatta cruise, Oceania Cruises had another shore excursion, "Mijas: The Charm of Village Life," that sounded less grueling. The four-hour trip included a 90-minute walking tour of Mijas, a hill town with views of the Andalusian coast, with free time to shop for crafts or take a donkey ride.
In the center of Málaga, you'll find a number of interesting places to visit:
The Alcazaba is a Moorish fortress with gardens that you can easily walk to from the port.Take a look at the adjacent Roman Theatre, which was being restored during my visit. If you're ambitious, you can walk up to the hilltop fortress of Gibralfaro for spectacular views of the city and coast. (Allow 15 minutes if you're fit, and take a cab or bus if you aren't. The smooth stone path can be slippery and steep, so don't try it without rubber-soled shoes.)
The Cathedral is lovely, and it's said to be the third-largest Gothic cathedral in the world. The admission price includes the use of an audioguide. If you're lucky, you may hear one of the two 18th Century organs being played. You can buy an outstanding CD, Les Orgues de la Cathédrale de Malaga, in the cathedral shop.
Málaga has many other churches and museums--among them, the Picasso Foundation museum, which displays ceramics, graphics, and book illustrations by the late artist. (The foundation is in the house where Pablo Picasso was born.).
If you're a shopper, begin your expedition at the historic Atarazanas food market (open 8 a.m. to 2 p.m., Monday through Saturday), then head for the lively shopping district in the city center. Most shops close from 1:30 p.m. until 4:30 or 5 p.m., so do your shopping before lunch if your ship has an early departure.
TIP: When you're hot and thirsty, look for a standup milkshake bar along the pedestrian street just west of the Plaza de la Constitution. Order an horchata, or "chufa milk," which may be the most refreshing summer drink ever invented. In the United States, you can order horchata by the liter online.
For more information on Málaga and the Alhambra, see:
Next page: Port of Palma de Mallorca
---
---
---