By Durant Imboden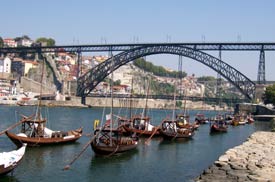 ABOVE: Boats from the wine lodges of Vila Nova de Gaia are moored in the River Douro with Oporto's Ponte de Dom Luis I in the background. The city center is on the hills at left.
Oporto shore excursions
Continued from: Port of Oporto
Oporto (or "Porto" in Portuguese) is the second-largest city in the Portugal, with about 330,000 inhabitants in a metropolitan area of 1 million people. Most places of interest to tourists are within walking distance or a short taxi ride of the city center.
Cruise ships normally offer tours for passengers who'd rather not climb up hills or navigate the winding streets of the city center on their own. The Regatta's four- and eight-hour tours covered the city's major attractions plus the Port wine lodges on the south bank of the river.
During the Regatta's visit, I skipped the tours and walked around Oporto on my own--with a side trip across the city's trademark Dom Luis I bridge, designed by Charles Eiffel (see photo above).
I then took the Metro back to the harbor, where a serving of pasteis de Belém (Portuguese custard tarts) at a nearby café gave me the strength to climb up the ship's gangway after a long day ashore.
For more information on Oporto, see:
Next page: Port of Lisbon
---
---
---