By Durant Imboden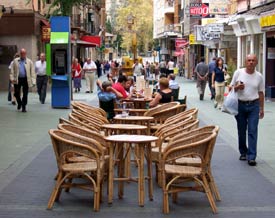 ABOVE: Café tables await customers on a pedestrian thoroughfare in Palma's old town.
Palma de Mallorca shore excursions
Continued from: Port of Palma de Mallorca
Most cruise ships spend only a day in Palma, which means passengers are faced with a dilemma: Should they explore the city or head for Mallorca's justifiably renowned countryside?
There's no doubt that Mallorca's true beauty is away from the high rises of Palma's coastal buildup, or that most visitors enjoy the popular shore excursion to Valldemossa (a beautiful hillside village where Fréderic Chopin and George Sand made tabloid headlines in the winter of 1838-1839). And if your visit to Mallorca is bracketed by stops in larger cities like Barcelona or Málaga, an out-of-town trek may offer a soothing break from noise and traffic.
Still, Palma de Mallorca is well worth a day's visit. Start by heading for the Cathedral, a soaring Gothic church of golden limestone that was begun in 1230 A.D. and finished in 1601. Wander around the old town, and follow the signs to the small Arab Baths, the only remnants of Palma's Moorish occupation. (The Banys Arabs, as they're called in the Mallorquín dialect, have modern toilets and a pleasant garden where you can buy a drink from a vending machine.)
Shopping is a big reason to stay in Palma; women tell me that shoes and other leather goods are among the best bargains, and cultured Mallorcan pearls are longtime favorites with tourists. Shops typically close for several hours at 1:30 p.m., so plan your shopping and sightseeing schedule accordingly.
On your way back to the ship, make a detour to Bellver Castle, a 14th Century fortress high on a tree-covered hillside overlooking the bay.
Next page: Port of Barcelona
---
---
---