By Durant Imboden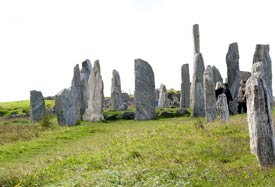 ABOVE: The Callanish Standing Stones are said to be even older than their counterparts at Stonehenge.
Stornoway - Isle of Lewis shore excursions
Continued from: Port of Stornoway
Although Stornoway is a pleasant enough town, the countryside is where you'll find the heart and soul of the Western Isles. And since we didn't want to rent a car during the Silver Whisper's port call, we joined the Silversea West Coast tour.
The four-hour bus tour included visits to three important historic and prehistoric sites:
The Black House Museum at Arnol, a restored 19th Century crofter's house with an informative visitors' center next door. The site, which is managed by Historic Scotland, also has a "whitehouse" that was lived in until the 1960s.
Dun Carloway, a broch or fortified stone residence from the pre-Christian era. A path along a heather-covered hillside leads to the broch, which you can explore inside (but watch your head!).
Callanish Standing Stones, the largest of three groups of stone monoliths that were erected more than 4,000 years ago. Callanish, a.k.a. Calanais, also has an attractive visitor center with restrooms, a pleasant cafeteria, and a museum shop that offers everything from books and maps to Harris Tweed clothing.

Our guide, Chris Ryan, was exceptional. In addition to describing the islands' history and megalithic sites, he told us about contemporary life in the Western Isles (including the cutting, gathering, and burning of peat). Chris and his wife Anne own a local wildlife and walking tour company, Hebridean Holidays, and they offer self-catering accommodation at their croft on Great Bernera.
For more information on Stornoway, the Isle of Lewis, and the Outer Hebrides in general, see:
Undiscovered Scotland: Stornoway
Next page: Port of Londonderry
---
---
---
---
---