By Durant Imboden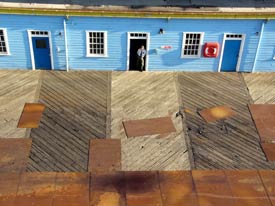 ABOVE: Steel plates reinforce the aging pier deck at Tilbury's London International Cruise Terminal.
Tilbury (London) disembarkation
Continued from: Port of Tilbury
Our Silversea "Scotland's Tattoo" cruise ended in Tilbury. Disembarkation went quickly and smoothly, thanks to good organization and the relative ease of unloading baggage and passengers from a 382-passenger ship. As we prepared to leave the Silver Whisper, we saw that crew members were already revarnishing and repainting sections of the pool deck. (A sailor's work never ends, at least on an impeccably maintained ship like the Silver Whisper.)
We'd arranged to spend the night at a hotel that Silversea uses for guests who embark in London or opt for a post-cruise hotel stay
We and other passengers who'd opted for the post-cruise stay were taken to hotel on an air-conditioned bus, and the next day's airport transfer got us to Gatwick with plenty of time for check-in and last-minute shopping.
Back to page 1 of Silversea 'Scottish Tattoo' cruise
---
---
---
---
---