By Durant Imboden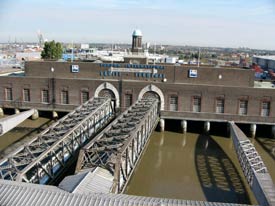 ABOVE: Passenger liners from around the world once called at the Tilbury Docks (now the London International Cruise Terminal).
Port of Tilbury (London)
Continued from: Zeebrugge shore excursions
Tilbury, 30 miles or 41 km downstream from London on the north bank of the Thames estuary, has been an international port since the 1850s. From 1886 until 1990, trains connected the pier's Tilbury Riverside Station to London's Fenchurch Street Station. The nearest railroad connection is now a taxi ride away, but a passenger ferry still runs from Tilbury Pier to Gravesend on the river's south bank.
When the Silver Whisper arrived at the London International Cruise Terminal on August 21, 2003, it was the first time we'd seen Tilbury since the late 1970s, when we visited on Baltic Shipping Line's Mikhail Lermontov (now on the bottom of the sea off New Zealand) and Alexandr Pushkin (which has since been rebuilt as the cruise ship Marco Polo of Orient Lines). The old brick terminal looked about the same as it had 25 years earlier, and stained-glass windows were still visible in the Customs Hall.
For more port information, see:
Next page: Tilbury (London) disembarkation
---
---
---
---
---