By Durant Imboden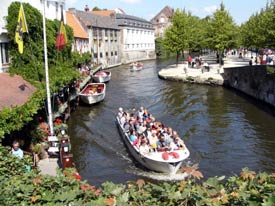 ABOVE: Canal boats in Brugge (Bruges), an 11-minute train ride from Zeebrugge's neighboring beach resort of Blankenberge..
Zeebrugge shore excursions
Continued from: Port of Zeebrugge
Silversea offered three excursions from Zeebrugge for Silver Whisper passengers: a half-day "Romantic Bruges" tour, a half-day "Medieval Ghent" tour, and an all-day excursion to Brussels (which required a two-hour bus drive).
We were familiar with Belgium and just felt like taking it easy on our last cruise day, so we skipped the tours and took Silversea's free shuttle bus to the nearby beach resort of Blankenberge. There, we spent several hours strolling along the busy promenade, checking out the local shops, admiring the goods in bakery windows, and taking photos of dogs. (It's hard to resist canine photo ops in Belgium: In Blankenberge, we saw dogs on leashes, dogs in backpacks, dogs in strollers, and one dog in a basket that a man and a woman were carrying between them.)
Early in the afternoon, we bought train tickets for Bruges, which is only an 11-minute trip from the Blankenberge railroad station. Trains run at least twice an hour, and the fare for a round trip in second class was only € 4,40 at the time of our visit.
Bruges was packed with tourists, as we'd expected it to be in late August, but the crowds were manageable and we were able to stoke up on Vlaamse frites (Flemish fries) with mayonnaise before an afternoon of sightseeing and shopping for chocolates.
Next page: Port of Tilbury (London)
---
---
---
---
---