River Baroness Cruise Photos
From: Uniworld River Baroness cruise review
Day 3: D-Day Sites
The morning after arriving in Rouen, we looked out of our cabin and saw that the tide was out.
The night before, the tide had been so high that leaving the ship had required descending a steep gangway. At 7 a.m, River Baroness was low in the water, and the quay was now high above our cabin.
---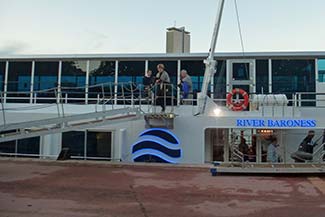 Our all-day excursion to Normandy's D-Day landing beaches was scheduled to depart at 8 a.m., so we had a quick breakfast and went ashore.
---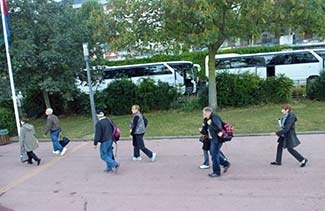 Three tour buses were waiting on the road beyond the riverside promenade.

---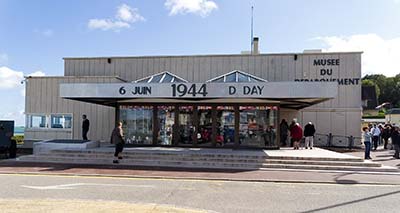 After a drive of two and a half hours, we reached the D-Day Museum in Arromanches.
The museum's more descriptive French name is Musée du Débarquement, or "Landing Museum." The exhibits focuse on the artificial harbors that the Allies built to support their World War II invasion of France in June, 1944.
---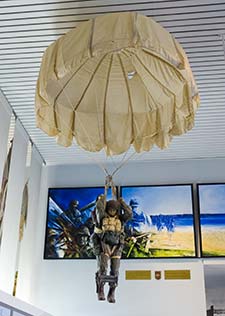 The museum isn't large, but its dioramas, models, and other displays provide a comprehensive overview of the invasion and the construction of the two "Mulberry" harbors on the Normandy coastline. A description from the museum's official handout reads:
"The first convoys of harbour units left England in the evening of June 5th and construction work began on June 7th. An outer breakwater was formed from old merchant ships. These were joined by 115 huge concrete boxes, known as Phoenix caissons. Located 2 km from shore, they formed a protective wall....The 8-km line of caissons enclosed an area of 500 hectares, the equivalent of 1,000 football pitches."
Landing wharves and floating causeways were also installed. (For more information about the role of Mulberry ports in the Allied invasion, see the D-Day Museum Web site or--better yet--visit the museum in person and watch the movie about Operation Overlord, Operation Neptune, and the prefabricated Mulberry harbor at Arromanches.)

---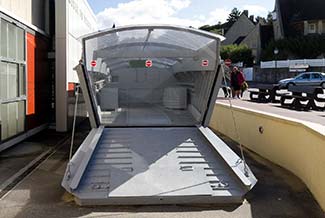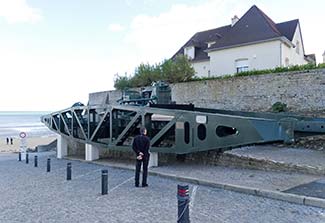 The D-Day Museum was a little too crowded for comfort during our visit, so we went outdoors to view exhibits such as a World War II landing craft and a section of floating causeway from the Mulberry harbor at Arromanches.

---
---
---
---