River Baroness Cruise Photos
From: Uniworld River Baroness cruise review
Day 4: Rouen (6)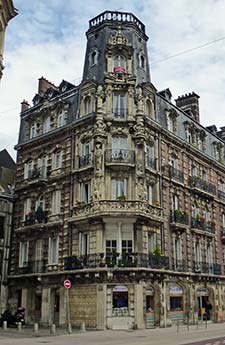 No tours or other activities were scheduled after lunch, so we went walking on our own. As we strolled inland from the Seine along the Rue de la Republique, we encountered this 19th Century building with an ornate façade.
---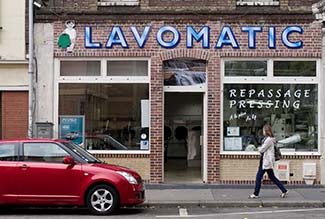 Just up the road, a laundromat gave off a more modern (but still retro) vibe.
---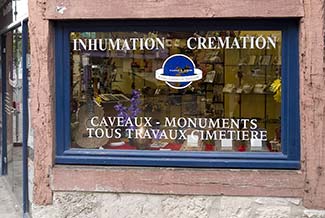 A funeral parlor offered a choice between burial and cremation. (We decided to take a rain check.)

---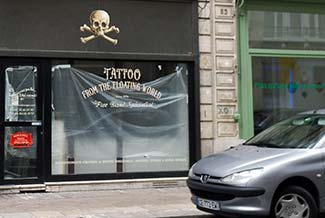 Nearby, a tattoo parlor featured a more overt death motif.
---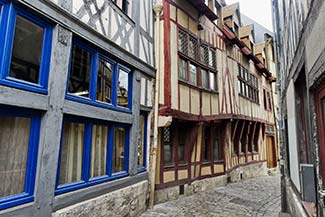 We saw more of Rouen's 2,000 or so half-timbered houses. These were on the Rue du Petit Mouton, or "Street of the Lamb."
---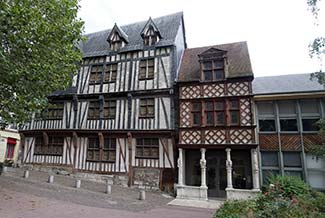 As we explored the back streets, we found a peaceful square where several half-timbered buildings that had been integrated into a modern retirement home.

---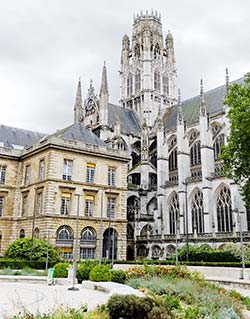 Finally we reached the goal of our afternoon walk, the Hôtel de Ville (City Hall) and the église St-Ouen or St-Ouen Church.
---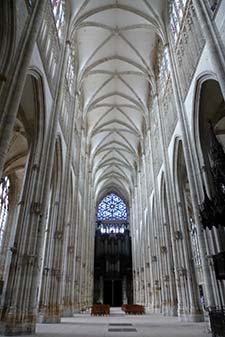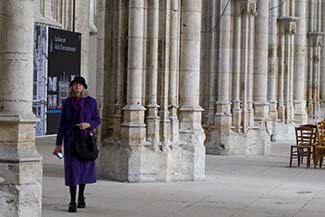 The church was enormous. (St-Ouen is bigger than Rouen Cathedral, and our guide during the morning River Baroness walking tour had suggested visiting it to see its simple, unembellished Gothic architecture.)
---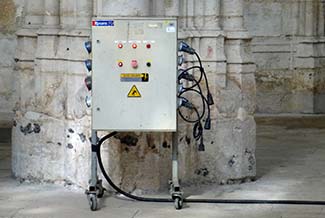 St-Ouen is a popular venue for organ concerts and other cultural events, so we weren't surprised to find cables and electrical boxes scattered around the vast 15th Century interior.
---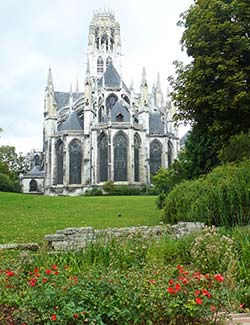 Behind St-Ouen, an attractively-landscaped park wrapped around the church, its cloister, and the Hôtel de Ville.
---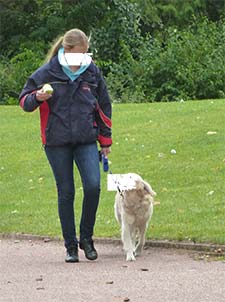 This young woman and her dog were enjoying a walk in the park. (We've obscured their faces to protect the guilty: According to a park sign, dogs are forbidden.)
---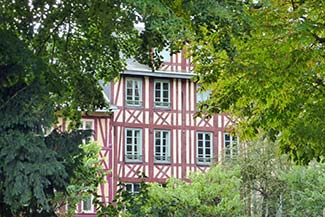 This half-timbered house on the Rue des Faulx had a clear view of the park through the trees.
---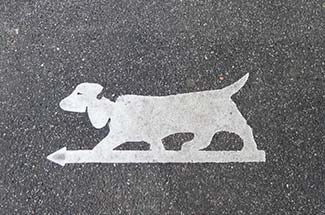 We had plenty of time before we needed to report back to the ship, so we followed a "curb your dog" pavement sign that pointed toward the center of Rouen's Old Town.
---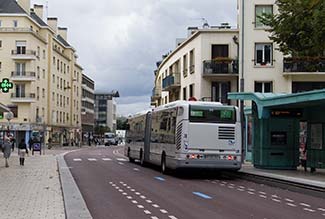 Later, after wanderings that included visits to the Rouen branches of the Galeries Lafayette and Printemps department stores, we walked back to the Seine. Along the way, we snapped this photo of bus rapid transit (BRT) in central Rouen.
---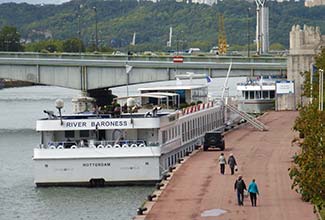 The promenade along the Seine was dotted with walkers and joggers as we returned to River Baroness.
---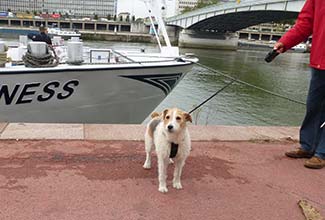 Back at the ship, we met a friendly older man who was walking his Wire-Haired Fox Terrier along the quay.

---
---
---
---