River Baroness Cruise Photos
From: Uniworld River Baroness cruise review
Day 5: Honfleur and Caudebec-en-Caux (4)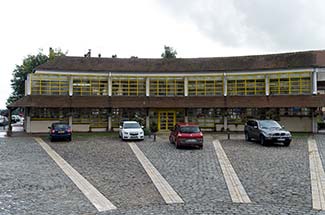 After leaving the waterfront, we headed inland to the Place d'Armes, a modern square--or, more accurately, a semicircle--with a bibliothèque or public library (above), shops, and bars. It was probably the least attractive place in Caudebec-en-Caux, but the library looked appealing when we peeked in the front door.
---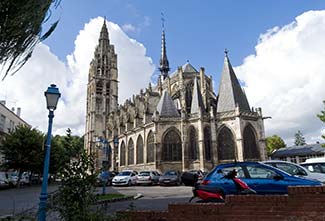 Our immediate destination was the Notre-Dame Church, which was about a block from the library.
---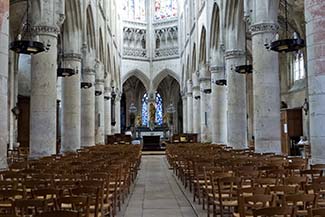 The church was impressive inside and out. The Gothic building dates back to the 15th Century, and a French-language Wikipedia article (see English translation) quotes King Henri IV as saying "It is the most beautiful chapel in my kingdom."

---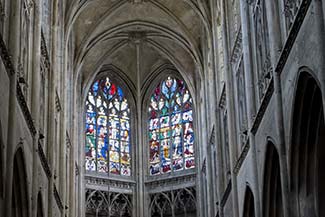 The stained-glass windows of Notre-Dame de Caudebec-en-Caux are from the 16th Century.
---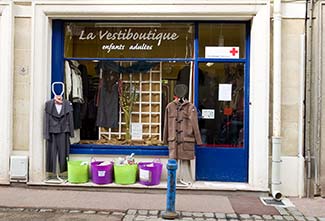 After visiting the Notre-Dame Church, we explored the town center. Cheryl made several purchases at La Vestiboutique, a Red Cross charity shop in the Rue de la Cordonnerie.

---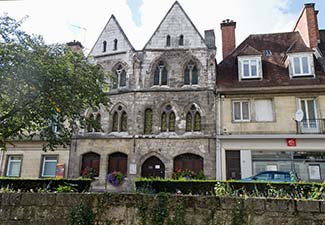 We would have liked to visit the museum in the Maison des Templiers (the floodlit building that we'd photographed the previous evening), but it was closed indefinitely.
---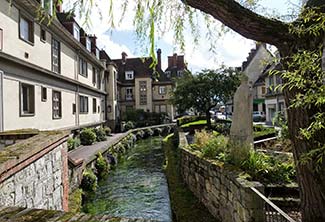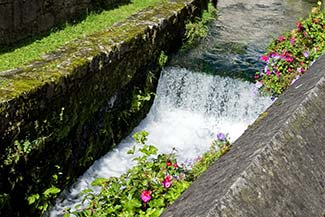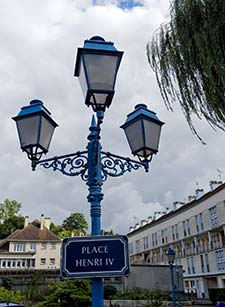 We settled for enjoying the atmosphere around the Place Henry IV, where a tree-lined creek runs through downtown Caudebec-en-Caux to the Seine.
---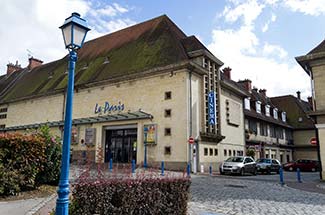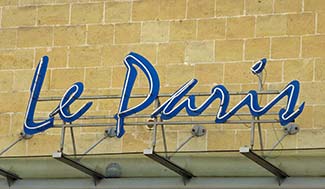 We were impressed to find a movie theatre, the Cinema Le Paris, in this town of about 2,300 people. (We checked the posters at the entrance, which featured several new releases.)
According to the city's Web site, the Cinema Le Paris--which opened in 1956--combines "1950s style and technology of the 3rd Millennium." (It has a digital projector, a surround-sound system, and the ability to show 3D movies with battery-powered "active glasses" for spectators.)

---
---
---
---