River Baroness Cruise Photos
From: Uniworld River Baroness cruise review
Day 6: Giverny (6)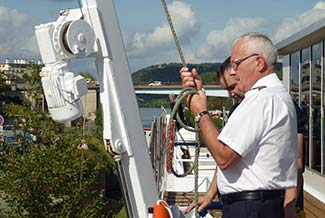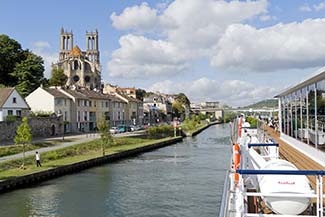 River Baroness stayed in Mantes-la-Jolie until after lunch, when members of an optional "Versailles Palace and Gardens" tour left for the Paris suburbs. At 1:45 p.m., the gangway was raised, and the ship set sail for Conflans-Sainte-Honorine.
---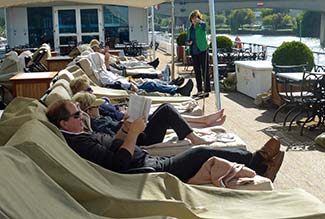 The weather had turned sunny and relatively warm. For the first time during our cruise, passengers who had stayed on board flocked to the Sun Deck to read or soak up the sun.
---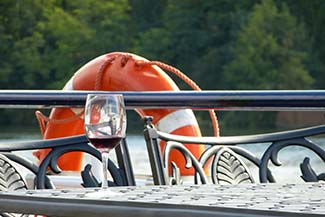 To paraphrase Omar Khayyam: "A life preserver, a glass of wine, and thou."
---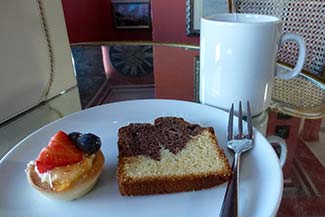 In the interests of journalism, we went to the Monet Lounge at 3:30 p.m. for afternoon tea, which consisted of cakes, pastries, finger sandwiches, and a choice of hot drinks.
---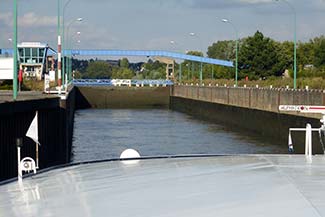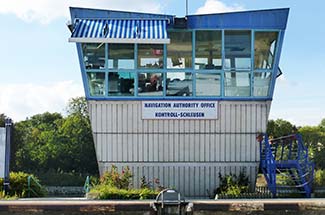 By the time we returned to the Sun Deck, River Baroness was passing through a river lock on the Seine.

---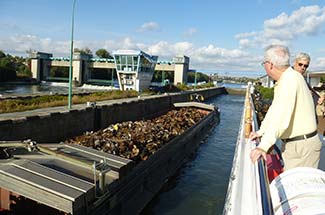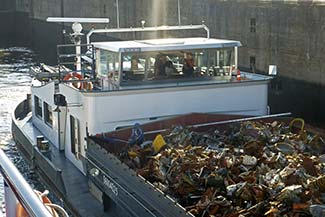 We shared the huge lock with a scrap-metal barge.
---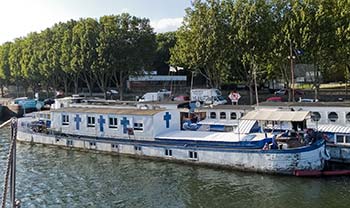 As River Baroness approached the town of Conflans-Sainte-Honorine, we passed the Bateau Je Sers ("Boat I Serve"), which fulfills several missions:
The former cargo barge, which was launched in 1919, is the floating chapel of river pilots, sailors, and boatmen on the Seine, It offers Catholic masses, baptisms, weddings, and daily prayer services.

With its neighboring boats, Bateau Je Sers provides meals, operates a food bank, and distributes clothing for those in need.

It offers tutoring to children who are staying (usually with their single mothers) in the boat's community.
---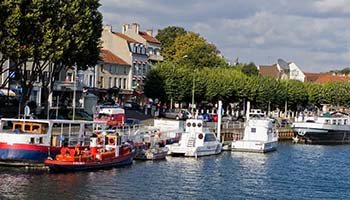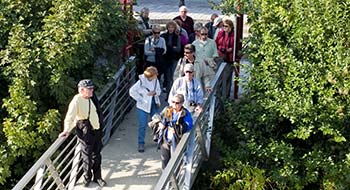 Around 5:45 p.m., River Baroness tied up at a pier in the center of Conflans-Sainte-Honorine, where passengers from the Versailes tour rejoined the ship. The ship sailed for Paris just after 6 p.m.
---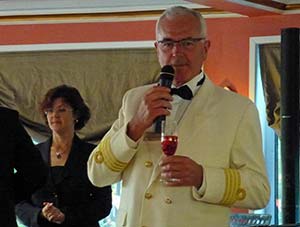 Our new first captain (the replacement for Captain Emmanuel Quendera, who had left on vacation in Rouen) did the honors at the captain's farewell reception and dinner that evening.
---
When we returned to our cabin after dinner, the tray with the daily program included a souvenir photo of the crew.
---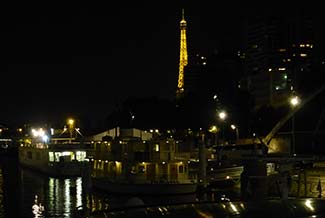 Late that evening, after live entertainment by a singer-pianist couple named Marie and Jean-Louis, River Baroness arrived in Paris. We went up on the Sun Deck to enjoy the hourly strobe-light show on the Eiffel Tower, which was visible from the pier.

---
---
---
---