River Baroness Cruise Photos
From: Uniworld River Baroness cruise review
Day 7: Paris (3)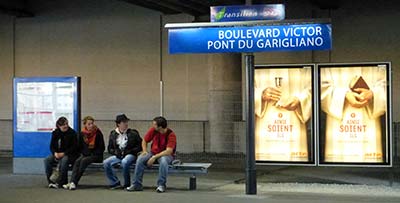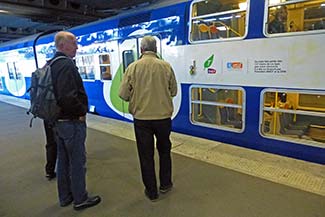 Meanwhile, Cheryl was enjoying a sunny Saturday in Paris. She started her day by catching an RER Ligne C train at the Boulevard Victor-Pont du Garigliano station, which was near the quay.
---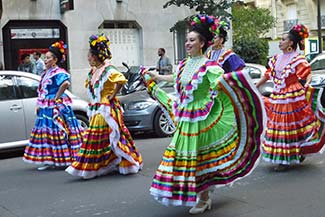 Soon, she was watching a parade near the Eiffel Tower.
---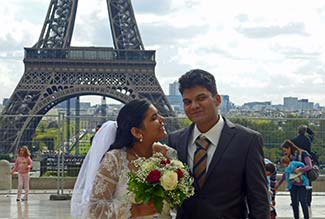 Nearby, a bride and groom posed for a wedding photographer.
---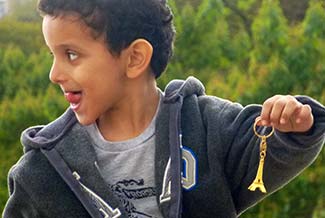 A young boy played with an Eiffel Tower souvenir.
---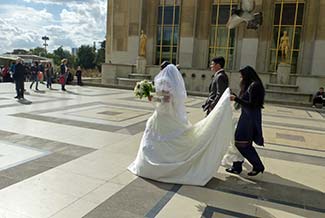 Across the Pont d'Iéna at Trocadéro, another bridal couple rushed to a photo op (or perhaps to the Mairie for their wedding ceremony).
---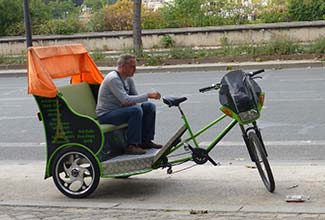 A pedicab driver waited for a fare.

---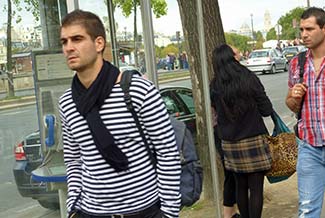 Cheryl had been wanting to buy a striped bateau top all week, and she saw a perfect example on a passing Parisian.
---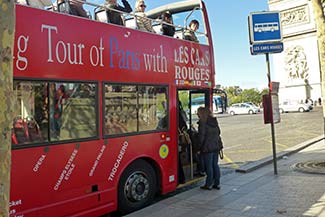 Tour buses, such as this "hop on, hop off" bus of Les Cars Rouges, were packed with weekend tourists.
---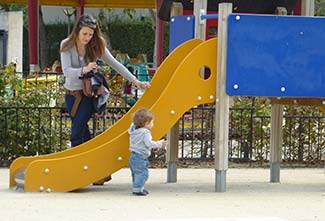 A mother communed with her mobile while her child confronted a slide on a playground.
---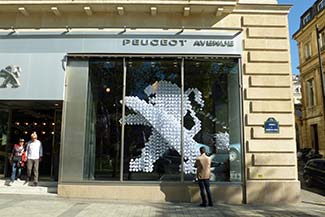 A Peugeot dealership made the most of its lion logo on the Avenue Champs-élysées. (The logo was assembled from thousands of origami birds.)
---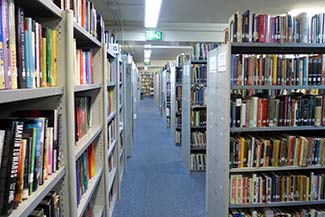 The American Library in Paris was an essential stop for a bibliophile.
---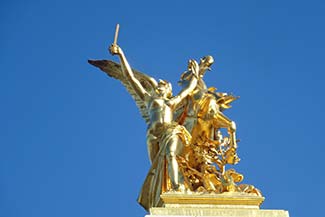 On the Pont Alexandre III, the gilded statues glowed in the midday sun.
---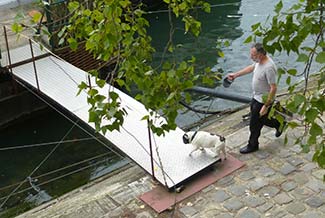 Later, when Cheryl returned to the Quai André Citroën, she saw a man and his dog returning to a private barge that was tied up along the Seine.
---
After dinner on River Baroness, the two of us walked down to the next bridge for a reprise (with a closer view) of the Eiffel Tower light show.
---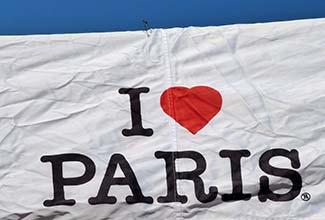 Do you love Paris? See our 400+ pages of Parisian travel advice and hundreds of photos at Paris for Visitors.
---
---
---
---