River Baroness Cruise Photos
From: Uniworld River Baroness cruise review
Day 8: Disembarkation
On our day of departure from River Baroness, we got up in time to vacate our cabin by 8 a.m. We'd already put out suitcases in the hall the evening before, although the deadline wasn't until morning.
---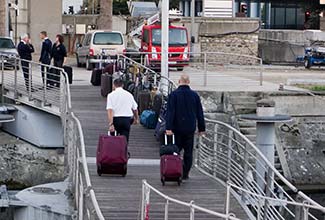 The captain had moved River Baroness to a more convenient mooring during the night. Officers and sailors were taking the last of the luggage ashore. (On river ships, officers don't stand on ceremony: Everyone in the crew pitches in when there's work to be done.)
---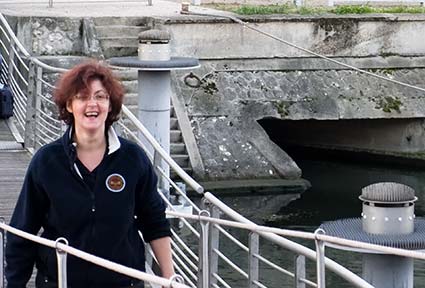 As we left the ship after breakfast, we encountered the cruise manager, Ramona Kurcsics, on the gangway.
---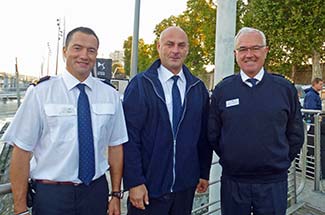 The captain and two of his officers stood at the foot of the gangway to guard the luggage and say farewell. 
---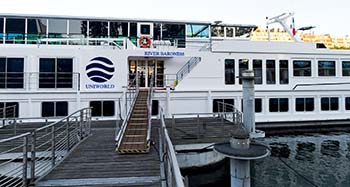 We took a final picture of River Baroness at its mooring on the Quai André Citroën in the Port de Javel-bas.
---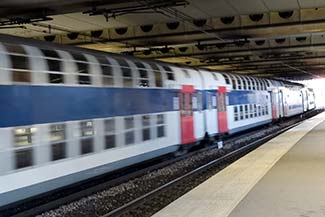 A few minutes later, we boarded an RER train (Line C), which we took to the Saint-Michel-Notre Dame station. There, we changed to Line B for the Gare du Nord, where we'd catch another RER Line B train to Charles de Gaulle Airport the next morning.
We'd already booked a room at the very pleasant and affordable New Hotel Gare du Nord, just across from the station.
One oddity: The Paris-Versailles 16-km footrace was due to start by the Eiffel Tower at 10 a.m., and when we boarded the train, nearly all of the other passengers were athletes in running gear.
---
---
---
---