River cruising has grown enormously in popularity over the last decade, for two reasons:
It's something new for cruisers to try after they've explored Europe's coastline on oceangoing ships. (With river cruising, travelers can reach cities and towns that are far from the sea.)

It's an appealing alternative to motorcoach tours and train or car trips, since there's no need to pack and unpack each day or check into a different hotel every night.

In past years, we've reviewed two river ships--Viking's Maribelle and Peter Deilmann's Casanova--but we'd never cruised with Uniworld, which has become a leader in luxury river cruising with awards from Condé Nast Traveler, Travel + Leisure, Cruise International, Cruise Critic, and other media.
We corrected this omission in late September, 2012, with a voyage on Uniworld's River Baroness, which offers seven-night "Paris & Normandy" cruises from mid-March until late October. (We chose the "Cruise Only" option; most passengers book a 10-day/nine-night "Cruise/Tour" that includes two nights and a day of touring in Paris before the ship's departure.)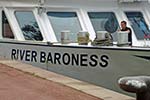 Why Paris & Normandy, rather than one of Uniworld's cruises on the Rhine, Danube, or other European rivers? For us, the choice was easy: Our Paris for Visitors site attracts nearly 1.4 million page views per year, so a cruise that began and ended in Paris was likely to interest many of our readers. It was also convenient, since--like our Paris for Visitors readers--we could easily combine the River Baroness cruise with a Parisian vacation.
In this 10-page illustrated review, we'll describe our week on River Baroness and what you can expect from a Uniworld cruise on the River Seine.
We also invite you to browse our 33-page River Baroness day-by-day photo diary, which has nearly 200 captioned images of the ship, ports of call, and shore excursions.
Update
Uniworld has replaced River Baroness with a new ship, the S.S. Joie de Vivre. The current "Paris & Normandy" has a cruise itinerary that is similar (but not identical) to the one described in this review. For up-to-date information, see Uniworld's Web site.