Cabins
River Baroness has 56 "standard staterooms" in three price categories. All staterooms are the same size: 128 square feet, or about 12 m².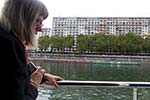 Category 1 staterooms are on the main deck, or Normandy Deck. These cabins have "French balconies," which consist of floor-to-ceiling sliding glass doors that give access to a narrow ledge with a railing. You can't sit on the balconies, but they're convenient for sightseeing, picture-taking, and checking the weather outside.
Category 2 and 3 staterooms are one deck down, on Brittany Deck. These cabins have standard windows that offer plenty of light and good views of the passing scenery.
Although our category 1 stateroom felt small compared to cabins on luxury oceangoing cruise ships, it was efficiently designed with adequate closet space, plenty of drawers, and storage under the bed for suitcases and backpacks. The flat-screen TV was built into the wall, and the small desk had four types of electrical outlets: European, U.S., British, and Australian.

The desk also held a carafe of tap water, glasses, and two aluminum water bottles for shore excursions. The water bottles--which were ours to keep--could be filled from an ice machine and ice-water dispenser in the Monet Lounge, thereby reducing the number of plastic bottles that ended up in the trash or recycling bin.
Our bathroom was well-equipped, with a large shower stall, a toilet, a round vessel-style sink, and an illuminated shaving or make-up mirror.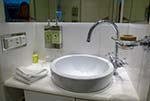 Toiletries included a full set of Occitane products in bottles, plus dispensers for Occitane Verbena liquid cleansing products in the shower and above the sink.
We missed having a retractable clothesline, but we were able to keep hang our drip-dry laundry from the shower head, two wire soap baskets, and the glass shower door.
Other perks include bathrobes, slippers, and bite-size Valrhona chocolate bars at bedtime.
About the ship's in-cabin entertainment: The TV menu offers a variety of cable channels (CNN, BBC World News, CNBC, Bloomberg, National Geographic, and several European channels), a "GPS TV" channel that shows the ship's location, and an eclectic choice of movies that range from World War II-themed films (A Bridge Too Far, The Bridge at Remagen) to movies about France (Chocolat, Amélie), recent releases, and Rick Steves travel videos.
If you'd rather just listen to music, you can use the TV's menu to select from a long list of albums.
Suites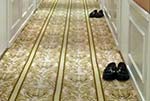 River Baroness has four midship suites on Normandy Deck, with each being twice the size of a standard stateroom at 256 square feet or about 24 m². Every suite has a sofa, a large bathroom with double sink, and two French balconies. Other perks include iPod docking stations, Nespresso coffee machines, shoe shining, and free laundry.