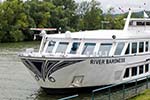 As we mentioned earlier, river cruising is different from ocean cruising: The ships and cabins are smaller, the number of passengers on board is about 3 percent of the passenger count on today's largest oceangoing megaships, and the emphasis is on port visits and sightseeing. If you're looking for a cruise ship with a full-scale production of Phantom of the Opera, a dozen restaurants, basketball courts, a casino, and a shopping mall, river cruising isn't likely to delight you.

On the other hand, if you're attracted by the idea of a small-ship voyage that brings you to the cities, towns, and sights of Inland Europe, a river cruise with Uniworld is worth considering.
Here are a few random thoughts and observation about river cruising in general and Uniworld's River Baroness in particular: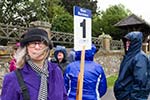 River cruising is a form of touring, and every river is different. On some rivers, ports of call are mostly jumping-off points for bus tours. The Seine, in contrast, provides opportunities for bus excursions, local walking tours, and independent sightseeing. We enjoyed every port on our cruise's itinerary--especially Rouen, an attractive and historic city where River Baroness spent two nights docked on the edge of the Old Town.
River cruising is for active travelers. Our fellow passengers on River Baroness were a healthy-looking crowd, and most--including the oldest passengers--seemed happy to go on walking tours.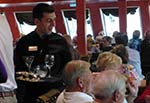 It's hard to be a hermit. We have a tendency to be wallflowers, so we found the idea of cruising with fewer than 120 fellow passengers a little intimidating. As it turned out, we needn't have worried: Our fellow guests were friendly, and the extroverts broke the ice for those of us who weren't naturally gregarious. (Most guests during our cruise were Americans or Canadians in their mid-50s to mid-70s, with a fewer younger and older passengers--including one fit-loooking World War II veteran in a "USS Indianapolis Survivor" jacket.)

Uniworld offers luxury without pretension. Uniworld bills itself as a "boutique" cruise line, with slightly higher prices than some of its competitors. Each Uniworld ship has a its own design and decor, and the company strives for a high level of decor, comfort, and service. We were pleased to find that, despite its high standards of comfort, River Baroness had an informal atmosphere.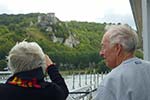 Uniworld caters to adults, but it isn't a gated community. On its Web site, Uniworld warns that a river cruise is likely to be boring for young children, but teenagers are welcome. (Our youngest son enjoyed two river cruises when he was in his mid-teens.)
Each year, River Baroness has several family-oriented cruises that are especially popular with grandparents and their grandchildren. These cruises offer children's menus, onboard cooking classes with the pastry chef, children's ship tours, Playstation or Wii games, and other perks for kids.
Bottom line: If you're active and reasonably well-heeled, enjoy sightseeing, are fluent in English, and like the idea of exploring Europe's rivers by boat, you're likely to be a good candidate for a cruise on River Baroness or another ship in the Uniworld Boutique River Cruise Collection.